Rajneesh aide Ma Anand Sheela talks of new Netflix documentary Wild Wild Country, and controversial past
Ma Anand Sheela — one of the central figures in the new Netflix docu series Wild Wild Country — spoke with Firstpost about her days as Bhagwan Shree Rajneesh's secretary, and the head of his ill-fated Oregon commune
Interviewer: It's reported that your commune promotes free sex —
Interviewee, interjecting: Well it's free in that we don't charge for it.
[Audience laughs.]
The interviewee is a petite woman, dark hair cropped stylishly, dressed all in pink. She wears a string of pearls that end in a pendant holding a photo of the spiritual leader Bhagwan Shree Rajneesh (he was not known as Osho then). She smiles widely throughout the interview, and her voice — soft, lilting, with traces of a Gujarati-Indian accent — is at odds with her fighting words.
She is Ma Anand Sheela, personal secretary to Bhagwan, president of the Rajneesh Foundation International — and 35+ years after that interview, one of the central figures in the new Netflix documentary series Wild Wild Country.
Divided into six parts, each an hour long, Wild Wild Country has been directed by the Way Brothers — Maclain and Chapman. It mainly covers the events that transpired between 1981 and 1985, when the followers of Bhagwan Shree Rajneesh started a commune in the state of Oregon in the United States, triggering a fight with their immediate neighbours in the town of Antelope (mostly retirees and some ranchers, including the family of Nike co-founder/local hero Bill Bowerman). What began as a local slugfest escalated into a United States government versus Rajneeshees battle, ending with the deportation of Bhagwan back to India, a prison sentence for Ma Anand Sheela and some members of her inner circle, and the shuttering down of the commune (a Christian youth camp now stands in the same place).
It's no coincidence that Sheela occupies centre-stage for much of Wild Wild Country: the years 1981-85 were when she rose to prominence in the group. Her appointment as Bhagwan's secretary was followed by the Rajneeshees' move to Oregon: Sheela herself bought the 64,000-acre Big Muddy Ranch in Oregon (rechristened Rancho Rajneesh, then incorporated into the city of Rajneeshpuram) and oversaw its building. This was also the time when Bhagwan Shree Rajneesh had taken a vow of silence (it lasted three-and-a-half years) so all communication flowed from Sheela to the rest of the commune, and the world outside it. As as the group became locked in its increasingly high-stakes stand-off with the US government, it was Sheela who was at the forefront of the Rajneeshee side, her pithy quips and combative, take-no-prisoners stance making her a most compelling (if divisive) figure.
The Sheela of today is a far cry from the defiant woman of Wild Wild Country. As we see her in the series, she still wears her hair bobbed short, but now it's entirely silver. Her jewel-toned robes of old have been exchanged for pragmatic athleisure wear, and the glasses she wears have dimmed her piercing gaze somewhat.
After the docu-series released, there's been a resurgence of interest in her, with several media reports wondering where she is, and what she's been doing in the years since she got out of prison.
"I've been living life and working," Sheela (who goes by the last name of her third husband, Urs Birnstiel) told Firstpost, when we reached out to her recently. She directed us to the website for the nursing homes she runs in Switzerland — Matrusaden & Bapusaden — for a more comprehensive look at her work. "In Switzerland, I live a full and complete life," she says. "I have accepted each and every situation in life as a learning experience."
Sheela says the popularity of Wild Wild Country has reached Switzerland, and she's happy to have been part of it since "it shows our hard work, courage and sincerity of love for Bhagwan and his dream".
Cut off from the sanyasin community she was once a leader of, Sheela says she no longer seeks updates on projects pertaining to Rajneesh and the first she heard of Wild Wild Country was when the Way Brothers requested an interview. Her sisters were apprehensive that this series would take the same sensationalist, scandal-mongering tone of previous works on Bhagwan Rajneesh, but Sheela says she agreed to the interview right away, because it gave her a chance to articulate her reality. Over five days (Sheela describes it as an 'intense marathon, but a nice change from my daily routine') she told the directors ('well-mannered young men') her story.
"The Way Brothers presented the project as (a telling of) history. I fully agreed with it and accepted it as an opportunity of presenting Bhagwan's dream and the hard work sanyasins (put into it)," she says. While Sheela has expressed her approval of the finished documentary, she points out that "it is impossible to include all dimensions of that rich experiment".
Still, Wild Wild Country does a commendable job of recreating what that moment in time looked like. Even if you're aware of the happenings of those years and the general trajectory of the Rajneesh story in the US, the Ways Brothers — drawing on a vast trove of archival footage — make it all seem incredibly real. You very much sense the genuine celebratory atmosphere and the sense of purpose that the Rajneeshees felt when they first came to the Oregon ranch. With Sheela supervising, you see once empty land being built into a model town, amid a beautiful valley.
"Our arrival in Oregon was like coming to the end of a horizon. I had found a place which fulfilled Bhagwan's wishes and requirements, which he had been telling me about. We all felt we were part of some major event, creating history," Sheela says, looking back on those heady early days of Rancho Rajneesh.
Of course, those idyllic times didn't last very long, as the Rajneeshees were challenged by first, the townspeople of Antelope, then Wasco County, the state of Oregon and the United States government itself. "Rather dead than red" was a popular anti-Rajneeshi slogan at the time (referring to the red clothes/robes the sanyasins wore). The Jonestown massacre was still fresh in the public imagination at the time, and there was a deep distrust of cults. Reports about Rajneeshees believing in free sex, and the fact that they were headed by an 'Indian guru' made the Antelopians wary; they didn't look favourably on their quiet, remote part of Oregon seeing an influx of so many 'strange' people.
"The hostility began right after the Los Angeles Times ran an article three months after our arrival at the ranch. The fear of (free) sex gripped the local Antelope residents and they started working with politicians and other vested interest groups like '1000 Friends of Oregon'," says Sheela.
Would it have made a difference if they'd set up the commune someplace other than rural Oregon? No, says Sheela: "Human nature does not change from area to another. Maybe some small habits and traits may differ. Mankind is a victim of fear, suspicions, judgments. So I do not believe there is a place where a man like Bhagwan would be understood easily. We had tried to find a place in India but there too we encountered the same prejudice, fear and aggression."
Sheela must have been 31-32 at the time the commune set up base in Oregon. In Wild Wild Country, you see her striding across the ranch, a Magnum gun at her hip, delivering speeches/sermons/instructions — and being a formidable adversary to anyone who dares cross paths with her. Sample this reply when a reporter quizzes her about plans to expand the group's presence in Australia, when the Rajneeshees aren't wanted there: "Tough t*tties," Sheela says, deadpan. In clips from other interviews, she is shown using an acerbic wit — and sometimes just a loud volume — to make short shrift of her opponents.
Sheela, however, says the confrontation-alism was part of a constructed persona, one designed to be attention-grabbing: "It was my job description. It was my job to represent Bhagwan. He was not one for compromise. (In fact) Bhagwan felt I was not aggressive enough! He viewed each of my TV appearances and prepared me for the next show." She similarly ascribes being able to pull off her role at Rajneeshpuram to guidance from her master. Everything she did was under "direct instructions and guidance of Bhagwan". "There was no room to make any changes," Sheela says. "I fully trusted Him and respected his intelligence."
This statement is tricky to contemplate in the context of just what Sheela is believed to have done in the name of protecting Rajneeshpuram. The allegations against her included immigration fraud, wiretapping, attempting to rig the Wasco County election, bioterrorism (where the food at 10 restaurants in the county seat — The Dalles — was seemingly contaminated with Salmonella by the Rajneeshis, making 751 citizens very ill), arson and even conspiracy to murder. While the US government was stepping up its investigations into the commune, there was trouble brewing within the group as well. Bhagwan was getting closer to a set of wealthy new entrants (among them, Ma Prem Hasya — the ex-wife of The Godfather producer Al Ruddy, and Sheela's successor as the master's secretary). Sheela also claims Bhagwan had become dependent on drugs at this time.
"I could not reconcile (to) Bhagwan's use of drugs. His lack of interest in his own creation (the commune) was the problem," Sheela told Firstpost. She also admits that the time from 1984 to September 1985 (when she abruptly left the commune and fled to West Germany with a few trusted associates) was exhausting. "I was more worried about Bhagwan's health than the bigotry against us. I saw Bhagwan's waning interest in his own dream. His interest in drugs and material things (Rolls Royces and jewellery) were not amusing anymore. It pointed towards disaster. I felt locked in with my worries."
Sheela's shocking departure from the US was followed by Bhagwan breaking his vow of silence. What came forth was a slew of accusations against Sheela. He laid a variety of charges at her door — the bioterrorism, conspiracy to kill etc — and also the misappropriation of Rajneesh Foundation funds amounting to over half a million dollars. Everything that had gone wrong for the commune was — to paraphrase — Sheela's fault while Bhagwan himself had been wholly in the dark about these misdeeds.
"These statements by Bhagwan were ridiculous. I had a hearty laugh. Later on Bhagwan's management had to retract these claims in Rajneesh Times," says Sheela. Being made the scapegoat made her "sad, not angry" Sheela contends.
The rest of Sheela's story includes being arrested in West Germany and brought to Oregon to stand trial. She entered an Alford plea (where a defendant in a criminal case asserts their innocence while admitting that the evidence of the prosecution would be enough to persuade the judge and jury of guilt beyond reasonable doubt), was handed a four-and-a-half year prison term, and paroled after 39 months for good behaviour. She doesn't say much about her time in prison in Wild Wild Country — merely notes that she's paid her dues, and moved on.
Does she wish she'd fought her legal case differently? "I had not many options," she says. "To fight in the US such public character assassination by Bhagwan and his community would require millions. To fight would have been foolish."
Sheela's more than twice the age she was when the events at Oregon transpired. When she looks back now — at Bhagwan, at the building and destruction of the commune, her exit from it — what seems most striking about the time?
" (I think about) what an honour it was to be a trusted person of Bhagwan. He showered me with love and later, with His fury. It was a wonderful learning opportunity. I love Him still," she says. As for what she hopes the viewers of Wild Wild Country will take away from the docu-series: "Don't allow yourselves to be stereotyped, " Sheela responds. "Enjoy the sight of the desert land that flourished because of our hard work and courage — until it was destroyed again by fear."
Wild Wild Country is currently streaming on Netflix.
also read
Entertainment
Prince Harry will be ready to give evidence in a London court over his lawsuit against the publisher of a British tabloid on Tuesday, his lawyer said, prompting the judge to say he was "surprised" by his absence on Monday.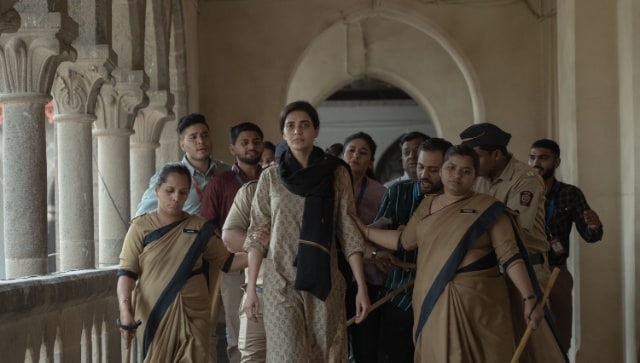 Entertainment
Vora was accused by the police of orchestrating the murder of Mid-Day journalist J Dey in 2011, and was granted bail by a special MCOCA court later.
Entertainment
Produced by Ronnie Screwvala and Ashi Dua along with Netflix, Lust Stories 2 will be helmed by 4 credible voices; Amit Ravindernath Sharma, R. Balki, Konkona Sen Sharma and Sujoy Ghosh