Raja Ravi Varma's descendant authors new book on the legendary painter's life beyond the easel
Rukmini Varma, the great-great-granddaughter of Raja Ravi Varma, has written about what the painter was like outside the world of art in her book Hidden Truth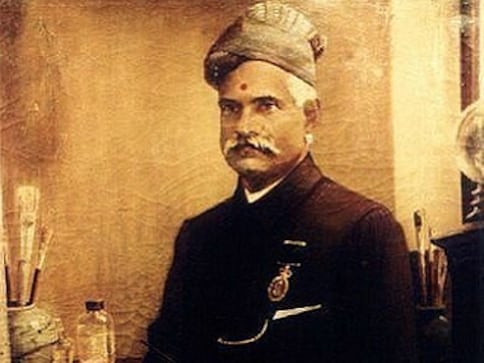 Whether or not one has looked at his work closely or read about him, it is likely that most of us have seen Raja Ravi Varma's paintings — as calendar art, as an accompaniment to tales from Hindu mythology, or more recently, even memes on the internet. The 19th-century painter developed a distinct style of portraying human figures, particularly women, which has been termed 'royal' and 'sentimental' by various critics. He was praised for adopting European realism in his own paintings and criticised for introducing and reinforcing the notion that fair skin is desirable. He continues to garner attention; he has been the subject of two films (Ketan Mehta's Rang Rasiya and Makaramanju by Lenin Rajendran), and just last year, his painting 'Damayanti' fetched a whopping Rs 11 crore at a sale in New York.
Over a hundred years after his death, his great-great-granddaughter Rukmini Varma, a painter herself, promises to tell unknown stories about her ancestor's life in her recently released book Hidden Truth. Her source material for it were the stories her grandmother told her, as well as short notes that the painter left behind, which she came across 25-30 years ago. "These notes were very brief — just about one or two words — and had to be pieced together. I relied on intuition and whatever I knew about him and what he was trying to write, so it wasn't so difficult... The moment I saw these notes, images formed in my mind and the whole story came together, as if he himself was speaking to me," says Rukmini.
For Rukmini and others in her family, Raja Ravi Varma was not a mythologised legend, despite his legacy. "We all grew up in his shadow more or less, knowing everything about him. He was a very real person, always hovering over us, so to speak." Her grandmother's stories painted a very vivid picture of the artist in her head. "I always felt that he was communicating with me. When I read the notes he wrote, it was like he was telling me what was on his mind, what he was trying to do. How he was trying to actualise his works, how he was trying to bring his characters to reality. To bring life into them, to make them real. Gods and goddesses which were, until then, confined to temples and murals, and therefore entities you cannot have ready access to," she says.
In the process of writing this book, Rukmini came across several facets of Raja Ravi Varma's life that she was unaware of. Among one of these is the story of an exorcism conducted when his mother was still pregnant with him. "An exorcism was conducted because people thought he (the foetus) was possessed by a poltergeist or spirit. He wanted to know more about the manner in which the exorcism took place. It was based on tantrik art, and he wanted to use some of the principles involved in it and imbibe them into his own work. He finally found the man who carried out the exorcism and asked him to narrate what had happened," she says.
Rukmini hopes that the book will also tell readers about the creative man behind the art. "What he did to achieve his goals and how he pursued it — that is something nobody knew. He was a very intuitive man and from the beginning, he made use of this power of intuition to interpret the epics." Though he had five children with his wife Bhageerthi Bayi, he was not a family man. "He was hardly at home, he was travelling most of the time. He was not a family man, he was fully involved with his career though he was extremely fond of his children, grandchildren and family. But unfortunately, the work he was doing did not give him enough time with them. He was very fond of my grandmother, and whenever he came back home, he always brought back a present for her. She was a little girl of eight or nine when he passed away. My grandmother was very much in awe of him and knew him very well, very closely," she says.
Rukmini says that her own style of painting both draws from and is a departure from that of her great-great-grandfather's. She has studied his technique and the palette of colours she uses is similar to his. "But I also wanted to bring out my own style, using his technique as the basis. I wanted to present my own take on realism. While I used the same formula as painters like Peter Paul Rubin and those of the Victorian age, and drew from academicians like Alma-Tadema, I did make my own deviations. Raja Ravi Varma emphasised clothing and drapery, but I emphasise the skin which I find a marvellous challenge, because making the skin look realistic is something only an artist can master. I also enhance the features and physique to make them look more beautiful."
She says that they differ in terms of how they are as individuals too. "I am very, very different from him. My great-great grandfather was very disciplined. Extremely focused in his work, he was very conscientious and upright. I cannot work with a definite plan in mind or a set routine." She says that Varma would wake up at four o'clock every morning, say his mantras and prayers, then at six o'clock, at the first light of dawn, he would start working. He would go on till five in the evening. "In the evenings he would be invited to go out by some of the British residents, or he would entertain guests. He loved socialising, which he left for the evenings," she says.
Does she feel burdened by the legacy she has been born into? "I am very honoured that I am part of a legacy of this kind. I have this feeling that I must live up to it, in a different way but still carry on with the realistic style, take it forward but do it in a manner that is very different from what I am doing now. That's what I am experimenting on at the moment."
Hidden Truth by Rukmini Varma is published by Notion Press
World
"Shot Sage Blue Marilyn," produced in 1964 two years after the death of the glamourous Hollywood star, sold for exactly $195.04 million, including fees, in just four minutes in a crowded room at Christie's headquarters in Manhattan
Arts & Culture
The exhibition, Miró's Universe, organised by the Fundació Joan Miró and the Fundación Abertis at the Spanish embassy features four paintings and a sculpture by the legendary artist
Arts & Culture
Raza's impact on the world of art was immense and immeasurable, says Kiran Nadar. The Kiran Nadar Museum of Art is currently exhibiting works that explore the acclaimed painter's evolution as an artist