Reviewing a book within a week of its author's vindication in matters of freedom of expression by a court of the state, can be taxing. One of the main reasons is the undercurrent of privilege that comes to grip you as you take to a book, with connotations now extending beyond the literary. There is a politics to go with Perumal Murugan's books now. And if it weren't so, perhaps this star of Tamil literature, who has earned himself a national reputation as well, would have gone unnoticed. Pyre, translated from the Tamil original Pookkuzzhi by Murugan's dedicated translator Aniruddhan Vasudevan has got more to do with a rural setting and the tenuous yet tempting pull of its politics, than it has to do with the art of storytelling.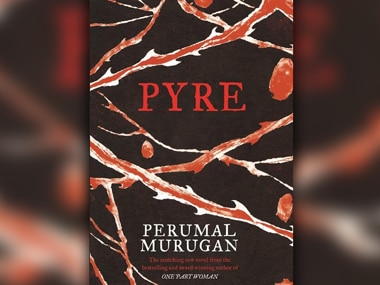 Pyre is the story of Kumaresan and Saroja, who in thrall of their mutual love give into the ghost of inter-caste marriage and are braced to reap the nightmare that is to follow in terms of social acceptance. Kumaresan's mother, Marayi, is bitter, temperamental and in her relentlessness to find the higher of two grounds with the couple, supremely regimental. Murugan is more of a simplifier than he is a writer who attempts to cajole the reader by scoring mystique or reclusiveness on part of his characters. His people often speak plainly, in a tone almost always detached from vitality of reason. When the couple arrives in Kumaresan's home village, there is no shortage of stigma-inspired vitriol to throw around and Saroja, in the dank setting of a destitute village, finds herself and her faith in humanity shaken.
Murugan, in his enviable ability to liven the village scene, brings out his usual toolbox. Scenes shift between fields and rocks to yet more hardship and acreage belted at midday by the sun and the many misgivings of a people strained by unreason. The hardships of village life, the oddball tastes, and eccentricities, and the very matter-of-act way of speaking is the entitled, rather than intended spine of the novel. That said there is very little in terms of character to study into. Kumaresan is flat and almost annoyingly optimistic. He rarely reacts or utters a word that is not hamstrung with cause or caution. Marayi is painfully one-dimensional and at times bafflingly filled with ubiquitous hate. Given that these are characters born out of illiteracy and a stifling rural decadence, there is still a point where self-evaluated remorse comes in. Add to that the paucity of emotion for these characters to show other than the one they seem to have been appointed to: hate for Marayi, fear for Saroja and magnanimousness for Kumaresan.
Kumaresan, in his romantic witlessness goes from person to person, and village to village, with the undying streak of hope burning inside him, the smoke from which nauseates his wife Saroja, constantly petrified and unsure of her immediate decisions and choices. The two are castigated, not just by Kumaresan's mother, but also by his uncles and by the village. Murugan tries to mix the narrative, at times travelling in time to when the two met, to tell us how their love flowered etc, which reads as a soapy, yet tender attempt to infuse some kind of terminable affection for the story, which is otherwise an exercise in contempt in most parts. Even if rural areas have come to be the setting for such brawn identities, there is no reason why a pothole of surfeit wit or the irregularities of disaffection cannot surface for the reader to tie the strings of this narrative with care.
For the urban reader persuaded by the egregious directness of village life as compared to the duplicity of urban dwelling — mostly because they haven't experienced it themselves — Murugan is well placed to harness the vacuum and paint an image, both alien and exotic at the same time, and also seem convincing in doing so. But for someone who has made his way across that bridge, the image is rife with irregularities, and at times smudged by obsequious devotion to the art of saying rather than listening and more importantly feeling. Then there is the issue of translation, and an endless debate whether what gets said, is eventually said as had been intended to. For there are eyebrow-raising lines like:
"The braided bucket that was sunk low into the well would swell up with water like a pregnant woman and come back up."
Considering that misogyny is a condiment that makes the selectively permissive Indian village tick, in a landscape far removed from educated reform, one still has to pause and wonder if this is the unintended consequence of supplying an idea with the uni-flow of contemptuous glee. Would Salman Khan get away with saying something like this, whatever the context?
Murugan is defiant in his inclination to anchor his books around the atrocity that is caste and class segregation in rural India. And to be fair to him, there is enough to suggest that he doesn't shy away. But while he has the right ideas, and the suspect depths of forbidden love to draw from, he does so painstakingly, at times reducing people to pragmatic opponents at the table of a debate that deserves its own ponderous silences, but isn't given any.
Your guide to the latest cricket World Cup stories, analysis, reports, opinions, live updates and scores on https://www.firstpost.com/firstcricket/series/icc-cricket-world-cup-2019.html. Follow us on Twitter and Instagram or like our Facebook page for updates throughout the ongoing event in England and Wales.
Updated Date: Jul 24, 2016 09:32:50 IST