Purva Naresh on her unfinished Irom Sharmila play: We've already failed her; I can't do it again
Purva Naresh says, 'One of the reasons I'm stuck with this script is because we as a people have already failed Irom Sharmila once. I can't do that again. I need to have the script right."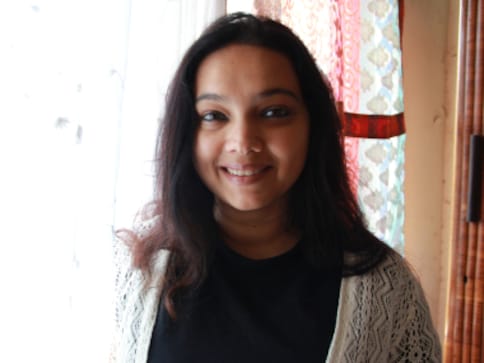 Editor's note: This interview is part of a series where playwrights talk about the script/s they never managed to stage. 
***
Purva Naresh wears many hats. She's a writer, director, pakhawaj player, dancer and the occasional actor. But it's while essaying the role of a playwright that Purva finds her loudest voice. Over the past few years, Purva's plays have been staged by her production house Aarambh Mumbai and are renowned for portraying powerful women, warts et al, through productions such as Aaj Rang Hai, Ok Tata Bye Bye, Preth, Tunni Ki Kahani, Umrao, Ladies Sangeet and Bandish 20-20000 Hz.
For someone who has crafted such beautifully detailed characters, Purva is not immune to her share of writer's (road)block. Sometimes a script is left undone because the idea of it continues to evolve and the writer is still unsure how to harness a plot out of it. Some other times, a full-fledged play is actually staged; so you'd imagine at this point the writer has disengaged from his or her work. Then again, what is theatre but a work in progress? So, is an unfinished script one that hasn't be fully formalised or one that hasn't been fully realised? From Purva's story, the answer lies somewhere between the two.
The "ness of a play"
"The difference between writing for theatre and writing for cinema is not just in the medium. A film is about a character; the protagonist is the main tool for storytelling. Let us consider that he's Mr Happy. The film uses Mr Happy's perspective to take the tale forward. Theatre looks at 'happiness', or simply put, the 'ness' of things. I'm interested in the 'ness' and sometimes when we haven't concluded what that 'ness' is going to be, we pause and step back to adjust our vision," explains Purva about how a playwright can be neck-deep into research on a subject and still not make any headway with the script.
This particular problem gets exacerbated when one is to write a play based on the life of a famous personality. Since five years, Purva has been gravitating towards writing about Manipuri civil rights and political activist Irom Sharmila. "I was so interested by her life and what she stood for. There was abundant information about her activities in the newspapers. I read up a lot beyond that, had even planned to go and meet her as part of my research. Yet I felt I couldn't crack the idea of the play. If it's based on someone, I don't want it to sound like another adulatory work, or a biography. I wasn't looking to document Irom Sharmila. I was looking to write about what makes her who she is…her Irom Sharmila-'ness'," Purva adds.
Her perspective was well in place but Purva has been keen to not make the play about just Irom Sharmila's struggles or make it a plot-oriented piece of work that strings together incident after incident that shaped the activist's life. How to proceed with the idea of her is fundamental to the writing of the play. Setting the play in the context of contemporary India and giving it a global perspective, Purva is still looking to answer why she would write about Irom Sharmila today. "It's a lot easier to just follow her story. So, in a sense, I am making it harder on myself. But I don't want it to be just a narration of her life. I want the focus to be on us through her. This woman was on one of the most peaceful, powerful modes of protest. She was standing up for something that is relevant even today with her protest gaining much attention from national and international media. Despite all the attention, despite her being on the protest for almost two decades, her movement fizzled out. Is this a reflection of how we perceive things today? How could this fail so spectacularly? One of the reasons I'm stuck with this script is because we as a people have already failed Irom Sharmila once. I can't do that again. I need to have the script right."
A recurring conundrum
Each time in the past five years Purva has attempted to revisit the script, some issue or the other has surfaced. If the first time she sat with it Purva was stalled by the growing protests around her, the second time she thought to write it, Irom Sharmila's impending marriage was gathering much controversy. Purva says, "The time she was looking to get married, there were a lot of protests from her own clan which disapproved of her romance. It was as if one cannot be a freedom fighter and a woman who loves. The story of Irom Sharmila was now getting a gender hue. The third time I thought it would be a good time to write about her, she lost the elections and her own party had gone against her. When I thought about it, I realised there's so much of us that comes into her story. I realised that after the dust settles around us feeling bad for her, I would get the required objectivity to write about her without being in awe of her."
If the process of actually writing a play whose idea itself seems to metamorphose each time the playwright put pen to paper seems daunting, imagine how it must be to write a play, stage it and still not feel like you're done with it. Purva was in 2017 commissioned to adapt Amana Fontanella-Khan's book Pink Sari Revolution into a play for Leicester's Curve Theatre, to be directed by Subha Das with local Asian actors. Pink Sari Revolution illustrates the story of Sampat Pal and her now famous Gulabi Gang that fights for women's causes in the hinterlands of north India. "When I put the pen down on that one, I knew there was more that I had to do with it. Sure I had a deadline to maintain, but I overwhelmingly felt that there's more work to be done there. With most plays I can disengage as soon as I've written them; this one wasn't the same," she adds.
Also read: Ramu Ramanathan, raconteur extraordinaire, on the stories he'd love to bring to the stage
Drawing parallels
How ironic is it, Purva laughs, that she swung from marinating over a peaceful character like Irom Sharmila, to writing a play about someone associated with activism by bamboo sticks. They could not have been more different women, yet they're united in their desire to win better rights and living conditions for others. "It is very difficult to put a strong, flawed woman on stage. Someone who is trying to fight the system, someone who comes from the ganglands of India, who hasn't received education and who has herself been wronged…yet here is someone who is inspiring others to not take things lying down. Even though this story had all the elements that make for perfect theatrical dramatization, the director and I knew despite meeting the deadline, the story wasn't finished."
Purva believes that one's tendency to see in binaries, conditioning to be patronising to a lesser privileged person, makes it all the more important to take that middle path. "As a storyteller I have to take a stance. I have to be brave and I require utmost objectivity else I'll end up being swayed to play to the gallery. That's really hard and that's also when you know that you're either not done with a story as yet, or even an idea."
Research and writing lessons
Writing about contemporary women who have been widely covered in the media doesn't make the task of researching any easier. Both gained widespread attention and yet their causes capitulated. After all the storm settles, only then can one sit to churn out a story. And Purva is hoping that with both, she'll be able to find the right distance to get as close to the essence of their stories as possible.
"I know that the most important thing for me to get down to finishing both of them is a deadline. Yes, it really sounds ironic given all that's happened with the Pink Sari Revolution. That said, a deadline is a must…even if you keep pushing it. It is important to let it hover on your conscience."
Besides the looming deadline, Purva's writing technique is governed by the principle of finding the "ness" while figuring out what to write. "Are you writing a plot? Are you going beyond that? Are you going to explore a story as you write it or do you know at the onset what your story is going to be about? All these are very important questions to help you find clarity in your writing."