Pune is getting over its Biennale backlash, as art scene revives with new initiatives
After the Pune Biennale earned some censure for mismanagement, the art scene in the city is slowly redeeming itself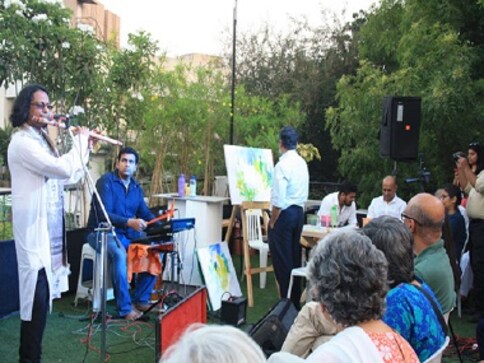 Usually celebrated for its cultural scene, the city of Pune was recently at the receiving end of some obloquy, not just from its art community, but also from aficionados. It is guilty as charged for putting up a rather disheartening performance during the artsy mega-event that the Pune Biennale was touted as. Nonetheless, the art festival that missed the mark is being forgotten in the face of many other merit-worthy and thriving art initiatives in the city. Fine and visual art experimentation, art tourism, art appreciation exercises and so on — Pune's art scene is forging full steam ahead.
Speaking about the constant need for inventiveness and new energies, Maharashtra's iconic illustrator and cartoonist Charuhas Pandit, told Firstpost, "There are a lot of amateurs, art admirers and critics in the city. That necessitates new initiatives, and as a consequence, paces up the speed at which art evolves." Pandit's views are only reinforced by the fact that after more than 25 years and 5,000 strips of his Marathi cartoon strip Chintoo, he's recently gone digital and started an eponymous YouTube channel.
For Pandit, art is not just an ancillary feat; he means serious business and has left no stone unturned in giving art its due, in more ways than one. In April this year, Pandit, who is also a 3D wood art creator, purchased a sprawling 5,000 sq ft commercial space in Pune's Shaniwar Peth and made it into a quirky, green art zone. "The new space will be primarily used for the manufacturing of my wood art. However, a big section of the property will also be used as a gallery, and for workshops, art talks and other activities to promote art and culture in Pune," he says.
Toshal Gandhi, along with Madhura Aphale, has launched Sutradhar — which is a platform dedicated towards the revival of traditional Indian forms of storytelling. In addition, Sutradhar also hosts engaging talk shows on different art-related and social themes. Gandhi's an instructional designer and content strategist by profession and also an avid Kathak dancer. She says, "We started the monthly series around the theme of kirtan, which is a dwindling yet powerful form of storytelling. Each session is different, and we invite different speakers and artists and so far, the response has been phenomenal." Some of the guest speakers from Sutradhar's past sessions include Shilpa Datar, who teaches Kathak to hearing-impaired children; and Dr Ram Sathe, an accomplished pathologist who is working towards the revival of saint Ramdas' literature.
In March this year, Pune's Art2Day Gallery launched a one-of-its-kind fusion art series — Art Meets Art — with a view to bring to the stage two or more art forms and get them to converse with each other. The opening show was helmed by well-known flautist Milind Date, along with renowned water-colourist Milind Mulick. Speaking about the growing activity amid the art fraternity in the city, and the keenness to experiment, Priyamvada Pawar, co-owner of Art2Day gallery said, "It is necessary to steer art enthusiasts in a direction and there's always a need to innovate and to offer a range of alternatives to choose from. Right from organising art displays, talk shows, art tourism and the latest amalgam art series, we have always been doing our best at giving the city's aficionados an eclectic mix of art options."
The art scene of Pune may have been labelled as sloppy by some, but there's a lot more to it than what meets the eye. "However, there is a need for a stronger nexus between art and its seekers. Much more needs to be done," says Gandhi.
Rome wasn't built in a day, neither will Pune's artscape. The good news is that the initiatives and the enthusiasm of the artists and art patrons seem to be burgeoning , especially with art transiting from its reserved and elitist reputation to being a more relatable, inclusive and accessible proposition for today's youth.
India
The first batch of 19 women, aged 16 to 19.5, have joined the National Defence Academy in Pune's Khadakwasla. They will undergo a three-year 'gender neutral' training and will be prepped to lead troops on battlefields
Education
Aspirants must submit separate application forms for each registered post. To check the eligibility criteria, educational qualifications and vacancy details, candidates are advised to read the notification
Explainers
The Maharashtra Teachers' Eligiblity Test (TET) scam is back in the news after the names of three daughters and the son of a breakaway Shiv Sena legislator earlier this week appeared in the list of the 7,880 candidates who were disqualified and banned in connection with the alleged rigging