Prejudice against Indians is deep seated and old, say people of Indian origin in the US
Sukhada Tatke takes a look at the sentiment in the Indian community in the US after the attacks on three Indians in just over 10 days.
During his entire kindergarten year in Mobile, Alabama, Raj Mankad, a second generation Indian immigrant, was called "stinky" and nobody touched him. For most of his childhood, he was the only person of colour in his class and faced ongoing violence, mostly verbal. He was occasionally called the N word. Sometimes, he was told he'd go to hell by some cruel people, other times by people genuinely concerned for his eternal soul.
Mobile, being a port city, had its share of cosmopolitan thinking even in the 80s when Mankad was growing up. But it was also a place where the Ku Klux Klan was active and thriving, and a young black man had been lynched. Did this make the young Indian American child rebel against his roots? "The opposite!" he said. "My Indian roots took on exaggerated importance, they were so thoroughly reframed in the colonial context, the reactive stance was there," said Mankad who is now editor of an architecture magazine in Houston, Texas.
The killing of Srinivas Kuchibothla in a bar in Olathe, Kansas, last month has left the Indian community in the US shaken. Following Kuchibothla's death, more Indians have been shot. But even before the menacing Donald Trump era, south Asians, including Indians have borne the brunt of racist innuendo, including attacks investigated as hate crimes, especially following 9/11. These have only got exacerbated since Trump's hateful election campaign. In fact, in the year that led to the 2016 elections, 207 incidents of violence and racist rhetoric in the country were documented by the advocacy group South Asian Americans Leading Together.
"While the prejudice is deep-seated and old, perpetrators appear to have been provoked and emboldened now by a new 21st Century brew of media and politics," said Mankad.
Indian Americans who grew up in the US, or those who moved for a boost in education or career have a panoply of instances to share of being discriminated against. These then manifest themselves at best as ignorant jibes and at worst blatant displays of racism.
Dhriti Veeranandal Sibley moved to the US from Chennai when she was 12. At first, her family lived in a racially diverse neighbourhood in Illinois filled with Indians, and the transition was rather smooth. But troubles soon began to overwhelm the teenager when they moved to a conservative white suburb of western New York. First, there was the issue of having to get rid of Indianisms and the accent in order to be assimilated. Then came the task of warding off evil boys. "There were some guys who somehow got my number and would frequently leave me voice mails singing 'I'm proud to be an American.' They also left threatening notes in my school locker and made fun of this guy who really liked me. They'd leave comments on how it was disgusting that he could want my hairy brown vagina." Sibley is now training to be a nurse and lives in Santa Barbara.
The NRI community in the US, though, largely prefers to shove such instances under the carpet, in order not to rock the boat while their H1B visas are in the process of getting converted into green cards, eventually leading up to citizenship. Add to that the current pop culture and media in India busy laying an accent on tales of success of the Indian diaspora in the hefty American Dream, stories of bias and prejudice then barely find their way into the world, especially in the home country.
Los Angeles based social worker Madhuri Mistry got married and moved to Elizabeth, New Jersey in 1985. While looking for an apartment, a friend of her husband told them about a vacancy in a building. They immediately set up a meeting with the building manager, who told them that there was no vacant apartment and casually pointed them to another building where there were many Indians. "Our friend was surprised and called the manager again and asked if there was a vacancy. He said yes. The friend was livid and asked us if we wanted to file a law suit, but we didn't pursue."
As in the case of Kuchibothla, Indians become the targets of assault because they're mistaken for other minorities. Pradeep Anand, president of a business firm, was a student at the University of Houston in 1979-80 during the Iran Hostage Crisis, when 52 American diplomats and citizens were held hostage for 444 days. "There was lot of anger in the air and a few people, who did not look Caucasian or had an accent, were beaten on that campus. Walking around the campus was tense. Some people began wearing T-Shirts that proclaimed 'I am not an Iranian!' morphing a line from a just released movie, The Elephant Man," recollected Anand.
Anand is aware that he belonged to the educational elite when he came to the US on a fellowship after graduating at the Indian Institute of Technology. "But in situations like these, it didn't matter. It all boiled down to being mistaken for some other ethnicities, especially at airports, after 9/11," he said.
And it is this elitism or class privilege that made software engineer Amit Desai* "laugh off the idiocy" when he spent close to a decade in California before returning home to India. At a restaurant, he had been mistaken for a seeker of job instead of someone coming to eat; as a sandwich packer in the university cafeteria a white woman had expressed concern that he was packing her salad with fingers despite having a glove on (she was comfortable with a white man doing it); as a newcomer to the US, he faced racial profiling.
"I had the privilege to be not helpless towards the racism I faced. I felt empowered by class and my democratic citizenship to India. If this was colonial India, if I was not an H1-B person but a person working at an Indian restaurant who was escaping his country's social and economic conditions and trying hard to be part of a more open democratic society then I don't know how I would have felt," said Desai. He added that this kind of racism in America provides a lesson for an upper caste person from India, especially an Indian male, about his own country. "India is an old world feudal society fundamentally rooted in caste exploitation and genocide of adivasis," he said.
The latest aggressions all but serve as a wake-up call to Indians, that in the eyes of a white supremacist, there's no distinction of colour. Says Mankad, whose childhood experiences shaped the trajectory of his life --- he works in solidarity with and is fiercely vocal about other vulnerable groups including the LGBTQ community, Muslims and other people of colour: "We are reminded once again, if a Muslim's house is set on fire, the house of the Hindu next door will burn too. We must be in solidarity with one another now and over the long term. Those overcome by hate don't know or care to learn what differentiates us."
*name changed
World
The Vienna talks aimed at reviving the deal were suspended in June, when Iran elected ultraconservative Ebrahim Raisi as president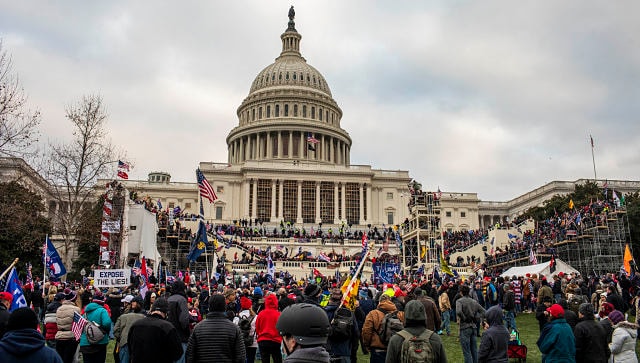 World
The Biden administration, in clearing the documents for release, said the violent siege of the Capitol more than nine months ago was such an extraordinary circumstance that it merited waiving the privilege that usually protects White House communications.
World
It is unclear if the Saudi royal family was aware of the fake furs or was deceived by a supplier. The Saudi Embassy in Washington declined to respond to the matter, as did a spokesperson for Trump