They sat on rickety podiums and recited their nazms. They told their dastans. They performed qawwali. They orated without embellishing their words, or couching their message in honeyed diplomacy. From Gali Shankar to Jamia Nagar to Madanpur Khadar to Sarai Kale Khan to Khirki Extension to Azadpur Metro Station to Mehrauli Bus Stand to Gurugram in the Delhi-National Capital Region (NCR) they gathered, interlocking hands and intent. They turned street corners, Ramlila grounds, metro stations, old chowks and night shelters into amphitheatres of a revolution, both fierce and soulful.
'Silence is no longer an option,' their placards declared, during this second phase of the 'Not In My Name' protests, underpinned by the slogan 'Nafrat Ke Khilaf, Hum Sab Ki Awaz' (Say No To Hatred).
The murder of journalist-activist Gauri Lankesh on 4 September led to demonstrations and performances across India, yet again. Poets, activists, scholars and journalists gathered like cumulonimbus clouds to decry her assassination with their banners, their songs, their theatrical skills. But the recent activism is symptomatic of a deep disquiet that pervades the Indian democracy. Its ordinary citizens — students, farmers, Dalit communities and the more bourgeoisie artistes — have been taking to the streets frequently. Theirs is a reaction to a spate of oppressions and atrocities, antithetical to the very tenets of good governance, as defined by the 14th century Tunisian philosopher, Ibn Khaldun, in his book Al-Muqaddimah: "Good rulership is equivalent to mildness."
Not In My Name
This year, the lynching of a 16-year-old Muslim boy, Junaid Khan, on a train to Mathura in the north Indian state of Uttar Pradesh on 22 June was the immediate trigger for an outbreak of simultaneous protest marches referred to as 'Not In My Name'. The protests, which took place on 28 June in several Indian cities, including Delhi, Mumbai, Chandigarh, Jaipur, Hyderabad, Kochi, Kolkata, Lucknow, Patna and Thiruvananthapuram as well as at the School of Oriental and African Studies (SOAS) in London, were the culmination of a rage and dissent brewing over season after season of arbitrary acts of violence.
A second wave of 'Not In My Name' activism was scheduled for 27 August. However, the imposition of Section 144 in Delhi, which prohibits an assembly of more than four people in one area, following the conviction of self-styled godman Ram Rahim, led to the postponement of the 'Not In My Name' events to 10 September. While the protests were meant to be a continuation of the earlier campaign, the murder of Gauri Lankesh altered the tenor of the movement, from earnest and seeking to a fervent outpouring of grief, uttered through music, theatre, and poetry.
But before this series of performances, a 'Not In My Name' vigil was organised near Jantar Mantar on 7 September, during which activist Kavita Krishnan, journalists Amit Baruah and Monobina Gupta, Hindi poet Manglesh Dabral, and JNU student activist Umar Khalid paid ardent tribute to the slain journalist. Krishnan, in her speech, declared with vehemence that to be on someone's hit-list is a badge of honour. "We are not like Gauri," she orated in Hindi, "but we will try to be like her; we will try to become worthy of your bullets." Baruah's homage to Lankesh was in praise of her work and her forthrightness: "…she was writing, she was critiquing and she was saying it like it is…"
The 'Not In My Name' demonstrations that took place on 10 September, perhaps drew their impassioned tone from the speeches at Jantar Mantar. "Gauri's murder loomed large over these protests," says Delhi-based filmmaker Saba Dewan, who had initiated 'Not In My Name' on 28 June. Her voice is an electric charge; she has just emerged from a protest in Mehrauli. "There's a vitality to these citizen movements, a certain cultural coding that one can never experience in made-to-order protests."  She tells of how the 10 September 'Not In My Name' performances dissolved class divides and made the residents of ghettoised colonies and peripheral villages stand alongside "posh corporate types", with their placards: "We turned main streets and chowks into performance spaces; each protest was entrenched in the cultural ethos of the place."
At Jamia Nagar in Okhla, Sonam Kalra, architect of the 'Sufi Gospel Project', sang Bol, a composition based on the poetry of Faiz Ahmad Faiz:
"Bol, ki lab azad hain tere
Bol, zubaan ab tak teri hai.
Tera sutwa, jism hai tera –
Bol ki jaan ab tak teri hai."
"Speak out, because your lips, they are free; speak, for your voice is your own; your body is yours alone; speak out, for your life is still your own."  The words were a lyrical battle cry, urging the audience to find its own voice. "As artistes, we have to use our voices to make a change," says Kalra, adding, "Music can cross borders and unite people."  She also sang Bulleh Shah's 'Alfat In Bin Un Bin' and 'Chal Bulleya Chal Othe Chaliye Jithe Saare Anne'. "It is through music that I tell my truth," she says in a steady voice that is tremulous with passion only when she sings.
Sufi singer Dhruv Sangari performed a poem by scientist-poet-activist Gauhar Raza, Ye Jo Bhi Hai Ajeeb Hai and popular qawwali Allah Ho. "Sufism is an antidote to extremism," says the singer, whose Sufi-Bhakti re repertoire echoes the fervent plea of the 'Not In My Name' protests.
The poetry of revolution and devotion, particularly the ancient couplets of Bulleh Shah and Amīr Khusrow, and the poems of Faiz Ahmad Faiz resounded through the galis and chowks, the busy intersections and metro stations and bus depots that were the open-air theatres of these performances. A variety of dastangoi was performed under the night sky, with rudimentary equipment and acoustics to amplify the theatrics of the evening.  Dastango M Syed Sahil Agha performed Tughlaq Nama, at Jamia Nagar:
"To Tughlaq ne shor machaya
'Mujhko Dilli ka raja banao,
Phir dekho kaise ache din aayenge.'"
"And Tughlaq demanded: 'Make me the king of Delhi. Then watch how the age and time changes for the better.'" A satirical comment on the tyrannies of the milieu, which made the crowd snigger, if only for the moment. The message of the series of 'Not In My Name' protests was a sobering one, even though it found its fullest expression through the performing arts. Filmmaker Rahul Roy, co-conspirator in the making of 'Not In My Name', dwells upon the nature of these protests: "We took the protest to the people; instead of waiting for them to come to a centralised point. It is rare for a movement to travel to the residential areas of the people, but we stood right outside homes and marketplaces."
It is rare for a movement to reach out to its people; rarer still, for a people to grasp immediately, its simple message of a love that binds us and makes us human.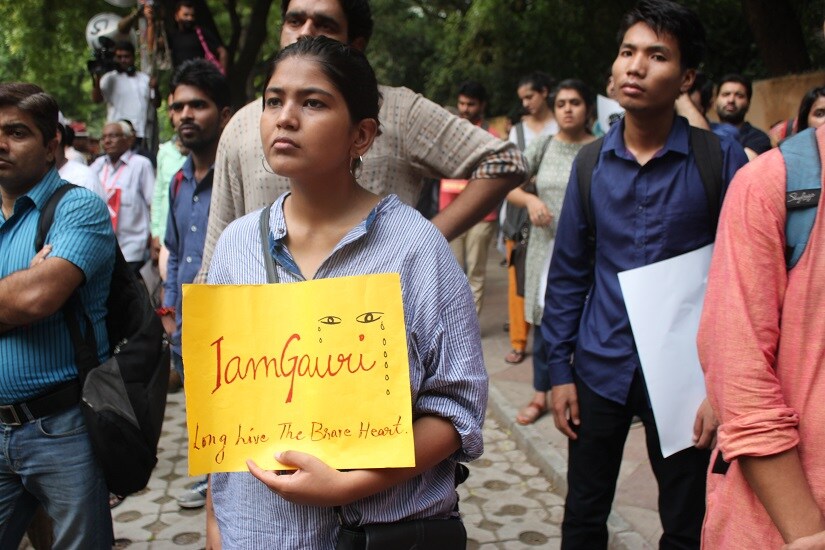 Student Protests
On 15 August, India's 70th Independence anniversary, a crowd of students thickened around Ganga Dhaba, a small tea shack within the campus of New Delhi's Jawaharlal Nehru University (JNU). In a small but emotive Gandhian gesture of nonviolent protest, the students marched from Ganga Dhaba to Chandrabhaga Hostel — a short walk during which they played the dhapali and chanted slogans to its rhythm.
"Inquilab Zindabad!" someone shouted, renting the overcast sky with this Urdu phrase that was coined in 1921 to rouse India against British rule.
The 15 August march was not an isolated one, but an offshoot of larger protests that the students of JNU have participated in. Among them, 'Occupy UGC', a movement that resisted the 7 October 2015 decision of the University Grants Commission to discontinue  all fellowships granted to MPhil and PhD students who had not taken a test called the 'National Eligibility Test' (NET), was a potent student uprising. Vigils were frequently disrupted by the police, which cracked down on them with water cannons and lathis.
There were other student protests, particularly in 2016. The suicide of a Dalit scholar, Rohith Vemula, at Hyderabad Central University on 17 January, sparked off the student community across universities in India. Students held aloft banners that demeaned 'Justice for Vemula'; they expressed their fury towards the government, the university authorities as well as the Akhil Bharatiya Vidyarthi Parishad (ABVP), a student body affiliated to the Hindu nationalist Rashtriya Swayamsevak Sangh (RSS).
Amid this clamour against what was described as the 'institutional murder' of a Dalit student, JNU raised the ire of the government by staging a protest on 9 February 2016 — the third anniversary of the hanging of Afzal Guru, who had orchestrated the 2001 attack on the Indian Parliament. The outcry against capital punishment led to the arrest of Kanhiaya Kumar, the JNUSU president, as well as two others — Umar Khalid and Anirban Bhattacharya. They were subsequently set free.
"These separate incidents of protests actually form one organic narrative," says Kumar, who is no longer the JNUSU president, but is a leader of the All India Students Federation (AISF), the student wing of the Communist Party of India (CPI). "This narrative is against the current government's agenda — to saffronise education, to persecute Dalits, to crush dissent." He mentions the student strike at the premier Film and Television Institute of India (FTII) in June 2015, when actor-turned politician Gajendra Chauhan was appointed chairman of the institute.  Chauhan, who joined the BJP in 2004, was best known for his role as Pandava prince Yudhishthir in the mythological series Mahabharata, aired between 1998-90. The students agitated against the new chairman's questionable credentials, and a blatant disregard for the institute's secular, liberal traditions. "The current government is trying to inject their political thought into everything — education, the arts, the food we eat," Kumar emphasises.
Citizen protests: reaction or movement?
Despite the fervour of protests like 'Not In My Name' and sporadic student movements led by charismatic youth who can sway the masses with heartfelt speeches, the vigils and marches remain reactionary. Other agitations around the world have led to the collapse of dictatorial regimes. For instance, the civic unrest in France in May 1968, which began as student unrest against capitalism and American imperialism, brought the French economy to a standstill. But protests in India, while they gather the momentum of a movement, are doused before they can bring about the transformations they seek. Aditya Nigam, professor at Centre for the Study of Developing Societies, New Delhi, observes that student protests in India can lead to social change, "provided the movements are channelised into building organisations and institutions of solidarity. The struggle right now, is in a kind of immediate response to attacks."
Irtiza Quraishi, one of the organisers of the 'Not In My Name' protest in Old Delhi, and the founder of NGO Marham, observes that each protest — against the lynching of innocent citizens for the food that they eat, or the murder of journalist Gauri Lankesh, scholar M M Kalburgi, and rationalists Narendra Dabholkar and Govind Pansare — becomes a vibrant microcosm of India. "There are Hindus and Muslims and Sikhs who stand together at Jantar Mantar, or in Purani Dilli, like a small sample of what  this country should be like," he states, expressing the idea of a truly secular and free nation that the recent protests have brought to fore.
Long-lasting reform, both political and social, is also what the recent sloganeering and mushairas against a bustling cityscape have sought. And while that may be an interminable struggle, movements led by citizens — outraged but optimistic — have initiated the process.
Your guide to the latest election news, analysis, commentary, live updates and schedule for Lok Sabha Elections 2019 on firstpost.com/elections. Follow us on Twitter and Instagram or like our Facebook page for updates from all 543 constituencies for the upcoming general elections.
Updated Date: Sep 17, 2017 17:13:29 IST