'Planet or plastic': National Geographic magazine's latest cover takes shot at pollution caused by plastic
National Geographic magazine's cover for June 2018 featuring a plastic bag partially submerged in water has gone viral on social media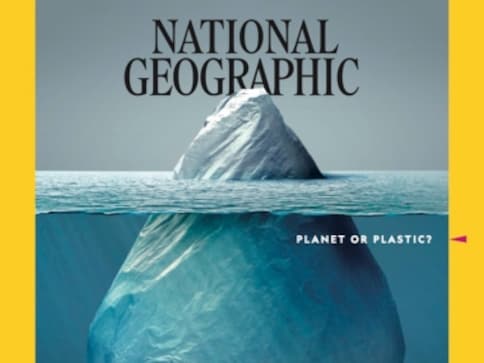 National Geographic magazine's cover for June 2018 featuring a plastic bag partially submerged in water has gone viral on social media after a senior editor shared the illustration last week. Capturing the attention of thousands online, the cover has been described as "genius" and "powerful".
Titled "Planet or Plastic?", the cover illustration features a bag resembling an iceberg floating in an ocean, referring to the increasing usage of plastic around the world and the imminent threat posed to the environment as a consequence.
This comes over 30 years after an iconic 1985 cover of the same magazine — titled 'The Afghan Girl' — was published.
Here is how people reacted to the June 2018 cover:
wow. In early '90s Kathmandu, my biggest annual splurge was buying @NatGeo from 1960s - 1980s with my dashain tika money. They were my first intro to visual story telling and environment journalism. The Dec. 1988 hologram cover felt pretty ultimate. This 06. 2018 is powerful! https://t.co/P8aqWQGaEG — Kashish Das Shrestha (@kashishds) May 17, 2018
Senior photo editor of the magazine Vaughn Wallace revealed that the illustration was created by Mexican artist Jorge Gamboa. He also said that starting with the June issue, the magazine will do away with the plastic wrapper and use paper for the purpose instead.
also read
News & Analysis
National Geographic has pulled the plug on its Instagram account, giving the Instagram Privacy Policy controversy a murkier turn.
Lifestyle
Titled Women: A Century of Change, the November 2019 issue of National Geographic is the first ever since 1888 to have all female contributors
World
While other oceans are defined by their nearby continents, the Southern Ocean is defined by its current.