Past perfect: World War I collectibles, priceless antiques line this nonagenarian's Kolkata home
Nakku babu, 93, is a collector of antiques, and his Kolkata home is crammed so full of collectibles that it's difficult to find standing room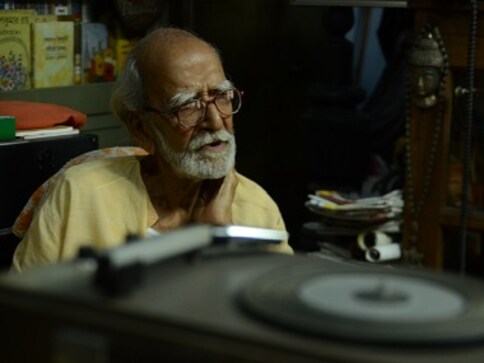 Ninety-three year old Sushil Kumar Chatterjee — aka Nakku da — is a resident of North Kolkata's Nalin Sarkar Street. Nakku babu is a collector of antiques, and his home is crammed so full of collectibles that it's difficult to find standing room. The items he collects offer a strange and esoteric glimpse into the past: here, an 18th century calling bell made in England, there a World War I army receiver; a Swiss stopwatch made by ROCAR in 1930, a box of 300-year-old buttons made of sea shells, a 16mm projector made in Germany in 1948, 200-year-old trumpets, rare folk music instruments, music records made of shellac, the first head phone that was imported to Kolkata – the list goes on. Despite his age, Nakku babu keeps careful inventory of all his finds, and will recount in detail the back-story to how he procured each of them.
Born on 18 November 1926, Nakku babu's obsession with antiques started when he was just 10. "Back then I would collect small pebbles from the river side, aboriginal masks during our countryside trips, coins and stamps from British officers. My hobby took off just like any other normal child who falls in love with old and ancients," Chatterjee told Firstpost, on a visit to his home — all three storeys of which, are filled with antiques. Apar from he objects mentioned above, Nakku babu also happens to be the proud possessor of a camera and an army receiver that were used during World War I.
"Check these out," he said, extending a box to us, full of optical bulbs that were used in film making in the '70s, "I bought a box full of these yesterday, for just Rs 3,500. I got a good deal, didn't I?" Beneath the thick lens of his glasses, his eyes glittered with happiness. Indeed, he's happiest when collecting antiques from various auctions that take place in and around Kolkata. Quite hyper active (even at his age), Nakku babu ensures he doesn't miss any of the vital auctions and the rest is taken care of by his sources.
Every year between September and December, he hosts a number of students from the UK, US and Europe at his home. "Other than death, the other thing that I desperately wait for is the arrival of my students each year," he told us, (hopefully) in jest.
Apart from being a collector, this onetime actor, director, writer, has a deep love for various sounds. "I have a room full of sound projectors upstairs; creating sounds can be as magical as creating life!" he said, leading us to it.  When we entered the room, a huge sound box placed on the left of the entrance, played a beautiful Hindi classic — like a happy happy welcome tune.
What will happen to his treasures once he's gone? Who will they be bequeathed to? "Not to the government for sure. The system is full of dishonest people," he asserted. As for family, Nakku baba says his wife has been struggling with a mental illness for the past 15 years. "I want my son to take care of her first and after that, if he feels it is required, to preserve his father's passion... else the objects will find their next possessor on their own."
As we took our leave, Nakku babu promised: "Next time, come with some more time in hand. I have a collection of 10,000 pictures of old Calcutta — you're going to love them!"
Business
SRF Limited has filed an application under Section 9 of the Insolvency and Bankruptcy Code (IBC), for initiating the Corporate Insolvency Resolution Process (CIRP) against Birla Tyres
India
The Met department has forecast that Asani, lying over southeast Bay of Bengal, is likely to intensify into a severe cyclone as it moves northwestwards
First Cricket News
Venkatesh Iyer (43) and Nitish Rana (43) guided Kolkata to 165 for nine, a total their bowlers defended by bowling out the opposition for 113 at Mumbai's DY Patil Stadium.