Hello, I'm Shivendra! And buying a smartphone is single-handedly the most harrowing experience I have ever encountered. Well, that escalated quickly! Let me give you a little backstory. I happily used a QWERTY keyboard phone for many years, until my co-workers took notice of my said phone. They started making fun of my phone with wit and humour, and my old cherished phone suddenly turned into a tumour. Life at work wasn't easy, to begin with, and conversations became even worse.
Manauj – Hey Shiv, how was your weekend?
Me – It was good Manauj.
Manauj – I never knew you were into archaeology!
Me – I'm not Manauj.
Manauj – Then why did you go to Mohenjo-Daro?
Me – I did not go there Manauj.
Manauj – Then… HAHAHAHA (finger pointing at my phone) how the hell did you find that ancient relic?
There wasn't enough aloe vera in the world to apply to that burn; life had to take a better turn. I was at my desk sipping on some apple juice and searching the entire galaxy for the perfect smartphone. And I found some great options, but they cost more than my entire months' salary. I was contemplating to hit buy, but I remembered my mother had screamed at me for not bargaining while buying vegetables.
I was scared. I didn't know what to do. But at that very moment, I noticed something in the corner of my eye that turned my life around. I found my knight in the shining aluminium armour. I found the Panasonic Eluga A4!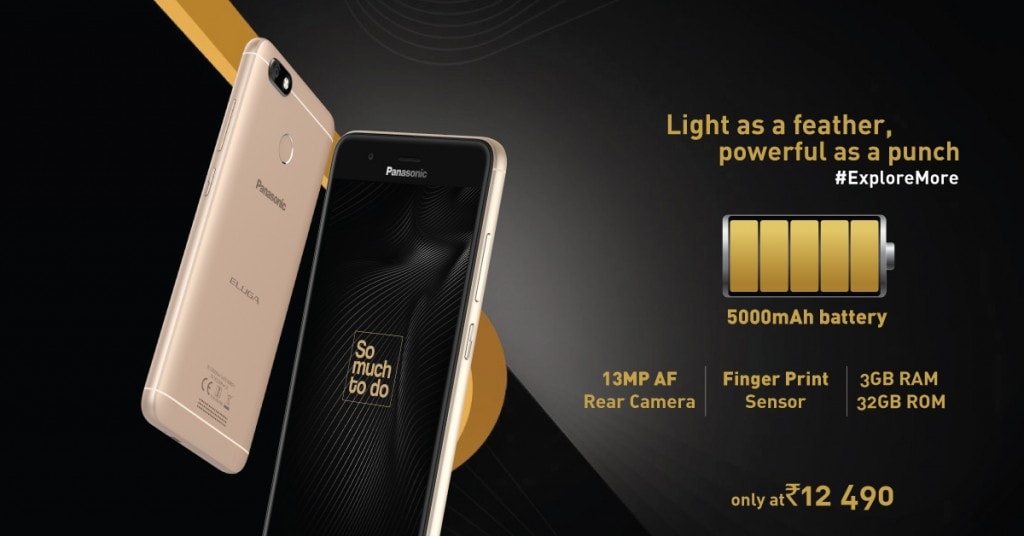 A quality smartphone that had all the cool new features at an affordable price. I was in love with the impeccable 5.2 inch HD display with 2.5 D curved screen. Now, I spend my weekends with my Panasonic Eluga A4 binge watching my favourite TV shows in crystal clear picture quality. My boring commute to work too has turned into a thrilling ride because of all the awesome games I have installed on my Panasonic Eluga A4 like Clash of Clans, Need for Speed and Pokémon Go. But the best part is that my phone never hangs while I enjoy gaming because of the massive 3 GB RAM! I also never worry about running out of storage as my Panasonic Eluga A4 has 32 GB ROM which can be expanded up to 128 GB.
While my weekends and commute have become more fun, it's my social media game that has witnessed a revival of epic proportions. I had five pictures on Instagram that had a total number of two likes that too by my aunt who lives in Pune. But my last picture of the amazing scrambled eggs I ate for breakfast got 35 likes, and my selfie in my new shades got 55 likes! It was all because of Panasonic Eluga A4's 13-megapixel auto-focus camera with flash and the amazing 5-megapixel front camera which allowed me to make a statement with every click.
Fun fact! While the fingerprint sensor kept all my data secure it also take selfies with the soft touch vibration. I can also scroll web pages, gallery, apps and much more with the multifunctional fingerprint sensor. When you think the Panasonic Eluga A4 can't get any more efficient, its split-screen feature powered by Android Nougat 7.0 eliminates the need for switching between tabs.
The Panasonic Eluga A4 is not only beautiful on the inside but also beautiful on the outside as its available in some amazing colours like Marine Blue, Champagne Gold and Mocha Gold! What's your favourite colour?
Anyway…I felt like my life was complete with my new Panasonic Eluga A4 until I noticed something weird happening to the phone. I never expected something like this to happen, and it completely threw me off. I didn't have to charge my Panasonic Eluga A4 even after a whole day of use! I found out that the Panasonic Eluga A4 has a 5000 mAh battery!
Now, I feel like a total show-off when I walk around with my Panasonic Eluga A4, but life is unfair, and we have to face the reality. Anyhow, since I have got my new Panasonic Eluga A4 no one makes fun of me anymore. In fact, I believe they see me rollin they hatin.
If you have been made fun off like me than I advise you to #ExploreMore with the Panasonic Eluga A4.
This is a partnered post. 
Updated Date: Nov 14, 2017 10:36 AM