Painting is an influential medium for message of climate change: Artist Venkat Shyam
Finding My Way is a beautiful work of art and stories in which Pradhan Gond artist Venkat Raman Singh Shyam and writer S Anand form a sonorous confluence.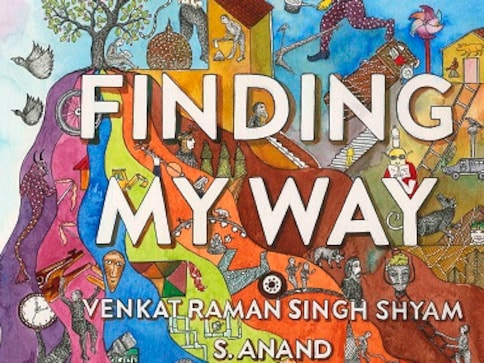 Finding My Way is a beautiful work of art and stories by the Pradhan Gond artist Venkat Raman Singh Shyam and writer and publisher of Navayana, S Anand. They come from completely different backgrounds forming a sonorous confluence where it is difficult to tell where Venkat's voice begins and Anand's voice ends. It is part-autobiography, part-narrative of an individual, a community, an art, a society, folk-mythology, life, all wonderfully illustrated by Venkat and powerfully narrated by Anand without any numbers to the pages.
Venkat Raman Singh Shyam is a contemporary torchbearer of an art form practiced by the Pradhan Gonds. His work has been exhibited in India and overseas. He was awarded the Rajya Hasta Shilpa Puraskar by the Government of Madhya Pradesh in 2002.
S Anand is a former journalist, author and founder of the publishing house Navayana. He previously co-authored the graphic novel Bhimayana: Experiences of Untouchability on the life of B.R.Ambedkar. He has also annotated Ambedkar's classic Annihilation of Caste.
Here in conversation with Firstpost, Venkat and Anand speak about growing up near forests in Central India, the struggle to become an artist, and how this book came about.
Venkat, what was your childhood like, growing up near forests in Central India?
I grew up in a small village called Sijhora situated on the periphery of Kanha National Park in Madhya Pradesh. My maternal grandfather, Sundarlal Uikey, was the chief forester of a range there. He used to narrate stories about his encounters with animals. His stories made early impressions about animals on my mind. Once when my father and I were collecting firewood we encountered a pack of wild dogs, we hid behind rocks waiting for them to pass. I saw and experienced nature at close quarters. I had a beautiful childhood full of freedom. Another memory of my father is, he built me a huge wooden toy that I would sit in and ask my friends to pull me around.
Venkat, your father left you in Bhopal with his brother Jangarh, who made Gond art famous. How was the experience of moving to Bhopal from a small village?
My father wanted me to become a government officer. He wanted me to take up higher studies. He even put me in a boarding school. I was a sharp child but I left school after Std X. I was more interested in the outside world. I started painting when I was eight years old. I would draw on walls, paper, any surface I found. Oddly enough my family considered painting with charcoal will increase family debt. Eventually, I landed up in Bhopal at Jangarh's house as my father thought I was wasting my time in the village. A lot of Pradhan Gonds had migrated to Bhopal looking for work. It was a strange experience to see people of different backgrounds living together. Seeing aircrafts at close distances made me want to fly one myself. Initially, I didn't know what was expected of me. Jangarh had quack ways of teaching art. My friends and I hung around and cooked for him. He taught us to live, we picked up art by seeing him work. I had frequent quarrels with Jangarh. After one such heated argument, I left to work in a police official's home in Delhi, only a few years after I had arrived in Bhopal.
You struggled to keep the flame of your passion for art alive. When did you realise you wanted to create art full time?
I had made up my mind that I wanted to become an artist, do art. My father told me, if you want to study further, we won't be able to support you. So I had to stand on my own feet. I worked as a domestic help. I ferried passengers on a hand-pulled rickshaw. I worked as a hoarding and billboard artist for seven years. I did these odd but very physical jobs as I thought, if I could find ways of keeping my stomach full, I'll be able to think of art. Even when I was working as a domestic help in South Extension in Delhi, I would continue working on my paintings after finishing a hard day's work. Once I went without food for a week and suffered from cerebral malaria. But when Jangarh passed away in 2001, I decided to pursue art as a full time profession.
Anand, how did this book come about?
John Bowles, the art historian, introduced Venkat to me about five years ago. Venkat had resolved to tell his story even before we had met. He initially wanted to tell the story of his community, the Pradhan Gonds, history of the community, folk and mythology tales, etc. He came to me with a nice drawing depicting the major incidences of his life. I had previously made Bhimayana which was in more of a graphic novel form. I was clear that I didn't want to make another graphic novel. But the challenge was to find a way to preserve the beauty of his paintings while telling Venkat's story. We initially thought we might sit in Bhopal where Venkat would do all the drawings and narrate me stories. Venkat was confident we could finish the book in six months. But I thought until I understand and observe Venkat closely, I wouldn't be able to write about his life. So we went on a road trip, visiting his village, Sijhora, then Amarkantak, Bhimbetka, Patangarh, the center of modern Gond art, etc. Venkat had initial sketches ready but to complete the book we had to spend more time together. So we managed to secure some funding and spent about a month in Nrityagram, on the outskirts of Bangalore. I would hear stories from Venkat and write late in the night. Venkat also managed to do more of his drawings there. This is how the germ of the book happened. It was a taal- mel, a coming together of different thoughts. Venkat forced me to rethink the certainty of my thoughts. It all contributed to the betterment of the book.
Anand, the book took four years to write. How was the experience as a writer?
I did have initial reservations on how I will be able to write about somebody else's life and experiences. I hadn't experienced the hardships Venkat had. But Venkat was adamant, he trusted me with his stories, so I had to find a way of narrating this story responsibly but also beautifully while doing justice to the powerful way in which he draws. Venkat said I was standing on the rim of a well, so I had no choice but to learn to swim. This book demanded I take myself seriously as a writer. It effectively made me a writer.
Venkat, what are the inspirations for your art? What gets you excited to work in your studio?
When I was young, I would coax my elders to tell me stories about the forests, the animals, mythological and folk stories, etc, all that got impressed on my thought. When I started working as an artist, I paid attention to how other artists like (MF) Hussain sir, (SH) Raza sir, work. I understood how to bring forth my culture, my thoughts, my environment in my painting. Apart from the animals and forests, I like to highlight social and global issues such as global warming, climate threats to the planet, deforestation, consumption, etc. I feel painting is a very influential medium to get messages across. Gond art has traditionally been an oral tradition. So I like to paint to spread social messages and at the same time educate people about the problems plaguing our environment.
How important has the role of your wife, Saroj, and the support of your parents been in your success?
Even in the making of this book, her support and encouragement has been huge. She has looked after the family and the kids, their education, upbringing, etc. My work keeps me away from family for long periods of time; she is solely responsible for looking after our house. Without her support, it wouldn't be possible for me to concentrate on my art. I also realise now the importance of sacrifices my father made and the discipline he wanted to inculcate in me. I owe my success to my parents who only wanted good things to happen to me.
What would you like to see done more for artists, or artists from areas like MP?
In the future, I'd like to open an institute where students can come and learn the craft and skills necessary for an artist. People misinterpret Gond art as Madhubani; I'd like to educate people on what the art is based on. But the government can help artists with financial support. They can also provide spaces dedicated to art where artists can meet and exchange ideas. People should be informed and inspired to take forward art which is both traditional but contemporary at the same time.
Future generations, your children, your niece, plan to become artists. What's your advice to them?
New generation is keen to follow on the path laid down by my predecessors and me. It is a lot easier to take up the profession. But it is important to get basic education. At the same time understanding our traditions is important for them to understand art. They have to be cautious of the pitfalls in their ways. Sometimes, we may like something for a while and equally dislike it as quickly. They also have to be careful of immediate success and things like fads. It is better to be like a tortoise and find your way to your destination rather than being like a rabbit losing your way in the middle.
Anand, what are your future plans, if any, for the project?
Venkat and I are both keen to take this conversation forward. We have invitations from Mumbai, Chennai, Hyderabad, to do something around the book. I'd be interested in extending art beyond the corners of a book or a frame. For the next year, we will be doing different things around the book according to different places. We are interested in exploring a few other stories in the future.
long reads
An ordinary Friday turned out to be not so ordinary, when 20-year-old Gurmehar Kaur agreed to meet me. Peeking from behind her phone at a nondescript beauty parlour in suburban Mumbai, Gurmehar Kaur was perhaps the most wonted 20-something I had ever met.
Life
The famously reclusive writer living in Mumbai is being thrust into the arc lights again as he has been chosen for the Tata Literature Lifetime Achievement to be held between October 29-November 1.
Entertainment
Alia's mother Soni Razdan says that the Udta Punjab actress' struggle in the film industry keeps evolving.