Pa Ranjith on why his art is political: 'I want Dalit issues to be aired in a common space'
Basking in the success of the Casteless Collective, the indie music group he's formed, filmmaker Pa Ranjith spoke to us about why the personal is political, and more | #FirstCulture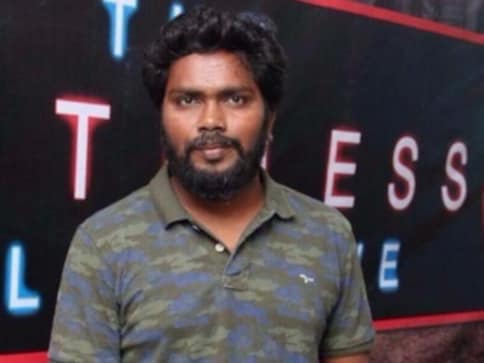 Pa Ranjith loves defying norms. His debut film Attakathi (Cardboard Knife) — a celebration of life in North Chennai — was markedly different from every other film made till then on North Chennai. In Kabali, Ranjith sought to cast Rajinikanth in a different mould; he had the superstar reading from My Father Balaiah in the opening sequence.
On 6 January 2018, Ranjith effortlessly challenged yet another status quo, by rewriting the musical dictum of Chennai. Storming through the thick of the Margazhi season, 19 members of the 'Casteless Collective' band (one of whom is a woman) – all impeccably dressed in grey suits – belted out over 20 songs spanning the Gaana, rock and rap genres, on the sprawling stage set up at the CSI Baine School, Kilpauk. The Collective has been put together by Ranjith. Their songs — which spanned subjects like reservation, manual scavenging, annihilation of caste, and the agrarian crisis — electrified the 4,000-strong crowd, several of whom broke into dance.
Basking in the success of the Casteless Collective's first concert, Ranjith says he had always felt confident about the music. "Our society is closely related to music. We have had a very strong, independent music culture here and I am not talking about the culture that existed as a form, as an organisation (Carnatic music). We have had very strong folk music culture... village songs, songs handed down through generations. 'Adi En Gaana Mayil' in Attakathi was one such song, sung at funerals for generations. But this independent music was never organised. It continued to exist because someone was inspired to learn and someone started singing again. Such efforts were never conscious. I was worried that this strong independent music culture was slowly dying...that film music was devouring it; that in cinema it all boiled down to worship of the hero," the filmmaker told Firstpost.
Casteless Collective was born from this concern. It started as a small performance of Gaana songs at Naanum Oru Kuzhanthai (I Too Am A Child) — a photo exhibition about the children of manual scavengers, in Chennai in November 2017. "The response was really encouraging and we decided we should do this on a bigger stage" Ranjith says.
Also read — Childhood, lost: What M Palanikumar's photos of children of manual scavengers reveal
Madurai-based Dalit scholar Stalin Rajangam says he was reminded of Bob Marley when he witnessed the Casteless Collective performance. "For Marley, music was a tool of protest. Ranjith attempts something similar. The music forms of the oppressed, including parai and Gaana, have long remained a mere identity basically because there was no experiment with them. But Casteless Collective promises to change it. This will take the musical forms to another level," Rajangam said.
Calling it a bold initiative by Ranjith, Periyarist activist Ezhilan Naganathan says the concert was as political as it was mainstream. "First it was the music of my soil. And two, it spoke about many social issues in a language that people could understand and relate to. That was most important."
While the response was overwhelming, the Casteless Collective concert also invited some criticism. Singers like Srinivas said music was beyond caste. But Ranjith vehemently disagrees. "The food I eat and shirt I wear have caste in them. How can music not have caste? I have a very basic question: Can my parai be staged with any of their instruments on a same stage? If not, how can you say it has no caste? Why should my music be considered impure? Of course music and art are beyond caste and that is exactly why I want to carry my politics through art. But there is caste among those who practice it. We need to defy it... Even if people are disturbed because we talk about the music of the oppressed, I have no option. I have to continue to talk."
A section of Periyarists also criticised the concert for promoting Ambedkar and "not Periyar". "It beats me why Ambedkar is still seen as a caste leader," countered Ranjith. "If Karl Marx — a Jew born in Germany — can become a world leader, why can't Ambedkar? If you cannot accept him as a leader of all the people, is the problem with me?"
Casteless Collective is all set to globe-trot, with concerts being scheduled in Europe.
Ranjith is no stranger to music. "My grandfather used to play parai (one of the oldest drums played in India). Appa was good at melam (a type of percussion instrument)," he recounted. "There was such a big musical instrument at our home. Appa had made smaller parais for us to play. The parai has a very strong taala kathi. It is not the Sa-Ri-Ga-Ma-Pa-Dha-Ni, but follows the sound. When we learn parai, we are asked to speak the sounds, like: janak-jannak and jin-jin-jin. The words are created from the sounds."
There have been sounds for everything, for every occasion of life — from birth to death, and public announcements. "They were such rich and interesting sounds," said Ranjith, adding that the parai used in North Tamil Nadu is different from the one used in Southern Tamil Nadu. "In the North, we call it palagai. It is broad and round. In South, it is small and round."
For all his interest and knowledge in music, Ranjith — surprisingly — says he can neither sing nor perform. "I was interested in music yes, but nothing beyond that. I was fascinated by the sounds," he clarified.
It was during his stint in Fine Arts College that Ranijth started looking beyond the sound. "There were so many questions. How am I seen here? How are my food and clothes seen? How is my way of speaking seen? Why is it that the rich sounds that I grew up with were never staged? Why was it that they never became a point of discussion? I decided these should be spoken about," he explained.
African American music hugely inspired Ranjith. "When they were denied the stage by the whites, they created their own stage. I was inspired not just by their music, but by their literature and films too. The way they dressed, their games, their dialect — they put forth everything across as their politics. I could so easily connect with the Blacks. If they could politicise their art, why shouldn't we?" he asked. It was inspirations like these that led Pa Ranjith to establish the Neelam Cultural Centre.
Incidentally, the Casteless Collective is not the Neelam Cultural Centre's first effort towards politicisation of art. Neelam had earlier co-organised Manjal (Yellow) — a play on manual scavenging, and also organised the photo exhibition mentioned above.
"I am that which you refuse to see, that which you refuse to acknowledge," Ranjith said, of these efforts. "I am angry when I am told that I am unwanted, that I am being neglected. I feel the compelling need to prove myself, to make myself indispensable. I stand in the front. If you dismiss my art as a work not worthy of any recognition, it becomes my duty to prove that it is better than what you consider art. My art is my life. I have to take it to the people."
He added: "Mainstreaming this politics is of utmost importance. I wouldn't say Dalit issues were never spoken about at all these years. They have been spoken of and discussed, but only at Dalit meetings. I want to take them to a common place. I only act as a tool in the process. My idea is to create that space because the talent is so abundantly available here."
Will being vocal on such issues affect his film career? "Not as long as I remain successful," Ranjith replied. "They will probably wait for an opportunity for me to fail, and they will use it to the hilt to knock me off." He is, however, undaunted. "As a student in Fine Arts College, I raised uncomfortable questions. When my friends say art has no caste, I questioned it. How can I draw anything without showing the caste inequality in it? If there is a land, a tree and a flower in it, someone might look into its aesthetics. But how can the land be seen just as a land? I wonder who the land belongs to. I wonder who the land was grabbed from. I wonder how many of them were felled on this land. When I know the answers, it is no longer a thing of beauty for me. The flower could just have sprouted from the blood of my grandfather. I want to communicate the pain of it through my art; not its beauty. The conflict continues."
also read
Entertainment
Pa. Ranjith is one filmmaker in Tamil cinema exceptionally proud of his Dalit identity and has reiterated his Ambedkarite leanings on various occasions.
Arts & Culture
The story of Khayal's origin meanders just like the interpretative practice it calls for. The art form is ailed by growing commercialisation and a decrease in innovation, but practitioners are hopeful that a new generation of musicians will expand its scope
Arts & Culture
Feelings such as dejection, frustration, along with self-deprecation and pessimism, have in the last few years come to be unabashedly celebrated in China in a distinct youth subculture known as Sang culture.