Out and Proud: Sonal Giani on how she came to terms with her sexuality, and found happiness
'Queer women should come out only when they feel safe,' says Sonal Giani #FirstCulture | #OutAndProud | #MumbaiPride | #377QuitIndia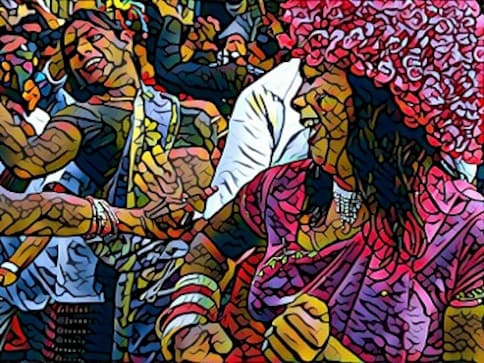 As 3 February 2018 marks the Queer Azadi Pride March in Mumbai, we're publishing six compelling coming-out stories: first-person accounts of coming out about your sexuality or gender to friends, loved ones, colleagues or even to yourself. This interview was part of Harish Iyer's 'I'm Coming Out', published by Juggernaut Books, in which the personalities he speaks with explore what it means to be gay in India. 
At first glance, Sonal Giani can seem like a little girl. Her pixie haircut, delicate features and shy smile almost make her look like she's stepped out of a fairy tale. But don't be fooled. Sonal is a brat. Talking to her is as reassuring as sipping hot chocolate while watching your favourite Disney movie on a Sunday winter afternoon. She has the warmth of your grandmother's embrace and the energy of the naughtiest child in your neighbourhood. Sonal is incredible in so many different ways that I lose track of time whenever we talk. Truly amazing.
Sonal grew up in the sunshine state of Goa with her almost identical twin sister, Rupa. She grew up answering the usual questions — who popped out first? How do people tell you and Rupa apart? But people who know the twins well will say they look very different. Sonal had a regular school life, complete with love notes exchanged between childhood crushes. In fact, her first crush was a boy in her class. She was captivated by him and would often talk about him to her sister. A few years later she felt the same rush of emotions, but this time for a girl.
I interrupt Sonal to ask her, 'How old were you then?'
'Around the time I hit puberty,' she replies.
Sonal could not understand what she was feeling or why she was feeling this way. She goes on to explain. 'I would talk to Rupa about my girl crush in school every day. Without putting much thought into it, she asked me why I kept talking about this girl all the time and "if I was a lesbian". She asked this laughingly. She had no idea it would affect me so much that I would not come out to her for the next seven years for fear of being made fun of.' She smiles.
And to make things more complicated, this was the first time Sonal had heard the word 'lesbian' and it fueled her curiosity. She wanted to find out more. But she led a simple life in a quiet town where there were no visible support groups for women with sexualities other than heterosexual. (She and I hate to use the word 'alternate' because for us our lives are not 'alternate'.)
Things took a one-eighty-degree turn when Sonal enrolled in college in Goa. The college crowd was 'cooler' and better informed. Also, the people were more liberated and their inhibition levels were lower in college than in school. Sonal felt more comfortable exploring her sexuality. She didn't know it was called 'exploring sexuality' then, but well, at that age, who does? We only give such complex names once we grow up
Sonal is attracted to both sexes. When I ask her to explain her bisexuality, pat comes her reply, 'I have been attracted to men since puberty and continue to be till this day. I've had some wonderful relationships with men and women, both of which have helped me explore my sexuality to its fullest.'
I want to provoke her into sharing more, so I ask her mischievously, 'So basically, you are a lesbian?'
As expected she gets a little pissed. 'Harish, stop it! It is not funny,' she says. 'I feel misunderstood, misrepresented and violated when I keep getting called a lesbian even after clearly expressing that I am bisexual.' She continues, 'Right from the start, in school, I had crushes on both boys and girls. I have had sexual and romantic urges for both sexes. I have dated and been in enough relationships with many men and woman over the years to be sure of my sexuality. I find both sexes attractive…do you get it?'
'But you know, when you go out on a date with a woman or a man – more so when it's a same sex thing – it becomes the talk of the town.'
As if she had done something exotic, rumours soon started floating about Sonal and her 'girlfriends'. They left a bitter taste. It was natural that she turned wary about coming out of the closet, even though she wanted to.
After college, Sonal got a job in Mumbai and finally felt she was in the right place. She wanted help understanding her sexuality and this city gave her that opportunity without questioning or judging her. Sonal started meeting other women like her through online groups and through common friends she met at work. She started interacting with women's groups and support groups. She felt more comfortable and confident. But her peace was soon shattered.
'I was working at a hotel where people started talking about my sexuality behind my back. Every day somebody from the staff would scribble obscenities on the elevator doors. One day all my female colleagues walked out of the locker room together the moment I entered,' Sonal recalls.
There was bullying, intimidation, and worst of all, no support from her employers. While the hotel did have a sensitisation programme for employees on how to treat people with alternate sexualities, the same courtesy was not extended to Sonal because she wasn't officially 'out'.
One night, when Sonal was on her way home from work, things took an ugly turn. It was very late and Sonal took the office drop car. She was the last to be dropped and realised the driver had missed a turn. She told him to turn around but he ignored her and kept driving, missing the next turn too. Sonal thought he had either forgotten where she lived or had not heard her. She bent over the back rest of the driver's seat to speak with him and he responded by showing her a pornographic clip on his cellphone. Sonal felt paralysed by fear and broke into a cold sweat as she realised the driver had essentially kidnapped her and was driving her down a lonely stretch of the highway with the intention of sexually assaulting her.
Sonal's reflexes kicked in and she asked the driver to take her to a McDonald's further down the road. Sonal went in, grabbed a coffee which calmed her nerves, and boldly marched back to the driver, ordering him to drive her home. The driver was taken aback by her lack of fear and assertion of authority even in the face of adversity. He meekly drove her back home. The next day Sonal complained to her superiors, and they merely asked her why she alone seemed to be the target of such occurrences, indirectly suggesting that she was responsible for everything.
But Sonal gained her strength from these experiences. Of course she was upset. Of course she was dejected. But she did not ever lose hope of the larger goal.
She switched jobs. It took a long time to get over the trauma and Sonal went through an emotional rollercoaster for several months. After some time, she joined The Humsafar Trust, an organisation that works for the rights of LGBTIQ people. Working with fellow LGBT people and helping them cope became Sonal's way to heal herself.
Gradually, she started dating again. Over time, she met Upasana, an equally amazing person.
'I met Upasana online and we became friends. Upasana lived in Pune at the time and was making a short trip to Mumbai. We decided to meet. I forgot all about it and ended up hanging out with another woman,' says Sonal.
When Upasana called her and told her she was waiting, Sonal ended up dragging her current date to go meet Upasana…and Cupid struck! They moved in together and now play mommies to three little kittens.
Sonal's family had an inkling of her sexuality, especially her mother. When I prod Sonal for more information about this, she gets a little irritated. But she can hardly hide any emotions with a tell-all face like hers. Sipping coffee, she says, 'My mother saw my deep friendships and unusual closeness to friends. She would see me calling them and chatting with them late into the night.'
I still remember Sonal from a Gay Bombay Parents Meet. She had been reduced to tears while speaking about her coming out experience. That was the first time I had ever heard a woman talking about her own coming out.
'When I came out to my dad, he told me that he accepts me and loves me the way I am. He was even willing to come to the pride march with me to show his support. Hearing those words from him made me cry for a very long time because it felt like years of my emotional burden were finally lifted,' said Sonal.
It was surprising to me at this stage that Sonal still hadn't come out to her extended family. I was shocked when she told me how she finally did this.
She laughs, saying, 'It happened on TV. That's when EVERYONE got to know.'
Sonal was featured on a reality TV show called Connected Hum Tum. She was followed by a camera for a year. The show recorded the most intimate details of her life, including her relationship with Upasana. It was then that her relatives started trying to understand her. Gradually, everyone welcomed Upasana into the family. Today, whenever Sonal's mother visits the couple, Sonal often finds her mother and her girlfriend chatting nineteen to the dozen. Upasana is a bomb of a person herself. Together, the couple have a child; I mean, a feline child. Sonal quips just as any doting pet parent would, 'The family is complete.'
Sonal spent years at The Humsafar Trust helping frightened young LGBT people deal with legal emergencies. Often, gay and lesbian people are blackmailed by people they date. The blackmailer asks for money or threatens to tell the cops about their homosexuality. Given how Section 377 criminalises 'sex against the order of nature', it gives an impetus to a lot of extortion. People end up at police stations. Sonal meticulously wears the badge of the LGBT warrior and swings into action, no less than a mythical character. She has built a respectable relationship with the Mumbai police as she is usually the one getting police permissions for the Gay Pride Parade and other LGBT events. She is always there at police stations whenever an LGBT person is reported as harassed or blackmailed.
But Sonal has now moved on to more creative endeavours. After leaving her much-loved job at The Humsafar Trust, she started work with Paro Devi Pictures. A TV show and two movies with a strong feminist agenda later, Sonal now wants to take up filmmaking fulltime.
Sonal is my favourite activist. I am deeply inspired by her. Her message to those who haven't come out but want to is this: 'Queer women should come out only when they feel safe. They should aspire to be financially independent and complete their education before telling parents about any ongoing relationships.'
Also read Out and Proud: How Aruna Desai became an ally to the LGBT community