Out and Proud: Prachi Kathale, on battling abuse and grief by focusing on life's possibilities
Prachi Kathale has also had her share of struggles with discrimination and heartbreak, but that has not stopped her from counting her blessings | #FirstCulture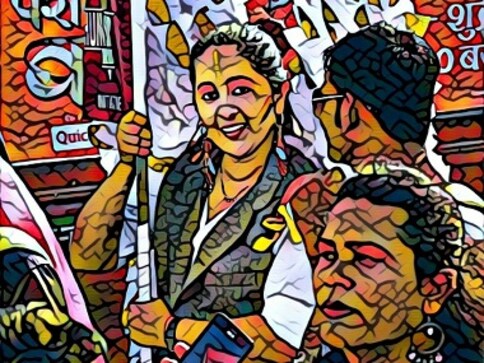 As 3 February 2018 marks the Queer Azadi Pride March in Mumbai, we're publishing six compelling coming-out stories: first-person accounts of coming out about your sexuality or gender to friends, loved ones, colleagues or even to yourself. This interview was part of Harish Iyer's 'I'm Coming Out', published by Juggernaut Books, in which the personalities he speaks with explore what it means to be gay in India. 
This story contains parts which some readers may find disturbing. Discretion is advised.
On a warm Sunday afternoon in 2016 I was at home glued to Facebook when I read a post by one of my friends. She was going to commit suicide. The reason behind her decision was that a relative had been accusing her of sexually preying on her female cousins. She had had enough of the bullying and had decided to end her life. She was a lesbian. I, of all people, knew how members of the LGBTQ community were subjected to such hostile accusations. I acted on impulse and quickly rang her up. She picked up after a few rings.
This was not the first time she had expressed that she was upset on Facebook. And this was not the first time I had called her after reading her update. She opened up to me, I heard her out. After she finished speaking, I asked her, "So, are you going to hang yourself or jump from the balcony?" Suddenly, she burst out laughing. I breathed a sigh of relief. I had defused the bomb. "Well, that's what all of us go through, darling," I told her, "We all are predators until proved otherwise."
She laughed.
Prachi is erratic, impulsive, lovely. Sometimes, she is also suicidal. I first met Prachi Kathale, or as we fondly call her, PK, at the Queer Azaadi Mumbai event. She was part of Umang – a wing of The Humsafar Trust for lesbian, bisexual and transgender women. Later, she also became a part of Yaariyan, a queer youth collective forum managed by The Humsafar Trust. We hit it off instantly.
That's where it all started. And here I was, a few years later, rushing to greet her with a hug. We were at a coffee shop. She ordered a cappuccino between our chatter and quipped, "My life can be made into a film."
I quickly seized the opportunity to ask her, "How about I write your story first?"
"Sachi?" she asked, in disbelief.
"PK, tell me about your life. Where do you come from? Tell me about your family."
"I am an adopted child. I was one of those foetuses that were thrown into the dustbin."
At this point, I started laughing. "Come on, don't joke. I'm being serious here."
'I'm serious. I am really a girl child who was thrown into the dustbin. I was later adopted by my parents."
At this point, the tone of the conversation changed. I couldn't indulge in my usual self-deprecatory talk. She was really being serious.
"So when did you find out?" I asked her.
"I was apparently born in Amravati. I was rescued by a social worker who found me in a dustbin. She picked me up and took me to an orphanage in Vile Parle, Mumbai."
"That's quite a start," I said, dumbfounded.
"I have been quite open about it. My parents are the ones who looked after me… I no longer have anger or resentment towards my mother, who abandoned me. I count my blessings rather than regret that which I don't have."
"Then why do you get these suicidal thoughts?"
She laughed. "It sucks to be a minority. A gender minority. A sexual minority. Just because I'm gay doesn't mean I prey on other women in my family. By the same logic, I want to ask them, since they are straight men, should we assume all of them will abuse women? We don't, right? We find it absurd, right? Then how is it okay for someone to say the same about LGBT people?"
I agreed wholeheartedly.
"And Harish, I have been through awful things…' she continued, "I remember hearing your story, about how you were abused by your uncle…"
"Don't tell me you've been through the same thing?"
"Yes, I was raped too. And I would have been pregnant too."
A deep silence descended.
"It happened when I was just in Class 2," she said, as her voice choked, "It was during the summer vacations. My uncle… he shut my mouth so hard I lost my teeth. Then he raped me. Afterwards he told me, 'If you utter a word about this, your mother will hate you, and no one will talk to you ever again.' I'll never forget his words."
"He's dead now," she said with a certain joy in her voice.
It gave me courage to break the monotony of painful thoughts and ask her jokingly, "Darling, did this lead you to become a lesbian? Like they say, you hate men so you become a lesbian."
She chuckled. She knew I was pulling her leg.
You actually don't 'turn' gay or lesbian. It is not something that is acquired by experience, whether good or bad. Sexuality is innate. I knew this. I wanted to know what she felt about it.
"I am and always have been a lesbian. I knew I was attracted to girls right from Class 3. Every time I had a crush on someone, it happened to be a girl. I have loved girls since the time I remember love. The rape had nothing to do with my sexual identity."
"But when did you realise you are a lesbian?"
"It was in Class 7 when I realised there was a word to describe who I was. Suddenly, I realised that my feelings had a name and that my sexuality was also an identity. It felt so good then. And then a year later, when I was in Class 8, I fell in love with a girl. We were in a relationship that lasted for eight years. It was like a seal of homosexuality."
"Were there any straight girls you fell for? Did you feel jealous when they liked boys instead of girls?"
'I always wondered…' PK responded quickly, "I am better looking than that guy, I am more powerful than that guy, why is she not looking at me? Boys were always competition…"
"To make things clear for the reader, you mean only straight and bisexual boys were competition, right."
"PK, how did you come out? We live in a world where people still don't know or accept that there are different forms of sexuality. Was it difficult?"
"You know, Harish, coming out was not dramatic at all. My father and I were at dinner and I told him. I told him that I get attracted to girls. He asked me, 'Do you like any girl?' and I said yes. And he just told me to go with the flow. It was that easy."
"Wow!" I said. I was shocked. I had never heard a better coming out story in my life. "You are a lucky girl. And does your mother know you are a lesbian?"
"My school teacher and principal did me the favour," said PK.
"How?" I was intrigued.
"I was dating this girl in school. I went down on one knee with a rose in my hand. I proposed to her in front of everybody."
"Seriously, you are crazy! You know that, right?" I laughed.
"That I am. Love should be set free, right?," she said cheerily.
'What happened next? Did you get beaten up?"
"Nothing like that happened. Her family understood. My family understood. My mother thought it was a phase but she didn't react negatively either."
"What about your girlfriend, PK? Where is she now?" I inquired curiously.
Although she continued to smile, PK's eyes welled up. "She passed away in 2007. I lost her to cancer. She was a fighter. She wanted to live. But she had a small life and I had a big place in her heart."
"I am so sorry to hear that," I said softly. "So you slipped into depression after that? I would have…"
"Oh yes. After her, my world fell apart. It took me a lot of time to regain my strength and accept that I was alone in this world."
PK lost the love of her life in 2007. She is in a happier place now. She is as charming as charming can be. I decided to ask her if her extended family had taken it well.
"Now I am out. Some cousins have unfriended me. Some don't talk to my parents. It's okay. The lesser people in my life, the lesser the tension."
PK roams the city on her bike. She works at a BPO and is an established photographer. She has an identity. She is a brand. But she too, gets lonely, sometimes suicidal, especially when someone insults her. She is getting better with every passing year. I have seen her grow from a bud to a flower. I asked her about the lesbian dating scene because so little is known about it.
"Gay girls go after rich gay girls. There is classism here too. Also, they are quick to assume I'm butch."
A lesbian who's called 'butch' is considered the masculine one in the relationship between two women. The one who is more feminine is called the femme. But yes, there is a world beyond all these wordy definitions of people's appearances. There can be lesbians who do not subscribe to this binary of femme and butch and just call themselves lesbians or queer.
"Are you going to start dating again?" I asked PK.
"Yes. If there's someone worthy. You know, love happens. Pyaar kiyaa nahi jaata, ho jaata hai."
I asked PK if she would like to share something with the people who are reading her interview. She concluded with this: "I know life can get very tough when the world doesn't look in the direction you are looking. I know how it feels like to be ostracised, to be teased, to be forced, to be raped… but hold on to dear hope. Things will change if you believe in change."
PK is a lucky girl in many ways. She has a very understanding father. Her story is an exception, not the norm. The same is not the case with many lesbian women in India and around the world. Many are forced into heterosexual marriages and go through a lifetime of marital rape. Some women start believing that this is their life and their fate; they bear children and spend a lifetime as slaves of heterosexuality. Life is not easy when you hide your true self and try to be something you are not.
Lesbianism is not just about sex between women. We should abstain from reducing it to something like that. It is an orientation. Lesbian women dream of a lifetime with their lovers. They write poems, songs and feel their toes curl up when they see someone they are hugely attracted to. The emotions are the same.
People like Prachi define an alternate world that is filled with love. She had her challenges, still has some and will continue to face challenges, but she has won a battle with herself. She has reclaimed her life as a true, out and proud lesbian.
You can, too.
Like Oscar Wilde said, 'Be yourself, everyone else is taken.'
If you are a lesbian and are struggling when it comes to dealing with your sexuality, feel free to call the Umang helpline or write to them at umanglbt@gmail.com. You can also reach out to them on Facebook. You can check out the Gaysi website to meet other lesbians.
World
Some 38 bishops voted in favour of the proposal in Frankfurt at Synodal Path, a high-level conference organised by the Catholic Church in Germany
World
The rule will require an 18-month waiting period, 15-hour-long therapy sessions and treatment of any mental illnesses before Missouri doctors can provide that kind of care to transgender children
World
The case could lead to the Supreme Court's first-ever intervention in the hot-button issue of trans girls and women in sports