Osama bin Laden on American Idol? The Turbanator strikes back
The tweets have been flying fast and furious after a Sikh American got into American Idol. But in a world where turbans can get you killed, here's three cheers for a turban that makes you a winner.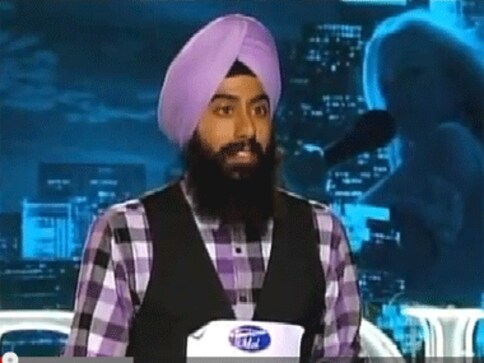 What is Osama bin Laden doing on American Idol?
That about sums up the Twitter reaction to Gurpreet Singh Sarin, the 22-year old turbaned Sikh American in the new season of American Idol.
Sarin aka The Turbanator has done exactly what  American Idol executive producer hoped for the show – break the WGWG (white guys with guitars) curse.
As Marnie Broderson blogs on WetPaint:
(S)o how about a dude playing a tabula solo?

Yeah, we haven't heard of it either, but it's a pretty cool Indian drum that looks like the bongos.
Oh, tabla! Right. Yeah, we think it's pretty cool too. Who knew American Idol would turn out to be Discovery of India?
Anyway, so this Turbanator showed up on American Idol and the tweets flew fast and furious, none of them half as imaginative as his nickname.
@Tay_Rougher_9 chortled "Osama Bin Laden's twin sang on American Idol. And "killed it"! Hahahaaha. Get it?? Killed?..Too Soon. Okay. Yes I know..Lame.
@OozyOoze32 was more indignant. "Osama bin Laden cannot win AMERICAN idol. #ThatsUnamerican.
@AmbarBh was remarkably measured in his response. "On American Idol tonight, a Sikh performed w\a gimmcky stage name "The Turbanator". Now Osama is trending…we can do better America."
Sarin himself was the most measured. "I'm a Sikh American and I'm proud! #turbanator @AmericanIdol," he tweeted.
Obviously the bitter lessons of the recent horrific massacre in the gurudwara in Wisconsin that left six dead have not trickled down to some American Idol viewers. The Osama-Sikh conflation started soon after 9/11 and it has had deadly consequences. At the same time it's also energized Sikh Americans into being more visible, more out there, more vocal.
What could be more visible, more out there and more vocal than being on Amreekan Idol?
With his long black beard and lavender turban, Sarin might have caused some television viewers to choke on their Coca Cola but he has a predecessor. The hilarious indie film Loins of Punjab Presents by the late Manish Acharya was a mockumentary about a Desi Idol show in New Jersey. In all-you-can-laugh buffet of colourful characters on that show, the most out there was probably the rapper Turbanotorious BDG played by Ajay Naidu. He was neither Sikh nor Black but pretended to be both in a sort of very serious people-of-colour-must-unite way. In actuality he was a closeted gay guy named Balraj Deepak Gupta whose motto was "Bhangra is the next hip-hop."
Now it turns out reality show is stranger than fiction –a real Sikh Turbanator on the real American Idol.
"It's heart-warming and prophetic," quips Anuvab Pal who co-wrote Loins. "I wish Manish and I could meet him to see if he's anything like the guy we wrote in 2004.I hope Ajay Naidu, our Turbanotorious makes peace with him."
It is sweet irony indeed because the Turbanator actually turns all the turban-bashing on its head. Chances are had Sarin been just another WGWG with a "light pretty voice" he wouldn't have made it into the show. It was the turban that made the critical difference.
Sarin almost did not make it through his audition. The judges were divided. They thought his voice was nice but too light. "Pretty but not standout" said Nickie Minaj even though she loved his looks. In the final count it was all down to Minaj.
Seeing her wavering, Sarin piled on the butter.
"Please, we are both very vibrant people. I actually have a marigold turban like your hair in addition to all the other colours" he pleaded.
Apparently the guy has 40-50 turbans  to match every outfit he wears. He says he wants to bring that "creativity and colourfulness" to American Idol. Minaj succumbed to his rainbow charms.
"Turb, you are going to Hollywood," she declared to whoops of joy. And  the special effects team at American Idol digitally changed the colour of the deliriously happy Sarin's turban as he jumped up and down with joy – red, green, blue, yellow.
I couldn't help but remember an old friend and former colleague, a very soft-spoken gentle Sikh man who lived in the San Francisco Bay Area. He had never been able to shake that memory of the massacre of Sikhs in India in 1984. It was a betrayal he could never come to terms with. America had been a sort of refuge until 9/11 changed that. Many Sikhs abandoned their turbans and shaved off their beards. My friend did neither. But he only ever wore black turbans after that. It's closest to the colour of hair, he explained. It did not stand out too much.
I hope he was watching Sarin that night as he rode his lavender turban into American Idol.
In the end talent will win out and the Turbanator will have to show his vocal chops,  not just a colour-coordinated turban.
But for now, more power to Gurpreet Singh Sarin and his Amazing Technicolor DreamTurban.
Watch video of the audition here:
World
In a new revelation, a top US official has for the first time disclosed that American special forces had recovered a telephone from Osama bin Laden's Abbottabad compound in Pakistan.
World
Internal emails among US military officers indicate that no sailors watched Osama bin Laden's burial at sea from the USS Carl Vinson and traditional Islamic procedures were followed during the ceremony.
World
The Pentagon's top lawyer has informed the former Navy SEAL who wrote a forthcoming book describing details of the raid that killed Osama bin Laden that he violated agreements to not divulge military secrets and that as a result the Pentagon is considering taking legal action against him.