Once Hyderabad's famed courtesan and patron of the arts, Mah Laqa Bai has been forgotten by history
Mah Laqa Bai wielded the sort of power that was unimaginable for a courtesan of her times — she was an advisor at the Nizam's court, the holder of a jagir and the first woman to compile a full diwan of Urdu poetry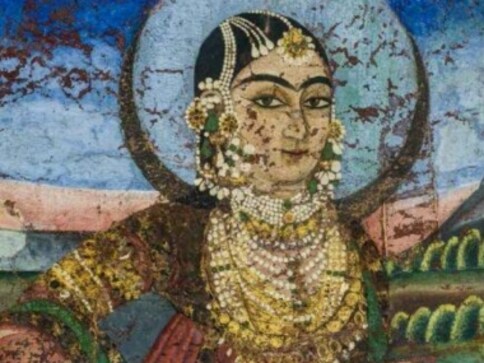 "When I asked my taxi driver in Hyderabad to take me to the tomb of Mah Laqa Bai, he laughed and said that there was no such place in the city," recounts acclaimed danseuse Manjari Chaturvedi, "Once, we reached the place, however, even he was struck by its beauty and admitted that though he is from the city, he had never heard the name of this poet." Indeed, this is the most common refrain when one hears the name of Mah Laqa Bai Chanda (1768–1824), who once held the princely state of Hyderabad in thrall with her beauty, wit and genius for poetry.
Born as Chanda Bibi to a courtesan and brought up by her step-sister in the women's quarters (zenana), she received the best of education in aesthetics and the arts. A gifted student, she mastered the unique Deccani Kathak, became a doyenne of classical music, wrote poetry and was also trained in military arts like javelin throw and archery. As her fame grew, she attracted the attention of the prime minister, Aristu Jah, who became her patron. With his backing, her diwan (compilation of poems) was compiled and published in 1798. She lived through the reigns of two Nizams (the second and the third) and was celebrated by both.
The Nizam took her on as a close companion (musahiba) and she accompanied him on both battles and hunting expeditions. In 1803, he gave her the formal court title of Mah Laqa Bai (the moon-cheeked one), the name by which she would be known to posterity. She was granted a jagir (holdings of land) and could claim the revenues from those places. One of the richest women of her time, her influence was far greater than that of the women of the royal family, thus cementing her status as a legend.
Scott Kugle, professor of Middle Eastern and South Asian Studies at Emory University whose book, When Sun meets Moon charts her life, says, "Mah Laqa Bai fascinated me because of her multi-dimensional personality and her unique position in the Deccan history. Though she belonged to a family of tawaifs who migrated from Ahmedabad to Hyderabad, in a single generation they rose from penury to riches, often through marriages with powerful nobles.
Mah Laqa is different as she became nobility herself; something like this hadn't happened before in the rigid confines of Hyderabadi society.
She was given a bodyguard of 100 soldiers and other rights which were keenly sought after during the time — to be carried around in a palanquin and have her way cleared by the beating of kettle-drums. For a courtesan to be able to exercise such powers was unthinkable and placed her in a unique position."
The life and times of Mah Laqa Bai
One of Hyderabad's most famous courtesans, a woman who advised the Nizam in his court, a benefactor who built many religious monuments which still dot the city and the first woman to compile a full diwan of Urdu poetry, Mah Laqa Bai was one of the anomalies which history produces from time to time.
Manjari Chaturvedi calls her one of the first female entrepreneurs of her time. "She started a center for learning, where she trained 300 women at once in the performing arts. A powerful woman who donned many hats, today she would have been feted as woman of the year! One has to look closely at the century she lived in, when it was simply unimaginable for a woman to even step out of purdah. Their roles were to be daughters, wives and mothers. It's incredible that such a time produced a woman like this," she says. Mah Laqa Bai's mansion, the Hassa Rang Mahal, where she trained hundreds of courtesans, still stands at Nampally, though as a crumbling government school — a long way from its past glory where it was a scintillating setting for mushairas and music.
Author and historian William Dalrymple observes that what Mah Laqa Bai achieved was remarkable. "She was always widely renowned in her time, even in Delhi and Lucknow. Even today she is remembered by lovers of Urdu poetry. She was widely copied in the late 18th and early 19th century, and she was one of the most popular Urdu poets of that time. Most high class courtesans of that age would have been happy with their own kothi, but Mah Laqa was both ambitious and extraordinary. She even became an advisor at court! In fact, a famous painting of a hunting trip of that time by Rai Venkatachalam captures her aura perfectly – she is the only woman in a sea of men, sitting regally in her palanquin with her pet cheetah. Hers is a fascinating story," he explains.
With her substantial influence and wealth, Mah Laqa Bai Chanda commissioned the construction of a library filled with books on the arts and sciences, and encouraged poets, painters and calligraphers. She sponsored poems and texts, including the creation of the Mahanama, a history of the Deccan. It is said that the legend of Chanda Bai was the original inspiration for Mirza Hadi Ruswa's novel Umrao Jan Ada.
The dancer and the poet
While Hyderabad does have its share of famous courtesans, none could rival the lore of Mah Laqa Bai. For instance, the courtesans Roopmati and Taramati were buried in the royal necropolis of Qutb Shahi Tombs, along with other members of the gentry, but they weren't trailblazers like Chanda Bai who defined the era they lived in. Mah Laqa's dance and poems were widely celebrated in her lifetime and she presided over many prestigious gatherings, including those which were held at the palatial British Residency where even the British were in awe of her skills.
Manjari Chaturvedi, who recreated the pomp, pageantry and poetry of Mah Laqa Bai for The Courtesan Project says that she restructured her life from the snippets she could glean. She explains, "Most of her poems and letters (which were discovered after a long time) were in ancient Persian which is no longer used now, which made translation difficult. But based on it, I interpreted her work through my dance. Kathak was the preferred dance form for court dancers of that era, and I wanted to showcase the journey of this path breaking woman, who refused to be a part of a harem, who declined numerous offers of marriage and lived life on her own terms."
Mah Laqa's poetry juggles the romantic and mystic with ease.
Displaying an extraordinary blend of Shia piety (almost all her poems contain an invocation to Maula Ali, a saint in Hyderabad) her diwan, shows a poet of fierce talent who can talk about both esoteric forms as well as romantic ballads with startling ease. A sample of her translated poems from Scott Kugle's When Sun Meets Moon shows her as a poet of great dexterity:
I'll toss the record of Chanda's deeds into passion's churning waves
If Ali, the forgiver of my sins, with a wine-cup my way comes
And
Oh Ali, keep Chanda glowing with a ray of your brilliance
As the sun is illuminated each day as your radiance pours out.
Challenging the largely Islamic world view of a woman's place in society and in her own home, she celebrates being a woman through her work.
Her connection with Maula Ali
The Maula Ali dargah stands tall on a dome-shaped hillock in Hyderabad and is dedicated to Ali Ibn Ali Talib, the Shia hero and son-in-law of the Prophet. Built in 1578 by the third Qutb Shahi king Ibrahim Shah, it is a popular pilgrimage destination for both Muslims and Hindus of the region. In the official history commissioned by Mah Laqa Bai, it is mentioned that when her mother Raj Kunwar Bai was pregnant with her, she made a trek to Maula Ali. Just outside the shrine, she collapsed and the fear of a miscarriage loomed large. While she prayed to the saint for the life of her unborn child, those accompanying her brought incense sticks from the shrine which aided her recovery.
It is perhaps this incident, oft repeated to a young Chanda Bai, that made her an unflinching believer in the power of Maula Ali. It was to him that most of her couplets were dedicated and all through her life, she considered Ali to be both her patron and benefactor in whom her belief never wavered. There are around 600 tombs of nobles around the area and Mah Laqa Bai built a mausoleum for her mother at the footsteps of the shrine, where she too would later be buried.
The tomb, which barely anyone remembers today (This writer spent an hour traversing the narrow lanes, as not even one local person seemed to have heard her name.), would have been completely encroached upon had it not been for Scott Kugle. It was in 2006 that Kugle, then on a research project on Islamic religious monuments in Hyderabad, chanced upon the dilapidated tomb complex. He worked on restoring the tomb along with a group of heritage activists from the Center for Deccan Studies (CDS) and later even authored a book on the poet.
Today, the complex is a serene space with a breathtakingly beautiful tomb. Built by the poet for her mother at a then whopping cost of one lakh rupees, it is a unique blend of Mughal, Rajasthani and Qutb Shahi architecture. The gateway which opens onto the square pavilion has poetic inscriptions engraved on them and the pavilion holds the two graves. The tomb is soaked in beauty and simplicity, making it the perfect tribute to the woman who had the world at her feet. A 200-year old Maulsari tree stands as a silent witness to the passage of time, and Moin, the caretaker tells us that while many foreigners make their way to the tomb, hardly any locals venture to this beautiful tomb. With two baolis (wells) on the premises, the simple-yet-majestic structure with its looped awnings, arches and architecture and Mah Laqa Bai's beloved Maula Ali as a backdrop is a sight to behold.
Modern-day relevance
How is it then that modern-day Hyderabad scarcely remembers this luminous poet? Chaturvedi confesses that the first time she tried to find information about the poet in 2011, hardly any material was available and attributes it to a patriarchal society dismissing her as a 'nachnewaali'. She adds, "The gender bias against her was very strong. Her tomb is well-maintained, but there are hardly any people. There is no institution or even a road named after her. It's important as these are the things by which we remember historical figures. There is nothing today that celebrates her art. Would an ustad of a similar standing be forgotten? I think craft should be respected irrespective of gender."
Dalrymple adds, "I think that decline of Urdu has contributed to the near-erasing of many gifted poets. That whole world of Urdu poetry has simply vanished, though it's making a comeback now. This is one of the reasons why Maha Laqa Bai has been lost to popular imagination. At a time when courtesans were boxed into a corner, she was an intellectual who ought to be remembered."
Incidentally, 2018 marks her 250th birth anniversary and there hasn't been one notable event which marked the occasion. It is a cruel irony that the richest woman of her time who regularly organised festivities and contributed to the monuments of Hyderabad has completely been sidelined by her own city. Living in the late Mughal period, she is a relevant study for today's times – a woman who refused to play by the rules. Someone who could be a courtesan, poet, artist and a spiritual agent, all at once.
India
The Hyderabad commission inquiry presents a significant opportunity to strictly implement the procedure for investigation into fake encounter deaths
First Cricket News
Bhuvneshwar's 19th over wicket-maiden against MI wasn't one-off as the SRH pacer has been among the best death bowlers in IPL history.
First Cricket News
The announcement comes on the heels of SRH's 3-run victory against Mumbai Indians, which kept Hyderabad's hopes of making the playoffs alive.