On the ever-important participation, leadership and representation of women in LGBTQI spaces
Women have been at the centre of LGBTQI forums and events in Mumbai, ensuring that there are safe spaces for other lesbians, bisexual and trans women | #FirstCulture
Women are the most neglected group in the queer rights movement. First, because of their gender, and second, because of their sexuality, they face double the amount of discrimination. In fact, "angry lesbian" is a catch phrase, though not many really care to understand where that seething anger comes from.
It is years of cultural and social subjugation screaming out loud. Women have long been seen as creatures who are incapable of having sexual desires, that their only job is to be a man's fantasy. However, things have changed this year at the Mumbai Pride Parade – or the Queer Azaadi Mumbai Pride. Here, women took the lead when it came to the Queer Networking Now event, the cricket match - The Queer Premier League, the official pre-Pride party, the official post-Pride party and most importantly, the pride parade itself, where the permission letter bore the signature of a queer woman.
I chatted with Koninika Roy, advocacy officer of the Humsafar Trust who sought the permissions for the Pride and asked her to comment on women leading and participating in the events in the march. I was quickly slammed by her.
"This question in itself is discriminatory, Harish. I had no doubt that women are strong enough to take lead of the pride."
She further added, "I am not the first woman to put her name on the letter. And I can assure you, I will not be the last." Koninika works with an organisation that is known for working towards LGBT rights at a time when it was not so easy to speak about the issue. She now has her name mentioned in a permission letter of an event that had more than 10,000 attendees.
Koninika has also co-led several other initiatives – she is the co-organiser of Queer Premier League, a cricket match by lesbian, bisexual and transgender (LBT) women, which had over 90 cricketers participating.
"Women have a proven capacity for leadership in the Indian LGBT rights movement. It is remarkable that most men, even in activist and academic spaces, think that we need them to appropriate our contribution. This is the most common problem I face from my peers -- a rampant invisibilsation of our proven capacities. It is important to acknowledge us as equals rather than some lip service about supporting and empowering us," said activist Sonal Giani.
And yet, captain Mithali Raj is still referred to as the 'female Sachin Tendulkar'. She herself mentioned this at the We The Women conference organised by Barkha Dutt. With all due respect to Sachin Tendulkar, such a phrase does not acknowledge the talent and hardwork of Mithali Raj, who started off at the same age and won medals, but didn't receive the right push.
Parched is the organiser of the pre-Pride party. Anuja, the head of Parched, clearly states, "This is not any sort of war against men. It is about the patriarchal mindset that we all should aim at crushing. Hopefully, some years later, women leading anything would not be story, but rather the norm."
Sakshi from Gaysi Family seems to agree. "We weren't intending to break the heterosexual cis-gendered hegemony. We didn't set out to make a statement. We just wanted a safe space for women, because we know that many queer women and non-binary people don't attend parties which are dominated by cis-gay and bisexual men. The gay men didn't organise the party, so we became the default post-Pride party. It is not by plan, but by design," says Sakshi.
LBT women-led group Gaysi Family organised the official post-Pride party last year, too. "Queer women and non-binary persons thrive in spaces that are non-discriminating and safe," says Sakshi. Speaking about the number of women and non-binary persons who attend the party, she said, "Last year, we had more than 300 women. We will up the ante this year. To ensure that men don't outnumber women here, we have requested every man to accompany a woman. And men who don't know of a lesbian, bisexual or trans woman can reach out to us. We can assist." Reaffirming that she believes in the goodness of men, she said, "There are good men, and there are misogynists. We would love for all the good, respectable feminist men to join us."
The movement is largely led by cis-gendered homosexual men. As a cis-gendered homosexual man who is seen as a leader of the movement, I understand the irony behind writing this piece. But it is time that we acknowledge and understand that we only grow up by sharing our spaces and acknowledging our privilege. By understanding that men aren't doing women a favour by letting them in, so there is no reason for us to be condescending. We do ourselves and the movement a favour, because bringing together diverse voices and voices that have long been silenced, adds a dash of enthusiasm and energy and propels the movement several levels further.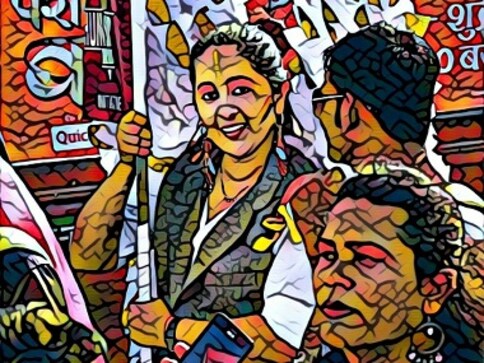 Life
Prachi Kathale has also had her share of struggles with discrimination and heartbreak, but that has not stopped her from counting her blessings | #FirstCulture
India
Activist Urvashi Chudawala who identifies as Kris was on Monday booked for sedition by the Mumbai Police for allegedly raising "anti-national" slogans in support of JNU student Sharjeel Imam at an LGBTQ event, the Mumbai Pride, held at the Azad Maidan on 1 February, an officer said.
Life
The Mumbai-based NGO Humsafar Trust — headed by LGBTQ rights champion Ashok Row Kavi — moved the Supreme Court against Section 377. Row Kavi spoke with Firstpost about what prompted the petition.