On board the Genting Dream: Five days of cruising between Singapore and Indonesia
The Genting Dream, a five day cruise through from Singapore to Indonesia, was a chance to try a different type of holiday | #FirstCulture
It's safe to say that not a lot of people look forward to waking up every morning. There's work to finish, exercise regimes to stick with and a never ending sense of urgency that ends only once back in bed, willing yourself to go back to sleep. On a cruise though, if you have a room that looks out onto the ocean, everyday sees you wake up to the water, the sky and if you're near a port, then possibly a cargo ship or two.
The views, and the sense of space one has on the balcony, are unparallelled, and like your first flight, will make you realise how small you are when compared to the world.
Lucky for you then, that there's a 19 deck ship to keep you engaged while it makes its journey from Singapore. There are a range of itineraries offered, from weekend trips that see the ship go into international waters, and the return to more exotic itineraries that take you to Indonesia, Malaysia and Thailand. The five-night stay that I was on took us to Surabaya and North Bali before returning to Singapore (the ship's home port).
While your excursions off the ship can be booked while travelling, it is planning what to do on the cruise that requires some thought. Across a range of spectra and interests, there's something for everyone on the cruise. Dividing the activities into categories, here are some ideas:
For the outdoorsy type
Sports and adventure lovers can do a lot while on board. There's a rock climbing wall, basketball court, and the ability to zipline while hanging outside the ship! Not for the faint of heart, the 35 metre zipline is over 18 decks in the air. Also worth doing on a morning is their rope course which challenges and makes impressive use of the space allocated (the innovative use of space is something that you will be impressed by multiple times on the trip). For those looking to take up something more relaxing, there's a mini-golf course that is worth putting over too. A pool and five water slides round out the offerings available on the outdoor deck. Scattered throughout level 18, there's also Jacuzzis, so you can take that perfect Instagram shot.
For those looking to escape the world
The staterooms, especially those with balconies overlooking the ocean, are big enough to be a hideaway. If you want some alone time, there are still options, like the two spas (one Asian and the other regular) in which you're encouraged to arrive for your appointment early so you can avail of the steam, sauna and more.
For those looking to live the good life
Aboard the Genting Dream, there's an array of dining and shopping options, in case you'd like to recreate the feeling of being on land. Our recommendations include the Japanese restaurant Umi Uma and the Bistro by Mark Best, which serves up classic fare, including excellent steak and tiramisu to end your meal with. On board the ship, you'll find boutiques for high street brands like Michael Kors and Kate Spade, in addition to luxury offerings from Salvatore Ferragamo, Ballys, Cartier and Bulgari. If you've made a killing on the two level casino, maybe this is where you come to celebrate?
Once you've caught the sunset from the wooden deck, make your way to the eighth floor alcohol village, and get a drink from the various bars on offer. There's the world's first floating Johnnie Walker House, a Penfolds Wine Vault, and Mixt where you can order a range of cocktails. End your night with a visit to Zouk (the Singapore nightclub's first floating location), where parties go on into the night.
In between, there are classes, movies, games and more that you can participate in. If you and the family are looking to take a break, a cruise is a whole new experience that allows you to make new friends (after all, there are other familes on the same boat), and experience travel in a different way. Across age groups, everyone will find something that will keep them busy through the day, from bowling to an activity centre for children to performances at the floating theatre. And then there are always the morning views, which are equal parts calming and stunning.
World
After the match in East Java province between Arema FC and Persebaya Surabaya, supporters from the losing team invaded the pitch and police fired tear gas, triggering a stampede
World
Panic broke out at an Indonesian soccer match when police fired tear gas to disperse supporters invading the pitch after Persebaya Surabaya defeated Arema Malang. In the chaos, 125 people died and dozens more were injured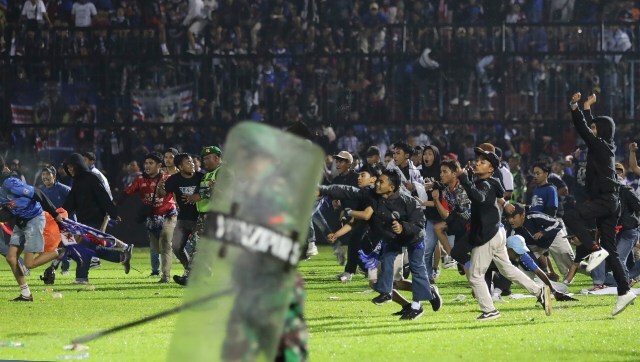 Football
The tragedy on Saturday night in the city of Malang, which also left 180 injured, was one of the world's deadliest sporting stadium disasters.