Notes from Margazhi: Two concerts illuminate the wide spectrum of Carnatic music as practiced today
Carnatic music in all its aspects is on display during Chennai's "December Season", or "Margazhi" as it is called in Tamil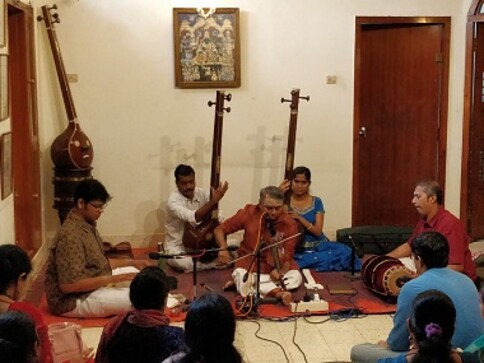 It is Margazhi again and the music and dance fever is reaching a crazy pitch in Chennai. Only philistines don't know the word "Margazhi", to be pronounced with that typical Tamil sound (written in English mystifyingly as "zh"). It refers to the month of Margazhi — roughly from 15 December to 15 January; a month of religious significance and now of great cultural significance in Chennai.
Literally thousands of events erupt — concerts, lecdems, panel discussions, themed dance conferences, themed music festivals, jugalbandis, other collaborations, award ceremonies, not to mention peripherals like busy canteens, silk saris, and dhotis, designer kurtas, contemporary and traditional jewelry, jasmine – the city is transformed for those whose lives have space for classical music and dance.
And it touches others too! An auto rickshaw driver, when I asked him to drop me off at the Narada Gana Sabha, asked me: "Whose kutcheri madam?"  Astonished and rather thrilled, I asked him if he followed Carnatic music! Singers straddling the worlds of film music and Carnatic music might be regarded with suspicion by hardcore connoisseurs, but the phenomenon has its positive effects.
Carnatic music in all its aspects is on display during the "December Season", certainly more easy on the tongue than "Margazhi". A friend — an amateur Carnatic vocalist and academic — was deeply traumatised on seeing loud, flashy billboards of Carnatic singers on display at a music shop during a past season. My mild-mannered and generally tolerant friend said in deep anguish, "I don't want to have anything to do with Carnatic music! I just want to disown it, distance myself from it."
One has hoardings of advertisements or films, and if Carnatic music is serious music then by that token there can be no hoardings! That seemed to have been his disenchantment. But that is the breadth of Carnatic music, if you will have it. Many Carnatic singers have a status beyond, in bhakti music, and film music. And many offer classical concerts liberally sprinkled with abhanga,  bhajan, folk songs and other "tukadas". And we have a handful who are uncompromising in their commitment to "hardcore" Carnatic music and do not lend their voices to other kinds of music. While one may have a clear preference for the one or the other, both make Carnatic music the vibrant form it is today.
Earlier in the month, I attended two concerts at different ends of the spectrum. The first was a thematic concert by a very popular Carnatic singer for an annual festival, Margazhi Maha Utsavam – Margazhi's great festival. Popular musicians are featured in this festival and each structures the concert around a theme. Often the theme is vague enough to allow anything at all.
The fact that classical music needs to be presented around themes is disquieting for the serious listener since it seems to indicate that the music in itself is not enough, there has to be another reason, another meaning to the concert. As one player put it, old wine in a new bottle sells. But what does this interest in the bottle indicate? That the wine, in itself, is not relished or appreciated enough! This is not to dismiss thematic concerts, only point out the underlying dynamics of the consumption of music. Perhaps thematic concerts ought to be welcomed because they are keeping larger audiences engaged with Carnatic music, even if slightly watered down. Studded with easy-going songs, gallery presentational format, it is certainly not for the serious listener, but it is the music that many others enjoy and has its own validation. Those who perform this kind of concert are perfectly capable of rendering a serious, regular concert too.
This concert was held in the rather functional settings of a Government Youth Hostel. Multiple banners all around acknowledged sponsors of the event. This was the crowd of 50, 000 that Bob Dylan spoke about in his Nobel acceptance speech. He said it is more difficult to perform for a smaller audience of 50 than for 50,000. A 50,000 strong audience, he points out, has one personality, thinks and behaves like one but with a smaller audience, the performer has to engage with each individual listener, appeal to each individual's complexity. Of course the crowd was not actually 50,000 but about 1,000, which is possibly as close as it can get to 50,000 for a Carnatic concert!
A few days later, RK Shriram Kumar, known as RKS, performed for the 50 at the Musiri Chamber Concerts. Admired and respected for his deep vidwat as well as his scholarship, he is as much sought after as an accompanist as a guru. Accompanying him was Arun Prakash on the mridangam and Aniruddha Atreya on the kanjira. Arun Prakash is an extraordinary mridangam player. Nobody associates mridangam with quiet, but Arun Prakash has had the courage of conviction to deliver an extraordinarily sensitive style of accompaniment. "He only taps once in a while," goes the joke. However, it is really no joke; he exhibits uncommon restraint, but when needed, exhibits as much dexterity and virtuosity as any other.
That day RKS delivered supremely emotive music, displaying his deep understanding of and serious engagement with the lyrics, raga, and the laya, and in his presentation, exemplifying the best of vallinam and mellinam – phrases softening to a whisper and broadening out. It was quite exquisite.
The concert happened in the quiet elegance of the house of Tyagarajan and Rajeshwari, with technical support from V. Chandrasekharan and Siddhartha. This is where the Tyagarajan's grand uncle, Musiri Subramanian Iyer, lived, sang and taught. Tyagarajan's family holds concerts through the year, with two specials – one during Margazhi and one for Musiri Iyervaal's anniversary.
Musiri Subramanian Iyer, a legendary vocalist of the 1930s and '40s left a deep impact on the Carnatic world with his emphasis on the emotive content of music.  With a high pitched voice and plaintive singing he could be seen as the counterpart of Ustad Abdul Karim Khan. Like Khansaheb, he did not engage in overt and explicit laya exercises but let laya gently control the reigns while imagination and emotion soared. He is regarded the aadikarta of contemporary neraval singing. Some compositions continue to immediately evoke the memory of his genius as when RKS, caressing the higher Gandhara, gently slipped into the anupallavi of the kriti entavedukondu raghava in Saraswati Manohari. It was astonishingly beautiful – as the notes emanated from the violin, revealing the simple poignance of Tyagaraja's song, in the ambience of that house in which that great singer had sung this song hundreds of times. Tyagaraja sang: antarAtmana, enta modi ra! (You dwell inside all, then why do you hide from me?).
This paradox of the inaccessibility of that which is closest to everyone – the indwelling spirit perhaps – has found expression in many ways. Kabir says kasturi kundala base, mrga dhoondhata bana maahi. The deer maddened by the fragrance of the kasturi (musk) searches for it in the forest, not realising that it resides in its very navel.
The more ancient Upanisadic verse describes two birds on the same tree; one is pecking away at the fruit, enjoying it, while the other is observing it. This has found many interpretations, one of which I heard from this same friend, about his struggles to keep going with music. He wrote: "Sometimes if there is no listener, it is not clear whether it is worth singing! Occasional detachment to create the listener within oneself is possible, but not all the time." The idea of God or Nadabrahman or some such might help here but is not available to all, after all.
But I wonder about another interpretation of this verse: even when actively singing or playing the violin this sort of splitting the personality alone can make for the most evocative music. You are the performer and you are also detached from a sense of ownership of the performance. You watch, and observe the music that you are creating with a detachment like that other bird; it is a beguiling but real state that is conducive of creativity. And in this detachment, most paradoxically, the greatest involvement is achieved. It might be that this is when music is most compelling – to yourself and the audience if there is one. RKS seemed to have achieved this that day.
Dr Lakshmi Sreeram is a Carnatic and Hindustani musician and researcher. She writes about art and culture using myth, story, philosophy, and everything in between. Write to her at larasriram14@gmail.com.
also read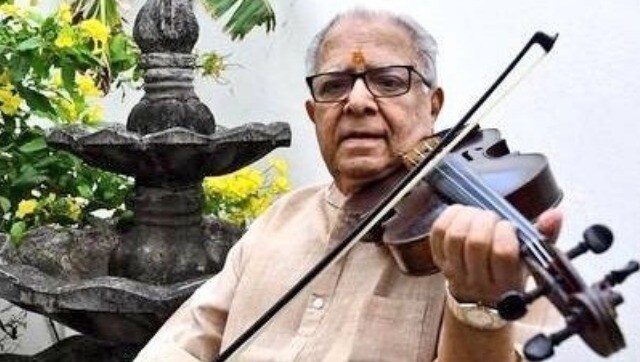 Arts & Culture
Noted violin maestro and Padma awardee TN Krishnan passed away in Chennai at the age of 92, on Monday, 2 November.
Lifestyle
The Chitra Sutra says that one can only be painter if you are also a musician, a dancer and a sculptor. S Rajam was possibly the ideal painter, as envisioned in this ancient text from which he himself drew inspiration for his art.
Arts & Culture
On 23 August, when TM Krishna's mellifluous 'Endullu Peddala' in Raga Shankarabharanam filled his fans' homes, history of a sort was made for Mysuru's 8th Cross Ganesha Music Festival. TMK was among the first stalwarts to lead the heritage festival into the digital world.