Not IITs, Satya Nadella's rise proves you just need to dream big
If Nadella can make it big on American soil, why can't somebody from a lesser known college or small town? After all, it's all about enterprise, hard work and American soil now.
For a million plus students who sacrifice the best three years of their adolescence, but still fail to make it anywhere close to the IITs should  They have a new rockstar to look up to - Satya Nadella.
The man who will head Bill Gates' company is not from any of the IITs that gave us global heroes such as Rajat Gupta, Raghuram Rajan or Vinod Khosla, but to the Manipal Institute of Technology, a modest engineering college that is ranked way below the IITs. Incidentally, he also hails from a state that's crazy about IITs and run training sweatshops.
IITs vs other engineering institutions has been a never ending argument among upwardly mobile students, their families and education circles. Internet forums are replete with such discussions, most of which are either blatant promotions of private engineering colleges or the disgruntlement of students who couldn't make it to the IITs. To prove a point, they even try to compile lists of non-IITians who have made it big in the global tech world.
It's a perpetual mindset, an obsession or even a pet peeve.
If Nadella can make it big on American soil, why can't somebody from a lesser known college or small town? After all, it's all about enterprise, hard work and American soil now.
The new Microsoft chief will certainly emerge as the poster boy for Manipal and thousands of students who passed out from there will celebrate. Facebook is full of self congratulating messages with some even gloating. But, interestingly, this is not a new trend. In our obsession with the IITs and tech and business heroes, we forgot the non-IITians who trumped their college-status in not-so-quiet ways.
Venkat Ramakrishnan, the 2009 Nobel prize winner for Chemistry, was an IIT-reject. Not only he couldn't get into any of the IITs, he even failed to manage an admission to the Christian Medical College in Vellore. Unable to study engineering or medicine, he settled for physics at the Indian Institute of Science in Bangalore before going to America for his masters. The rest is history.
The legendary Vinod Dham, the "father of the Pentium chip" didn't study in any of the IITs, but went to the modest Delhi Engineering College. He even worked in India for a few years before going to the US for his masters.
After his masters, he began with a small company that made cash registers and diligently worked his way up before hanging up as the Vice President of Intel to be a venture capitalist. As this Rediff bio notes, it was purely the entrepreneurial skills and hard work, and not the label of his degrees, that propelled his growth: "Make a computer for Rs 9,999 and take it to the masses, he told the gathering (in India). A student pointed out that you couldn't even get a memory device for that kind of price. 'If there isn't one, you have to design one,' Dham shot back."
A hero before many of the expat technology rockstars, Sabir Bhatia, who created Hotmail and sold it to Microsoft for a fortune, also didn't go to any IITs, but to BITS, Pilani. BITS also has to its credits many recent internet success stories in India. For instance, the Indian enterprise Redbus was founded by BITS graduates. Gullu Mirchandani of Onida, Gagan Chaddha of Value First and Rajesh Hukku of iFlex are from BITS.
There are many more such examples.
In 2013, out of the seven students that Facebook picked up from Indian campuses, only three were from the IITs. While three were from a low profile International Institute of Information Technology in Hyderabad, one was from REC Trichy.
So the moral of the story is this - if you are hardworking, enterprising (and are able to get through to the US), you can make it big. You don't need to to go the IITs. As reported by The Hindu , a "background study of 317 immigrants who started tech companies in the US showed that graduates of Delhi University were twice the number of IITians.
Similar was the case with two other public colleges, Osmania and Bombay University that trumped nearly all the other IITs. A similar trend was noted among Chinese immigrants, where the tech companies' founders were from smaller universities compared to famed varsities like Fudan and Tsinghua.in August 2013"
All you need is big dreams and of course, the escape velocity.
World
The protest at Tsinghua follows an overnight demonstration at neighbouring Peking University, and videos have spread on social media of similar gatherings in other Chinese cities
World
Employees complained Foxconn Technology Group changed the terms of wages offered to attract them to the factory in the central city of Zhengzhou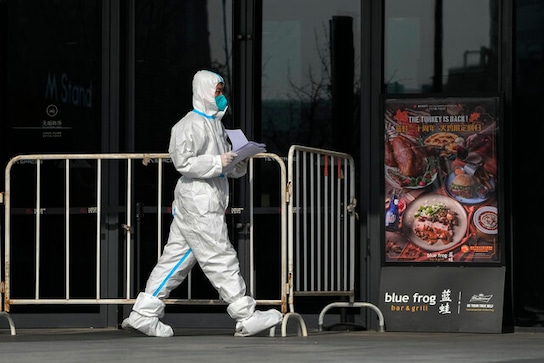 World
Case numbers have surged across China, with residents in Beijing worried that a record number of new infections will lead to lockdown measures similar to those seen earlier in the year in Shanghai, which lasted for months