Editor's note: From October 2017, we're running a series called 'By Design' that looks at Indian cities from the perspective of urban design. How can design make the quality of life in India cities better? How can the architecture of our infrastructure prevent life-threatening situations like flooding, or rush-hour stampedes? What solutions can simple design changes offer to monumental urban problems? We'll be discussing all this and more, in 'By Design'.
If Rudyard Kipling's Kim O' Hara were to sit astride the Zam-Zammah, that 'fire-breathing dragon' gun on its brick platform opposite the Ajaib-Gher or the Lahore Museum today, he would be shunted out immediately. Local chowkidars, beat constables, and other gatekeepers of ceremonial landscapes and middle-class property would probably chase the urchin to the edges of the city. There, in the spirit of every keen-eyed ragamuffin who belongs to a metropolis that will never belong to him, the boy would find a filthy river to splash in, or piles of garbage to climb or jump from, or neglected corners infested with swine to turn into spaces for his ruffian games.
Children, irrespective of whether they belong to gated communities or urban slums, always find ways to play. And in the absence of spaces demarcated as playgrounds, they create their own. In this spontaneous repossession of the city, they stake a claim to their right to recreation, as stated in Article 31 of the United Nations Conventions on the Rights of the Child: "That every child has the right to rest and leisure, to engage in play and recreational activities appropriate to the age of the child and to participate freely in cultural life and the arts."
Perhaps inspired by the phrase "participate freely", Sudeshna Chatterjee, a Delhi-based urban designer and CEO of non-profit organisation Action for Children's Environments (ACE) set about creating Khirkee Khel Khazana in collaboration with KHOJ International Artists' Association in 2011. Khirkee, a hodgepodge of buildings near Saket, its chicer counterpart in Delhi, was ideal for an experiment in inclusive spaces to play in, as urchins and rag pickers frequented the area. "Most play actually happens outside playgrounds," says Chatterjee, adding, "We do not understand the nature of play; often, we equate play with either cricket or football."
Building an inclusive playground in an Indian context entailed making play spaces accessible to poorer children. "Landscape design adversely impacts play," Chatterjee explains. "An outdoor space that is merely decorative or restorative, and not interactive, is one that goes against a child's urge to play," she elaborates. Egalitarianism on the playground meant a space that offered something to all children; one that encouraged creativity, resilience and team activity; one that offered loose parts that encouraged free play; one that facilitated an understanding of how children use play spaces.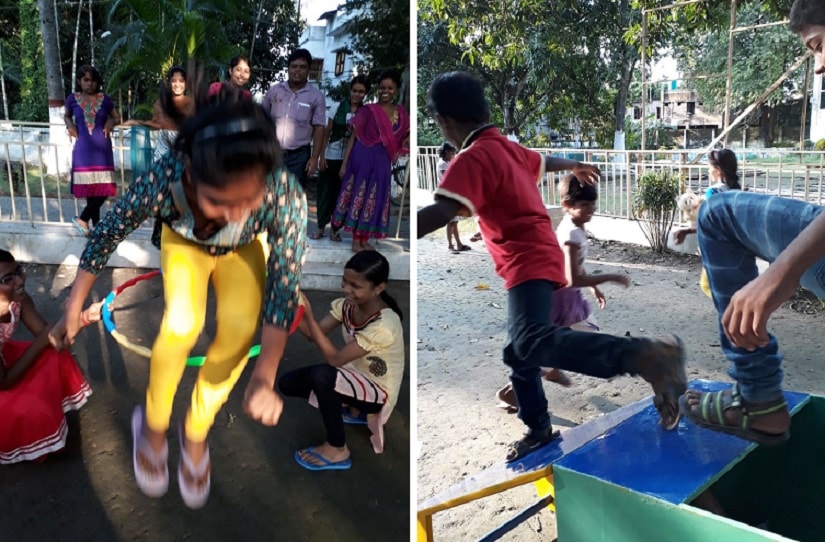 Chatterjee, who collaborated with Kolkata-based architect Subrata Ghosh, came up with Play-on Wheels — a concept built on the tenets of inclusion and spontaneity. They created a play cart filled with loose parts that prompted children to invent their own games. The idea led to an assortment of inventions and possibilities, particularly for the children who lived in tenements and were used to playing with material readily available in the environment — pebbles, gravel, sticks. Play-on-Wheels has been launched as a pilot project in two children's homes run by OFFER, a non-governmental organisation in Kolkata.
Play, as a spontaneous, self-controlled activity of children, finds delightful expressions even amid the filth and squalor of places torn asunder by violence, or natural calamities, but hobbling towards normalcy. The International Play Association (IPA), a non-governmental organisation founded in 1961, defends and promotes the child's right to play in all circumstances, in over 40 countries where it has members and active groups. In 2014, it held a workshop in Istanbul: Access to Play in Crisis (APC). The group deliberated upon how a child's right to play is affected by situations of conflict and natural disasters. In fact, in a crisis, opportunities for play are of lesser urgency than providing food, shelter and medicines to the victims. The IPA's Access to Play in Crisis Project, led by Chatterjee, undertook research in six countries. In India, it ventured into the Nimtala Ghat squatter settlement in Kolkata, where a railway track slices through clusters of huts. Trains move in both directions between 8 am and 9 pm every day, their arrival heralded by an air horn that does not indicate the direction of the incoming train.
There are other reasons why Nimtala Ghat is an area of unceasing perils. The squatters' colony is next to the Nimtala Ghat crematorium, where around 70-80 bodies are cremated daily. Located on the banks of the river Hooghly, the crematorium and its adjoining area are thick with pollutants. Ritualistic effluents like flowers, fruit and other waste flow into the water continuously; human and animal carcass have also been seen floating on the river from time to time.
The APC research, conducted between December 2016 to February 2017, with 18 girls and 22 boys from the area, was revelatory. The only safe open space in Nimtala Ghat was the compound around the memorial of Rabindranath Tagore inside the crematorium, but that was fenced off and made inaccessible to children. Inevitably, the girls and boys from the tenements ran to the riverbank, or to the road between the railway track and the riverbank, or to the spaces along the railway track for their games.  The boys jumped into the river as well, more frequently than the girls.
Their games, devised using available material, were also influenced by their particular area of play. For instance, the most popular game on the river bank was lattu, or spinning the top. An aggressive variant of the game, guch maramari (popular with the boys) involved the formation of groups. Tops of rival groups were placed inside a circle that was drawn on the ground, and each child was expected to break the top of a competitor, without causing any harm to another child.
Girls played gentler games that involved role-play, on the riverbed.  Marriage games like biye shadi, and a rendition of the rituals they observed on the ghats, called pujo pujo, were favoured themes for re-enactments. The riverbank also provide them with enough props for their playacting – flower garlands, rice grains and bangles left by the women who used the ghats for worship, sparked their imagination and informed their play.
The river too, was an unlikely playground for the boys. They built a raft called 'trawler' with discarded material like plastic mats, on which bodies were laid for the performance of rituals before they were cremated.  Thermocol (polystyrene) pieces, thrown away by fishmongers in the local markets after they unpacked their fish, were also used in the creation of this raft. The boys took the contraption to the middle of the river, unafraid of the tide, but worried about the river dolphins that sometimes toppled the trawler.
The railway track, despite its obvious dangers, was where the boys balanced themselves, or pulled their carts. Girls sat along the tracks and pretended to cook with stones and leaves.
Kolkata city has around 300,755 slums, with a population of around 1,409,721, (around 31.35 percent of Kolkata's population) according to the Census of India, 2011. Children are more vulnerable to hazardous and unhygienic living conditions than grown-ups, but the APC research conducted in Nimtala Ghat charmingly verifies their resilience and resourcefulness. It underscores the fact that no matter what their circumstances, they will find ways of turning difficult terrain into a playground with endless possibilities. Chatterjee, in her summation of the research, writes in the September 2017 issue of PlayRights Magazine: "There is no awareness about the right to play of children in the larger society as is evident from the lack of designated play spaces or play programmes within wider community development initiatives of different organisations."
Until spaces are designated for children — including those who live on the streets or in urban slums — to play, menacing places like railway tracks or riverbeds will continue to serve as playgrounds.
Read more from the 'By Design' series here.
Your guide to the latest election news, analysis, commentary, live updates and schedule for Lok Sabha Elections 2019 on firstpost.com/elections. Follow us on Twitter and Instagram or like our Facebook page for updates from all 543 constituencies for the upcoming general elections.
Updated Date: Dec 24, 2017 12:43:12 IST