You'd be forgiven for thinking everyone knows about Penguin India's decision to withdraw and pulp Wendy Doniger's The Hindus: An Alternative History. Everyone hasn't.
There are many book lovers like the second-hand books seller in south Mumbai I was chatting with today who didn't know The Hindus has been withdrawn. When I told him about the decision to pulp the remaining unsold copies, he winced. "Why don't they just give it to people like me?" he asked. "I'll make a little money off them."
Actually, Penguin USA is the one making money off of this controversy. The Hindus has climbed to number 33 in Amazon's bestseller list (from rank 17, 740, if you please).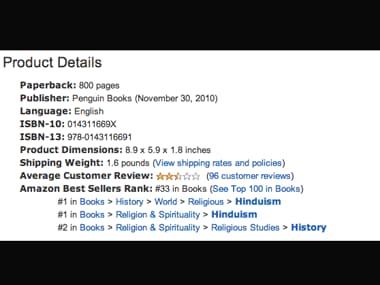 My second-hand books seller isn't on Twitter, but if he was, this sentiment of his would probably have got many retweets: "Here we are thinking we're so smart, we beat Penguin, and they're out there, selling the book and making ****iyas of us."
If Amazon's rankings are any indication, then Penguin USA has made a killing with The Hindus while its Indian counterpart is suffering serious damage to its reputation.
This is ironic because the first complaints against Doniger's book came from Hindus who live abroad, like New Jersey-resident Rajiv Malhotra who led the attack against Doniger. It was in London, in 2003, that she had an egg flung at her. The protests and Doniger-hating placards were spotted, not in an Indian city, but in Los Angeles, when a reading of The Hindus was organised by National Book Critics Circle (NBCC) in 2010.
The NBCC is the largest organization of critics in the United States and sponsor of one of the country's most prestigious literary awards. In support of Doniger, the NBCC released a statement yesterday condemning Penguin India's out-of-court settlement and urged the publishers to "reverse its decision immediately."
A reversal seems unlikely, considering Penguin India's sphinx-like silence. While Penguin may not have many defenders, The Hindus does. Arshia Sattar, an academic and author of one of the most well-received translations of Valmiki's Ramayana (also published by Penguin India), told Firstpost, "The Hindus is an important book … because it comes after fifty years of engagement with and research on the issues it addresses. ... There is not a facet of Hinduism that Doniger leaves untouched – from caste and attitudes to animals, to changes in the colonial period, to celebrating the power of its stories, which are universal in their concerns."
Sattar's admiration for the book isn't universal. Many critics have disagreed with Doniger's interpretations. Some have pointed out factual inaccuracies in The Hindus, like when Doniger writes about the Mughal period in The Hindus. However, regardless of their opinion of the book, most of the Indian intelligentsia is in agreement that pulping The Hindus is unjustified.
In their statements, Doniger and the NBCC express concern about the threat that Hindu nationalists pose upon India's intellectual landscape. It's one echoed by many and the threat certainly seems more dire today than before, but actually, India has a long tradition of banning books and stifling alternative interpretations.
As historian and author Ramchandra Guha has written in an article today, from Congress-led governments to the CPI (M), every political party in this country has been complicit in banning books. Those with influence (and money) have enjoyed the ability to control what information is allowed to disseminate about them, which is why biographies in India are usually hagiographies.
Over the years, institutions have not only failed to encourage critical thinking and free speech, but they've been silent allies of or active participants in censorship. If anything, the Hindu nationalists are only continuing a long-standing tradition that draws its legal strength from the very British colonialism that Hindu nationalists claim to attack. Today, Hindu nationalists seem more of a threat because for the first time, thanks to the internet, the haters seem to be everywhere — on the streets, in mobs, in comment threads, on social media — and they're intent not only upon being heard but also smothering dissenters with abuse.
Perhaps the only amusing aspect to the controversy surrounding The Hindus is the rousing support Thomas Babington Macaulay has received from those who take ferocious pride in their Hindu nationalist identity. For example:
Every eminent Indian journo, academic who supports Wendy Doniger's books on Hinduism is a slave of White colonialists.

— Sandeep Web (@SandeepWeb) February 11, 2014
Section 295A is suddenly the new villain because it hurt the White Heroine of desi sec-lib Hindus who learnt Hinduism from her.

— Sandeep Web (@SandeepWeb) February 12, 2014
This is deliciously ironic because if there are any relics of the colonial era in our midst, then they are laws like sections like 295 (A) and 298 of the Indian Penal Code. "These come from the penal code of 1860 and 'His or Her Majesty's subjects' are substituted for citizens of India per se," said advocate Karuna Nundy. "Clearly, the interests of a colonial government governing a people boasting of a wide variety of cultures, languages, religions is going to be very different from that of an independent democracy. Free speech is not in the interest of a colonial government. These laws are designed to suppress any kind of dissent by the most draconian means possible."
Our legal framework includes laws that are intentionally vague because the colonial government needed this freedom in order to control and penalise its subjects. Today, the laws, with a phrase tweaked here and there, require great discretion on the part of both complainants and courts. "We have to refuse to submit any more to the blackmail of hurt sentiment," said lawyer and legal researcher Lawrence Liang. "We should only penalise speech which actually causes or imminently causes physical harm. There is no way out as long as we pander to every claim of hurt sentiment."
The virtual world is imagined as separate from the 'real', physical world, but the boundaries between them are actually very porous. Online activity isn't beyond the scope of the Indian Penal Code, especially with laws as ambiguous as those governing hate speech. "I think that it's really important to remember that these laws ply across the board to all religions," said Nundy. "It's really important to remember that this can operate both ways."
So before composing that tweet against the 'sickular' forces, take a look at Section 298:

Whoever, with the deliberate intention of wounding the religious feelings of any person, utters any word or makes any sound in the hearing of that person or makes any gesture in the sight of that person or places any object in the sight of that person, shall be punished with imprisonment of either description for a term which may extend to one year, or with fine, or with both.
Or consider the law that is believed to have placed Penguin India in an awkward spot with The Hindus, Section 295A:
Whoever, with deliberate and malicious intention of outraging the religious feelings of any class of citizens of India, by words, either spoken or written, or by signs or by visible representations or otherwise, insults or attempts to insult the religion or the religious beliefs of that class, shall be punished with imprisonment of either description for a term which may extend to three years, or with fine, or with both.
It would be difficult to argue that an academician wrote an 800-paged book with deliberate and malicious intent of outraging Hindus. However, proving deliberate and malicious intent in a tweet could be much simpler. Constricting freedom of speech might seem like a victory (and a money spinner) at the moment, but it can cut both ways.
Your guide to the latest seat tally, live updates, analysis and list of winners for Lok Sabha Elections 2019 on firstpost.com/elections. Follow us on Twitter and Instagram or like our Instagram or like our Facebook page for updates from all 542 constituencies on counting day of the general elections.
Updated Date: Feb 13, 2014 15:15:50 IST