How an NGO in Mumbai's Dharavi is helping slum dwellers stand up to violence against women
An NGO called SNEHA (Society for Nutrition, Education & Health Action) is trying work against domestic violence against women in Dharavi with the help of men and women living there.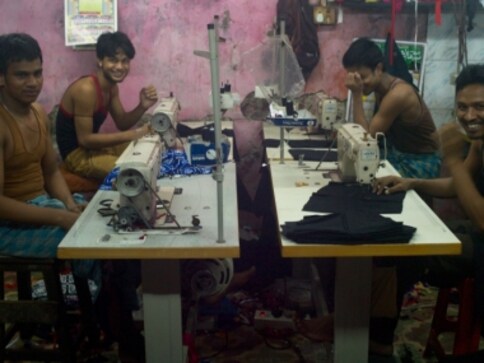 by Marco Werman and Rhitu Chatterjee
Republished from PRI's The World
The Dharavi slum in Mumbai can be overwhelming to a visitor: Full of smells, noise, and curious stares. No one really knows how many people live here — maybe 300,000, maybe a million.
Residents are mostly poor migrants from different parts of the country, everyone trying to eek out a living and create a better future for their children. But life here is stressful and sometimes violent, especially for women. Domestic violence is rampant, as are assaults out on the streets of Dharavi.
An NGO called SNEHA (Society for Nutrition, Education & Health Action) is trying to change that with the help of men and women living here.
We came to SNEHA because we had read about an app they created called Eyewatch, which is helping community volunteers document cases of violence and making it easier for SNEHA's staff to help victims of domestic abuse. And that's the story we wanted to tell. But when we met with staff members at SNEHA and their community volunteers, we found a different story.
SNEHA's success in reducing violence in Dharavi is not because of a new technology, but because of real people, men and women in the community who watch out for each other and intervene every time they encounter violence in the slum.

Praful Kamble, 34, is one of the men who works at SNEHA. He works with other men in the community to make sure women are treated with respect.
Men like 20-year-old Munna Shaikh, who works in a small garment shop with other men. Recently, he took on four or five men who were harassing a woman on the street. He started calling out for help. "They ran away," Kamble says. "By seeing a woman in trouble, he felt like, 'I have to help her out.'"
"My wife is very proud of me," Kamble says. "[If] I'm able to convert one man's thinking about women in their favor, that means I have succeeded, because that one man is going to change 10 men's mentality against that woman. So my wife is really appreciating a lot this, and she's saying, 'Whatever you're doing is a really great job, and this society of ours really needs such sort of mentality of males toward women.'"
SNEHA also works with women, victims of domestic violence like Sunita D'Souza, who married for love when she was 14. But her new in-laws didn't like her, she says, so they beat her.
"Even when I first got pregnant, they would beat me. When I had my child they beat me, and then when I got pregnant again," she says.
Then her husband began beating her, too. He also demanded sex from her all the time, she says. But Sunita suffered in silence. She says she didn't know any better, because her father had beat her mother as well. "Maybe this is what being married was about — getting beaten," she recalls thinking.
One day, one of her neighbors, an older woman who took pity on her, suggested she go to SNEHA's local office for help. Sunita remembers that first day. "They wiped my tears," she says. "They brought me in and gave me water. That gave me a little strength."
Over the next two years, she visited SNEHA's office frequently, and slowly she began to feel stronger. The staff members helped her understand that what her husband and in-laws were doing to her wasn't right. But the violence at home didn't stop, she says.
After a few years, Sunita says she couldn't take it anymore. She bought some rat poison and ate it. "It didn't taste good," she says. "But I kept eating it. Then I passed out."
She had to be rushed to the hospital. She recovered, but it was the staff at SNEHA who helped her want to live again, she says. They also began talking to her husband, to make him understand that he shouldn't raise his hand to Sunita.
Meanwhile, she began volunteering with SNEHA as a "Sangini," a partner to other women living with violence. She uses the Eyewatch app to document violence when she sees it, but what really helps, she says is intervening when she sees any abuse.
"If someone in the slum's beating up someone, I stop it. If someone's covered in blood, I take them to the hospital. If someone's molesting someone, I call the police," she says.
Her work as a Sangini has also changed her husband. When women came to her weeping, to tell her their stories of abuse, her husband often listened in.
"That's when he felt, that when he beat me, I must have complained like this to other people. There's so much pain. So much hurt," she says.
Sunita says she's come a long way. Her goal now is to keep others from going through what she did.
"I don't want any husband to hurt his wife. And I don't want any wife to hurt her husband either," she says. "Everyone wants to live in this world, and everyone has a right to do so."
PRI
Entertainment
In a recent episode of Naam Reh Jaayega, renowned playback singer Alka Yagnik shared little known fascinating stories about Lata Mangeshkar.
India
Anil Chohan and his sibling Nilesh were held on Sunday from their home in Vile Parle