The opening evening of the retrospective celebrating the trailblazing work of Dhanraj Bhagat at the National Gallery of Modern Art last December drew in droves of young and old art aficionados, Satish Gujral, Jatin Das and many other iconic artists, curators, his students and children. Titled, 'Journey from the Physical to the Spiritual', this exhibition presented a stunning range of creations that resonated in the dervish-like dance movements of Kalbelia dancers from the deserts of Rajasthan. It will be on view till 20 February 2018.
This is the first ever retrospective of the ceaselessly inventive artist, with more than 400 landmark drawings and sculptures on display. Born in penury in 1917 in Lahore, Dhanraj Bhagat apprenticed with a commercial sculptor at the age of 16 and managed to save enough money to be able to study at the Mayo School of Arts in Lahore. Studying and later teaching there, he plugged into the art movements of his time but also stood apart. By the time he joined the college of Art, Delhi in 1947, modernism became the defining aesthetic of his body of work. Most of his work looks as contemporary now as it must have then.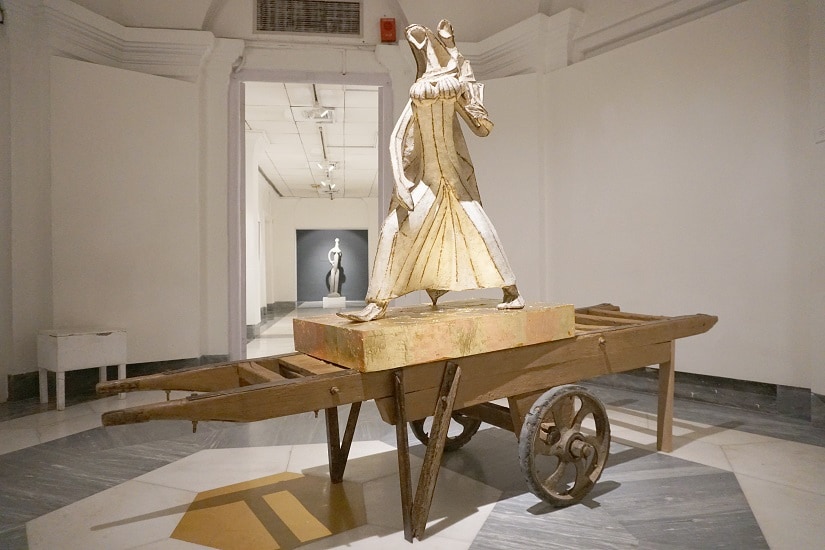 The artist drew simple, childlike forms with infinitesimal precision in a ruminative, poetic tone, keeping a tight lid over excesses. Drawn with pencil or ink on paper, with the exception of drawings like 'Kaliya – Murdan' and 'Krishna with Gopees' most others from the artist's personal collection are untitled. Two beautiful 1981 drawings of birds sitting on naked wire are endearingly titled 'Bird no I' and 'Bird no II'. These were made when immobilised in his room after a paralytic stroke, Dhanraj Bhagat continued to sketch to escape the claustrophobia of confinement.
Dhanraj Bhagat played with different genres, techniques and mediums like wax, plaster of paris, wood, papier mache, aluminium, copper, cement with iron filings and even a combination of wood and steel as in a 1967 sculpture titled 'Musical Construction', keeping his art well beyond the quagmire of definitions. He seemed to delight in sculpting abstract, interlocking forms that have figurative echoes, some of them dealing with the pangs of partition. The most striking of these is 'Burden', created in 1953 depicting a tired, woman with flaccid, slumped breasts and a distended stomach carrying a child on her hip. Quasi-human square and quadrangular forms that speak emphatically of geometric abstractions and elongated forms that seem to crave for infinity are also on display. Sensual female forms and juxtaposed with these, a few stunning and provocative Siva figures grab eyeballs as well. In the words of the famous Hungarian critic, Dr Charles Louie Fabri, it was in the dancing Siva images that Dhanraj Bhagat rose to his greatest height. 'Siva Dance', a sculpture created in 1956, is certainly a showstopper — Siva's tandava takes on a body-less form, transformed into powerful dynamic movement.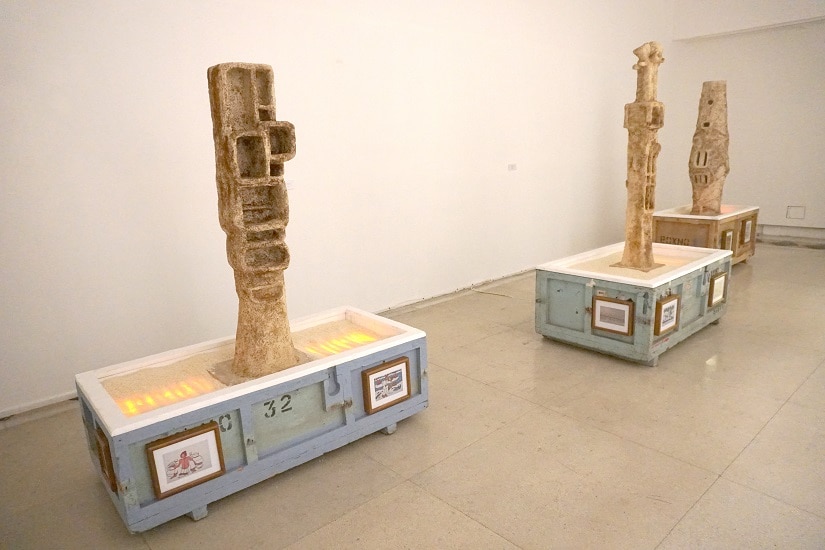 The passion and vitality with which Dhanraj Bhagat sculpted was at odds with his mild persona. He lived surrounded by his work, most of which he owned. His shows travelled to London (1947-48), Eastern Europe (1956) and the VIth Biennale at Sao Paulo (1961). Adwaita Gadanayak, director general of NGMA and himself a renowned sculptor, found Bhagat's drawings and sculptures crammed in a precarious storage space of the Jaipur House. "I was surprised at the collection and absolutely fascinated by his compositions and their interior lives. I got in touch with his children, Pramod and Rajini for access to his personal collection. My team also searched the warehouse of Indian Railways in Delhi to salvage the remains of his repousśe panels that once adorned the façade at the New Delhi Station and the Railway Board bulding. A few sculptures were pulled out from collections at the Lalit Kala Akademy, AIFACS and the Delhi Art Gallery and this exhibition was created. We even managed to recreate his studio space," Gadanayak says.
NGMA seems to have got a new lease of creative life after Adwaita Gadanayak has stepped in as DG. He has his finger on the pulse of Delhi's art scene and has been organising talks, hands-on workshops, live music, dance and art-related film screenings. His restless experimentation with novel methods of curation have been evident for a while now and given his extraordinary interest in art history, every exhibition that he curates, turns into an archaeology of knowledge in a Michel Foucault-like manner. In this exhibition, the abstract biomorphic elements in Adwaita Gadanayak's curation are reflected in bier-like sculptural bases made with cartons, filled with fields of rice and lit with neon-lights or burning coal embers. This is an original show that liberates imagination and addresses the most exacting set of expectations. The curatorial design breathes new life into Dhanraj Bhagat's posthumous centenary collection.
Sujata Prasad is an author and civil servant. She is currently Additional Secretary, Culture.
Updated Date: Feb 08, 2018 18:12 PM