My mother influenced my writing: Kanishk Tharoor on his literary household, reading, football
Kanishk Tharoor has been described by Amitav Ghosh as not only a gifted but an extraordinarily talented writer. Here he discuss growing up in a famous literary household, the importance of reading and his love for football.
Kanishk Tharoor has been described by Amitav Ghosh as not only a gifted but an extraordinarily talented writer. His collection of short stories, Swimmer Among the Stars, was praised widely. He was an invited speaker at the recently concluded Bangalore Literary Festival. Painfully coherent and extremely passionate about his craft, on the sidelines of the festival, Kanishk took time off to discuss growing up in a famous literary household, the importance of reading and his love for football.
What was it like growing up in a literary household?
Because it is the only household I grew up in, it is sometimes difficult to describe. But certainly, in terms of my writing, my mother is a professor of literature and my father is a writer, so we had lots of books all over the house. In fact, I would suspect my parents would say books were their prized belongings. We didn't particularly have expensive or fancy things in our house but tonnes of books. As a result, both my brother and I grew up with a sense that a worth life was one brimming with books and a sense that life should have books at its heart no matter what one does. We saw our parents discussing the books they were reading, wrestling with the books they were reading, so that sort of a thing leaves an impact. These sort of things has definitely shaped my imagination. It was my fortune to be raised by people who cared about writing and only supported my desire to do that.
How has your family influenced your writing?
My mother has played a big influence on my writing. Many of her tastes, opinions, judgements about literature have had a big influence on me. We see each other often and constantly talk about literature. All four of them — my mother, my father, my brother and my wife are my first readers. When I write something that I think is done, I will send it to them. My wife, Amanda, is a poet. We work together often. At the end of the day, we both share with each other what we have written. We encourage each other and also give constructive criticism — which is never easy if it is truly constructive. So they are very present and active part of my writing. A lot of writers search for people with whom they can confide in with their writing. So I am lucky to have a family of readers and writers on whom I can rely for opinions.
How important is reading to be able to write well?
It is the most important thing. I do think, this is not an original thing to say, but if you want to write, you must read a lot. Now even as someone who is trying to make this profession my life, my craft, one can find it difficult an hour a day to read a book. It is essential for two reasons, one — reading good literature helps in writing good literature. Especially if you approach not necessarily at a level of a student of literature but at the level of craft. For example, why is this paragraph excellent, what makes this metaphor work, etc, that is the kind of reading one needs to train oneself in to become perceptive about writing. But beyond that reading also inculcates in you a sense of discipline, discipline to attention which in this day and age can be tough.
You are not really interested in the "experience of the Indian diaspora" — so how do you choose your topics?
Like any writer, I can only follow my interests. So it so happens that I am not terribly interested in the experience of diaspora, personally in part because although I was raised abroad my family didn't migrate to New York, so I am not a migrant. That said, a lot of my stories spring from my political interests in the world often which have to do issues of migration and diaspora. There is a story on refugees, the experience of the Mahout in The Elephant at Sea is one of displacement and dislocation. Historical issues interest me — the dust, uncovered corners of history. I've always interested in the Alexander romance that has nothing to do necessarily with the history of Alexander the Great but spread in an amazing process through various lines of traditions. One of the issues that interest me is this idea of what globalisation is doing to indigenousness and identity. We have this idea that the world wasn't cosmopolitan before the modern world. But there are so many pieces of evidence for it to have been that way. And if that is the case then how do we understand the current forces and what they are doing! So these ideas charge me and I exercise in my fiction.
How rooted are you in India?
I am Indian, I feel Indian, I look India, my passport says I am Indian. If someone asks me to take that challenge on, I'd be happy to take it. That said, my sense of belonging in the world is not defined by a nation. I think foremost, because of where I grew up and where I live now, I am a New Yorker, that doesn't mean I feel American in any way. The other city I spend the most time in is Calcutta. So I do feel I belong to cities, at least in my frame of mind. I would root myself in cities. I live in New York not as an American but as an Indian.
You've worked in radio, so how different are your preparations for different mediums?
Its funny, my wife and I until recently didn't have TV. We were living happily for four years without TV. Then we moved house and tragically got one. So we had a radio. A constant soundtrack to our lives would be NPR which would be equivalent of BBC or AIR. I love radio as a form. It was my fortune that I got to work on a BBC series where I was scripting and presenting a 10 part series on the destruction of the cultural heritage of Iraq and Syria. It was great fun to do it. It was well received. I had a brilliant producer. One of my responsibilities in making that show was scripting the episodes. What was amazing for me was how completely different a scale that is. There was a quick learning curve that I to adapt to in figuring out how to write for radio. I initially struggle, I have to confess. Hopefully, I will find a way of keep on doing radio so it is a craft I hope I can develop myself.
How do you unwind in your free time?
My twin brother and I love football as much as our father loves cricket. Arsenal is my team. Football for me has really helped expand my sense of culture, places. Football is almost like a sponge of places, you can learn about society through football. I think there is nothing better in life than cooking and hosting a dinner party for friends, it is one of the most pleasurable activities in life. We live in Brooklyn in New York which is changing but is an endlessly interesting place and very diverse. So I go on long walks and I go running. I do my thinking on my feet in that sense.
You seem to a large family and you all are close — so how do you keep in touch?
We have Whatsapp chains that are very active, we have email chains. I am very close to my first cousins even though all of us have grown up in different places. I wonder sometimes if the fact that we grew up in different cities around different continents is why we are so close. I think sometimes when you are growing near your family you take them for granted. I've never been able to do that, I've never been able to take other branches of my family for granted. So we are very close. My brother and I are the oldest of all our cousins on both sides of our family. So we feel slightly avuncular and paternal to them. We see each other as much as possible. Because of my book, I've been able to travel a lot and thereby make an excuse to meet my family. I do come to India several times a year. So there is travel and there is social media that makes it easier.
Arts & Culture
Illustrator Rajiv Eipe is known for his loving portrayal of animals in children's books. He got the award for illustrating the book Chitty: A Dog and Her Forest Farm (2021).
Entertainment
In an EXCLUISVE interview with Firtspost, Alia Bhatt, Shefali Shah, Vijay Varma and Darlings director Jasmeet K Reen talks about the making of a quirky film packed with suspense and humour.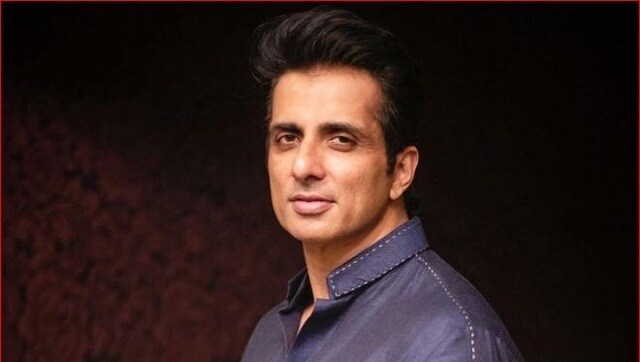 Entertainment
In an exclusive interview with First Post, Sonu Sood talks about the narrowing of the North-South divide in the film industry, being called the messiah, upcoming films, his productions, and his newly launched app.