Before I'm seen as a gallivant switching my trade for pleasure here by trying to do something that in essence, perhaps, is undoable – review poetry – it should be put out there that this is merely to begin a dialogue, or discussion if you like, on poetry. To tether this dialogue to something substantial, there can't be anything more purposeful than a book. Here it serves as an anchor, and this can perhaps be called more of a meditation on poetry rather than a review, subjective it might still be though.
Firstly, the blurb for Mandakranta Sen's My Heart is an Unruly Girl alongwith its giveaway title, gives an indication of what to expect. "My Heart is an Unruly Girl is a worthy addition to feminist poems of love and desire," writes K Srilata; the keyword here being 'feminist' of course.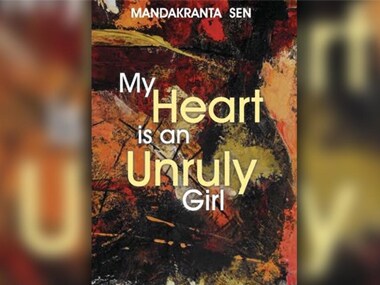 Sen, who has won the Sahitya Akademi's Young Writer Award, translates her own poems from Bengali in this collection. There is so much blood in the first half of the book that I could not help but think of the scene from The Shining with blood gushing in all directions from behind a door, the scene that has come to be identified with a Kubrick-ian vision. The female body is often the subject of most feminist poetry and for good reason as well. Mostly because we don't even understand it completely; not because science won't help us but because we have for generations, simply avoided any talk about it.
But then to collate feminist ideas under the figment, or rather, the pigment of blood alone is perhaps also the undoing of a voice that could otherwise be more vital to the whole machinery of feminist thought.
In Wordly, Sen writes:
…Doesn't matter, oh you earthly boy!
On your bare chest alone, is my herbal elixir!
There, on the reclining grasses,
Won't you let me wipe my blood?
In Abortion, she writes:
This is her day of liberation; this is her festival of blood
In Left & Right:
Which one do you desire? Think man, think real hard-
Here are two worlds smeared with menstrual blood
And there are more. So many more that they can't be listed here for the simple reason that they dogmatise the very pin on which if these poems were hung, would have undermined their own existence. Surely even feminism has a lot more to offer than the anatomical localisation of its subjects, stretched as they are here, times aplenty between blood and the moon. And as it turns out, there is. In the second half of the book, after Sen's poetry has released itself from the clutches of specifying the female body, and its many manifestations in all its complexities, Sen's real verse appears. Perhaps it is only coincidental that the poems were arranged in this way in the book, as the latter half of the book reconfirms the diction and rhythm that Sen threatens to achieve – but doesn't – in the first half.
There are lines from which you can derive painful realities such as in Fairy Tale:
Looking at the reddish night sky, I remember
I wish I knew what to remember
The age I was at, is long gone with the north wind
And there are lines with which you can imagine realities tenderly blur as in Alone:
Thus the moon comes a long way
Like he too has something to say
Whatever he says, I feel like crying more
O my old moon
Have you new moonlight in store?
One is forced to wonder why a poet with reasonable powers of imagination holds herself back, even celebrates womanhood from the other side of a beam balance aimed at toppling the man. For a change, it would be wonderful if women writers, who write from a feminist acreage, write with a kind of abandon as if the man is actually not there. Write as if not to tell him anything that which he doesn't already know but chooses to ignore, but write as if he doesn't exist; that a woman's reality, her idea of the world is as profoundly self-sufficient as a man's has been for centuries.
There are also in Sen's poems, countless references to the moon, as with many other props of poetry in general – windows, night, tree, death, blood etc. But that is a discussion that requires more dockings at the port where these ships don't come. And if Sen would allow it, in the future, she most definitely will. She ends her collection with an absolute peach with Truth:
What I intend to write
But never ever can
Those are my true poems
And one is kind of tempted to agree. But in her admission – albeit with last-delivery cheekiness – Sen has the last say, and leaves us with a craving for that unwritten poem, that has probably smuggled its way to a distant future where Sen is unshackled, not by her gender, but her requirement to assert it in ways that men would do as well. And there is enough here to suggest that that will happen.
Firstpost is now on WhatsApp. For the latest analysis, commentary and news updates, sign up for our WhatsApp services. Just go to Firstpost.com/Whatsapp and hit the Subscribe button.
Updated Date: Jul 23, 2016 11:31:53 IST