'Muktir Alo' aimed to economically liberate the women of Sonagachi. Did it succeed?
Muktir Alo — launched with great optimism in 2016 — was supposed to provide the women of Sonagachi, Asia's largest red-light district, an alternative career in the film/TV industry. Nearly two years later, what has it achieved?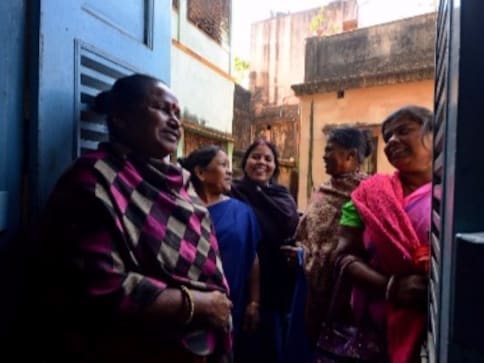 In February 2016, the Muktir Alo project was launched with great optimism in West Bengal. The programme — by the Women and Child Development and Social Welfare — was described as being chief minister Mamata Banejee's 'pet project' and aimed to rehabilitate sex workers from the red light district of Sonagachi. Reportedly, the women were to be provided with training in acting, singing and dance so they could pursue alternate careers in the film and TV industries.
Just a month away from completing two years, what has Muktir Alo (meaning 'light of freedom') achieved?
Eleven hundred women and children had registered under the Muktir Alo project. Of these, 50 were selected to undergo training at a Tollygunge studio, for a month's duration. After 30 days of training and meeting with a couple of celebrities, three of the women got to work in 2-3 small projects, in even smaller roles.
"Hundreds registered with the Muktir Alo project. But what it was envisaged to be — a livelihood changing programme — it could never become. If the numbers alone are considered, then we cannot call it a successful project," says Smarajit Jana, chief advisor of the Durbar Mahila Samanwaya Committee (which was tasked with anchoring the project) and principal, Sonagachi Research and Training Institute.
However, the situation wasn't entirely bleak as Muktir Alo did manage to imbue the women with confidence and self-worth. Participants like Alia, Pinki, Gita, Kali, Rekha, Padma, Gurudasi — the women who're still continuing with the programme from among the original 50, and who we met on a recent visit to the Sonagachi Institute — said they were able to express themselves and channelise their hurt through Muktir Alo.
While a career in celluloid may not have come calling, the team has had opportunities to perform at events all over India (as part of the Durbar's cultural wing, Komal Gandhar). The women also overseas for a stage show, and are currently preparing for another act in the US.
Alia Gaur, 17, is the daughter of a sex worker from Sonagachi. When told that a visitor hoped to speak with her about her love for dancing, Alia's eyes lit up: "I don't remember since when I've loved!" the skinny teenager told us when we met her at the Institute. "I would often watch Aishwarya (Rai) or Madhuri (Dixit) dancing on screen and imagine myself doing it, but I could hardly move my body1 Kamar hilti hi nahi thi! For a year now, I've been learning Bharatnatyam, and it makes me feel like even I can live the life that I've only watched so far on TV."
Alia and the troupe recently performed for an audience numbering in the lakhs at a cultural event at the Science City Auditorium. "I don't know what a dream is because I never had one. But if there is anything at all like a dream coming true, then that event was it for me," Alia says. Her happiness was tempered by the fact that her mother couldn't watch her perform; suffering from a chronic illness, the older woman cannot move about too much.
Padma Majumder had graduated from Calcutta University. Her family's financial straits drove her into sex work. Now 40, Padma says few, if any, people wonder what real happiness means to the women of Sonagachi — although Muktir Alo did make an attempt. She told us: "Today you are here, asking us about our talents — could we ever have imagined that this would happen to us? Yes, we couldn't be part of TV shows or films, but at least I now know that there is a different me — one who loves to sing, act. I am learning to love myself — for the first time in 40 years."
Padma's contemporary Gita joined the Durbar Mahila Samanwaya Committee in the year 1991, and is the oldest member of its cultural wing. "I don't remember when I last said 'yes' to a client who said 'no' to a condom," Gita tells us. "I know it might sound irrelevant but it is not. I received so much exposure at the NGO, my talent for singing and dancing was recognised. The exposure, proper grooming have changed my life. I value my life now. I can take a stand for myself. Each time I portrayed a different self on stage, I emerged as a better person off it."
For Kali Das (50), Rekha Lodh (45) and Gurudasi (55), the Muktir Alo training acted as 'fuel' for life. Older sex workers often experience high levels of depression and loneliness. Art offers a chance to ameliorate these negative experiences. "We don't get clients these days. There are maybe one or two old clients who visit us in a year. I would have died of depression had it not been for the drama team," says Gurudasi.
Rekha echoes Gurudasi's sentiments. "At least now my children can tell their friends 'our mother is a singer and actor with Komal Gandhar'... this is the one identity I've craved my whole life."
Listening to her friends, Kali — the jolliest of the members in the group — adds: "I've had a lot of fun in my life. I got drunk every night, was addicted to all sorts of drugs...never had a family of my own. But nothing stayed with me... it all went away. But one thing that still cheers me up today is a song." Her mood changed after she told us this, and to rouse Kali out of her melancholy, her friends asked her to dance. Kali promptly agreed, and showed us a few of her moves.
Muktir Alo may not have achieved what it set out to. It certainly didn't create the parallel income opportunities for the women of Sonagachi that it had promised to. But looking at Kali and her friends, it seems as though  it did succeed on some fronts.
"Muktir Alo gave us a glimpse of what life could be like, beyond Sonagachi. It was not a failure," says Gita, as we prepare to leave. "We didn't give up. Our fight is on."
Politics
It is highly improbable that all these numerous scams, violence and suppression of democracy would be happening in the state without the tactical approval and blessings from the Chief Minister's Office
Politics
The BJP central leadership is convinced that only Suvendu Adhikari has the experience of leading an issue-based campaign focusing on the SSC scam and the rampant corruption by the TMC compared to other state party leaders
Politics
The CBI arrested Trinamool's Anubrata Mondal after he failed to appear for questioning twice. He is allegedly involved in a cross-border cattle smuggling scam – a nexus between politicians, BSF personnel, Customs officials, and police