Mr Mom: A hands-on dad makes the case for doing away with gender stereotypes on Father's Day 2018
If you've seen the 1983 Michael Keaton-Teri Garr comedy that has the same title as this column — Mr Mom — then you'll probably have a fair idea of what this post is going to about. If you haven't seen the movie, I'm sure the phrase 'Mr Mom' gives fair indication of what's to follow.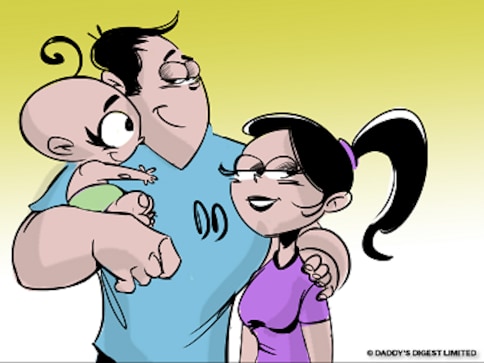 If you've seen the 1983 Michael Keaton-Teri Garr comedy that has the same title as this column — Mr Mom — then you'll probably have a fair idea of what this post is going to be about. If you haven't seen the movie, I'm sure the phrase 'Mr Mom' gives fair indication of what's to follow.
My wife and I have the pleasure of raising our baby girl together, and in this process, we've let the lines between 'Mom' and 'Dad' blur a bit over time. Our journey as parents has had its painful aspects, but we've had the luxury of being by each other's side through it all. We value the gift that's our daughter and are fully invested in her well-being and development. From scheduling decisions, to mid-night feeds, playtime, it's all a family affair. We're firm believers in teamwork.
My wife is a teacher. I am self-employed. Until very recently, our home was a place of business by day and our joint abode by night. I have the benefits that come with flexibility, she doesn't (I'm still talking about our work, not our personalities!).
This work-related flexibility has afforded me the well-deserved and envy-inducing title of "house manager". I must say, I do love it. Imagine being able to discard anything in the house at will, no questions asked. While that kind of power may not be for everyone, I have revelled in its glory for far too long. This isn't a family secret; short of printing business cards with my designation, I think everyone knows how much I love being at the forefront.
So naturally, when our little baby came along, the world seemed less concerned about my wife's experiences and a little more curious about whether or not I would be spearheading the battles of parenthood at the frontier. Someone went to the extent of asking me, "So will you be Mr Mom now?"
When I say we've let the boundaries of "Mom" and "Dad" blur, I mean that in a positive way. Drawing a little attention to the boundaries themselves, should there even be any? I like to think that "Mom" and "Dad" are salutations that appear before our names, just like "Mr" and "Mrs". It's hard not to view those titles as job descriptions, but as a couple comprising a millennial and a Gen X member, raising a child of Gen Z, it is incumbent on us to keep blurring those boundaries. And for those who argue "Mr" and "Mrs" also come with their own 'job descriptions', I'd say sure, now please sail back to the mid-1900s.
When I'm called "Mr Mom", there are two very grave assumptions being made: One, that child rearing is a mother's job. I use the term "rearing" to highlight the archaic nature of the assumption. Two, that it's likely I'm a stay-at-home dad. Now, I haven't told you much about what I do, simply because I may or may not be a stay-at-home dad.
This post isn't about feminism nor advocacy for a man's need to be hands-on at home, it's simply about the need for balance. How are we to raise our boys and girls as equals if our homes are not reflective of this?
In Mr Mom's Michael Keaton and Teri Garr's characters had to switch roles after Michael lost his job and Teri found one. In 1983, those roles existed. Circumstances required them to swap and figure out the intricacies of gender burdens while maintaining their relationship. Fast forward to 2017, Michael and Teri shouldn't have to do any of that. Almost 35 years later, they can focus on being better examples and raising better quality citizens without having to be forced into a box.
By no means do I think my wife and I have it all figured out. Nor do I think we are model parents. Like everyone, we have our pressure points. But we do choose to learn something new every day. We want to take responsibility and raise our baby girl without any gender bias. To be who she wants without the social pressure of growing up to be a home-maker and mother. We want to be an active part of this paradigm shift, and we are starting with ourselves.
Men, be more involved. Women, let go a little. That diaper isn't going to change itself, but the same pair of hands needn't be a constant part of that experience. Like any other "manly" affair, practice makes perfect and technique can be learnt.
Women, let go of the gender stereotypes you may hold too (if any). Men, do a little more of what you think your wife "should". That meal isn't going to cook itself, nor do the same pair of hands need to be a constant part of its preparation. Men can do the grocery shopping and meal planning. Then they can teach their kids how to do it too. I have found a lot of joy in spending money on baby equipment that I then find cool ways to use. A certain steamer-blender combo is my favorite. In fact, I don't think my wife knows how to use it.
I like the principle of "do unto others", especially when those others are your own. I'm sure we would have all liked a little more family balance growing up, so let's create that balance for the next generation.
Vickram Agarwal is the founder and director of Daddy's Digest, a website and video channel that focuses on all things fatherhood and family. Follow the Facebook page here.
Arts & Culture
The story of a young boy's "harrowing yet distinctively beautiful journey" in the mid-1800s, Pony is Palacio's first novel that doesn't feature characters from Wonder.
Arts & Culture
At midnight, California lifted most of is pandemic restrictions, meaning no more state rules on physical distancing or capacity limits.
India
When you have your weekly off, try not to work extra hours. Rather spend time with children who miss your attention the whole week