Monsters Inc to Maharajas: Pixar animator draws his way back to Indian roots
The Ramayana has never been as eye-popping as it is in the hands of Pixar artist Sanjay Patel. Now he's got a whole museum as his playground. But the artist almost didn't get out of his motel in California.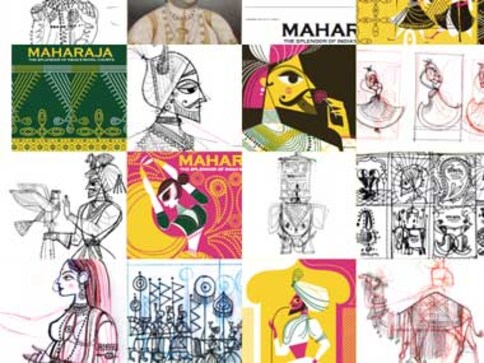 It's a bit of a fairy tale.
The lonely boy who grew up in a motel finds out he's actually a Maharaja.
Well, it's not exactly that dramatic. But Sanjay Patel did grow up in one of the "Patel motels" that dot the United States. His parents still live there. His father worked at a gas station to help pay the mortgage. Patel couldn't play sports because he had to help run the motel after school. He says it wasn't the kind of place you invite your friends over. "Most of the business we would get were very marginal characters. A lot of prostitutes and drug dealers," remembers Patel.
So he had to invent his friends. He found them in comic books. GI Joe comics. X-men. He wanted to be a Ninja. Then the boy who wanted to be a Ninja went to art school and joined Pixar and helped animate blue monsters and rats who dreamed of becoming chefs. Now the Pixar artist has found his Indian avatar.
His show Deities, Demons, and Dudes with 'Staches opens at the San Francisco Asian Art Museum this Friday. And his work is splashed, bigger than life-size, on the external walls of the museum itself. It's part of their much-touted Maharaja: Splendor of India show. Or in museum-speak, he's "activating the exterior of the building based on this exhibition." The museum, which came close to bankruptcy, is hoping Patel's effervescent eye-popping art will breathe new life into museum stodginess.
Sanjay Patel has come a long way from the motel desk on Route 66. He's drawn the little book of Hindu deities which made our gods Hello Kitty cute. He's brought out the big poster book of Hindu deities. He's done his version of an illustrated Ramayana. He's writing a children's book about how Ganesha breaks his tusk. But like many Indian-American kids, he didn't really think too much about his own culture while growing up.
He was surrounded by it. His father put flowers before his gods and did puja every day. Their walls had images of gods. "I'd sneeze and my parents would say Sita Ram. And I thought that's their version of gesundheit," he says. Hanuman was a picture of a monkey. And Rama was a blue god. He was also even more cut off from the Indian community because his mother had been diagnosed with schizophrenia. In an immigrant community where mothers are often the community glue, Patel was an outsider. His mother couldn't drive him to the temple or the weddings like other Indian mothers did.
"She is in a world that is an absolute mystery to me. I wish I could be with her in that space even for a day," he says. He remembers she would sometimes just destroy the things he would make. He keeps having the same conversation with her over the years: what's your name, where are you living, what have you eaten, where are the children. He has none.
He dedicated his book Ramayana: The Divine Loophole to her. It reads, "the mystery of your mind led me to my art and to my own inner world."  It's not a dedication she can understand. "I do wish my mother was healthy. There are a lot of things I am proud of that I want to share with my mother. Physically she is there. But mentally she has no faculty to share the thing I have created," he says. But then he adds, "perhaps because she was not able to nurture me the way a healthy mother could, it forced me to take care of myself and become more introspective and much more artistic."
Continues on the next page

His teachers encouraged his interest in drawing, gifting him comic books, introducing him to the Renaissance classics. He won art competitions. But when he got into art school, his father said he couldn't let him go. He needed someone to run the motel. "My brother actually stepped up and stood up to him and said I needed to do this. Without him I don't think I would have still been at the motel," says Patel. "He's my Hanuman. He breaks through all the barriers."
For his Ramayana book, Patel read Ashok Banker's series. He also watched what he remembers as the "cheesy serial from the '80s with 3,000 slow-motion arrows." But he said the epic was begging to be really illustrated – "incredibly lush and all action." Soon pencil and paper give way to Adobe Illustrator and vector points and colour gradients. That book took him four years, 3-4 days per page.
Now at the Asian Art museum, some of those storyboard images from the Ramayana share space with maharajas smoking hookahs on the backs of doe-eyed elephants, and courtiers in blue hoped skirts marching in perfect unison, everything done in those flat bright pop colours that almost belie the intricate work that goes into making them. "The AAM galleries are pretty somber and stiff, so I wanted to make my space feel loud and bold with colour and imagery, kinda like India," he says in an interview with Chronicle Books. "The effect feels more like graffiti than gallery art."
Sanjay Patel's artwork has taken him places. But most of all, it's brought him home. As he writes in a blog on the Asian Art Museum site:
My father smears red paste on the forehead of small deities each morning. He sits cross-legged and sings along to devotional songs. I sit on a Herman Miller chair, use digital tools and blare New Order songs, the whole while illustrating Hindu deities…My father animates his faith through meditation and ritual. I use my Technicolor tools to reincarnate modern avatars. In my opinon we're both devoted and reverential, just in different ways and for different reasons.
India
Rape counsellors explain how they deal with survivors of the crime and why in India there is so much stigma associated with rape.
Entertainment
Karisma Kapoor feels that the gap created by her exit from the movie industry has been more than filled up by her sister Kareena.
India
Community solidarity is deepening psychological schisms in Hyderabad.