Modern art pioneer KG Subramanyan, 92, passes away in Vadodara on 29 June
Renowned painter and freedom fighter KG Subramanyan has died at the age of 92 at his home in Vadodara
Renowned painter and freedom fighter KG Subramanyan has died at the age of 92 at his home in Vadodara. Subramanyan was a versatile painter who blurred the lines between art and artisans by making his mark in pottery, design and terracotta art as well. Considered one of the pioneers of Modern Art, Subramanyan was also a freedom fighter and was imprisoned briefly during the Quit India Movement.
Subramanyan had an oeuvre that stretched beyond the conventional, yet rooted in a sensibility that was very traditional. His paintings experimented with the idea of the Indian myth from which he borrowed a number of times. Subramanayan was also an art historian and his body of work forms a significant document of Indian art history. His works were not without the playfulness of innocence and satire, as he also wrote and illustrated for children. A man of many talents, Subramanyan inspired and egged his students to find the link between art as language and art as experience without ever forgetting their own place and perception of history as it was being written.
It was under the tutelege of Nandalal Bose and Ramkinkar Baij in Santiniketan between 1944 and 1948 that Subramanyan developed a penchant for art and social commentary through his works. Born in 1924 in Kerala, after he was debarred from government colleges by the British for his involvement in the freedom movement he went to Santiniketan where his oeuvre as an artist and a man with many talents took shape. Subramanyan was professor at various times at the Faculty of Fine Arts at MS University in Baroda and his alma mater, Kala Bhavan (Santiniketan) from where he finally retired in 1989. He was awarded the Padma Vibhushan in 2012.
Subramanyan lived with his daughter in Vadodara.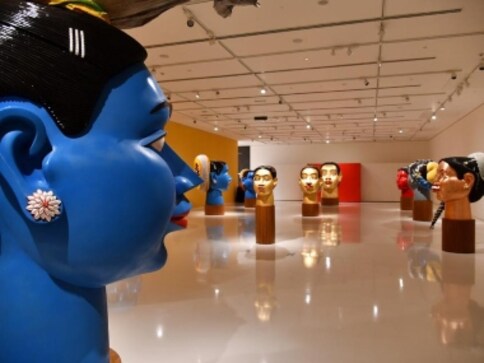 Life
The emergence of a wealth of private museums as part of the Indian art scene has been the consequence of another trend that has held serious sway over the last decade — foundation-building. Whether such a sizeable swell in institution-building has actually enabled ethical philanthropy, remains debatable.
India
The Quit India movement was the direct result of Britain's mounting difficulties in the World War II and the failure of the Cripp's Mission to convince Indian leadership at the time to agree for a partial self-rule
Politics
Addressing a joint rally organised in support of Congress and NCP candidates, namely Union Home Minister Sushilkumar Shinde and Vijaysinh Mohite-Patil, Pawar also raked up the 2002 communal riots and appealed to people to "prevent communal forces from tarnishing secular fabric of the country".