Meera Devidayal talks about her exhibition Water Has Memory, the severed relationship between the city and the sea
Meera Devidayal's Water Has Memory speaks about how humans have ruined their relationship with nature by exploiting it | #FirstCulture
Mumbai is, without a doubt, one of those Indian cities which has risen from nothingness to the towering heights that it boasts of today. From being part of the Magadhan empire under Ashoka, to being a trade centre for the Portuguese and the East India Company, to finally turning into the commercial capital of independent India — the transformation of Bombay into Mumbai has been extensively documented.
It was originally composed of seven islands — Colaba, Mazagaon, Mahim, Parel, Bombay Island, Worli and Old Woman's Island — in the swamps of the Arabian sea. Now, it is an ever-expanding landmass with a staggering population of around 22.05 million people (as of 2018). As the rates of population growth, urbanisation and commercialisation all peaked, the city's ecosystem bore the brunt of change.
Artist and painter Meera Devidayal's latest art collection — Water Has Memory — focuses on the sea that surrounds the city, its concrete jungle, and dwellers.
Devidayal was born in Delhi, and grew up in Kolkata. She pursued fine arts at the JJ School of Art in Mumbai, and has been exhibiting many solo and group art shows in the city. Because she has lived here for over 50 years now, the city has served as a large canvas for the artist.
"The city has always been the subject of my artwork, in one way or the other. It's not necessarily about the change, it could be or has been about how Mumbai is a dream city where migrants come and dream. This idea exists on many levels. There is Bollywood, which is about selling people dreams. There's also the fact that people come here to make good. Usually, it is one image that is the starting point of my collection — usually something to do with human emotions," says Devidayal, as she describes her approach to creating visual stories.
Her collection opens with a note that bears these lines:
"We have forgotten that the sea contains nectar and poison, both in equal measure... The waves are about menace as well as caress. We came from the sea, and we are tied to the ocean. And all of us have in our blood, sweat and tears, the exact same percentage of salt that exists in the ocean."
From charcoal paintings to improvisation on photo prints and even video clips, Devidayal has put together her thoughts about the city and the sea in a range of works. Some of them are instantly striking, some are abstract and will make you ponder, others will make you introspect. They evoke a sense of alarm and make one mindful of one's attitude towards the city.
But what prompted her to work on this concept? "The starting point was some reflections in the sea that I saw from a window of my husband's office near Nariman Point. It intrigued me because there were these reflections, but the sea was nowhere. Visually, it was surreal and very interesting. I had begun thinking about the idea that the sea had always been there. This area was built on reclaimed land, and the sea had been taken over by it. But it is still visible, in the form of these reflections. That set me on the track to explore the sea as a metaphor for nature or the planet, while the concrete buildings are a metaphor for what man's place on Earth is," explains Devidayal.
Devidayal says that these images on display are not just expressions of her thoughts, but rather remnants of her experience of life, as well as events across the world. While the sea is the protagonist of Devidayal's art exhibition, the other (sometimes, the most prominent) pivotal character of this visual story happens to be the sky rises. These buildings are not merely blocks of stone. "In this collection, sky rises are the representation of the idea of 'build…build…build…' and 'build bigger, and bigger, and bigger'. Now, this idea has assumed an escalated form. And this is all that I see: wherever I look, it is construction and nothing else — outside my window, when I look out of the car," she says.
Despite their juxtaposition, the sea and the city never come together. Devidayal keeps her protagonist away from the limelight: the sea exists as mere reflections, or as she refers to it in one of her installations, 'The Mirage'.
Despite seeming static on the surface, the narrative is dynamic. In her graphite paintings, Devidayal shows the sea as a passage. It always been the 'cradle of all life forms', as she mentions in the opening note. Through this series, she explains how people have always depended on the sea to move from one place to another; she makes references to migration and the Syrian refugee crisis. "We turn towards the sea (when we want to move); it is the master who decides where we want to reach. Ultimately, it is the planet that is in charge," she explains.
But there is a balance in the way the sea is portrayed; while it gives life, it also takes it away. "Anything that you see — the sea, the trees, nature in general — is being replaced by high rises. So where do we stop? It seems to be an endless pursuit. You can't go on and on disturbing the ecological balance. The sea is going to have its revenge; it will strike back. Look at the hurricanes, tsunamis, droughts, and floods. These are very much man-made, we have tampered with nature. We have tried to control it," says Devidayal, with an evident sense of alarm.
In tiny, matchbox-sized dwellings, people seem to be living in complete isolation from each other — and also from the sea. So preoccupied are they by their thoughts that they seem largely thoughtless, or even outright complacent about things other than themselves. Though this realisation is represented in her work, she admits that capturing it was never her motive in the first place. "People are not aware, they are just going about doing their own things. The water is coming over, they do not know. They are drowning, they do not know. All of us are trapped; we are always complaining. Where else do we go? What else do we do? Also, what are we doing about it? Nothing. So we just continue being who we are," she laments.
Water Has Memory is on display till 12 May at Chemould Prescott Road, Mumbai.
World
Drones attacked a convoy of trucks in eastern Syria Sunday night shortly after it crossed into the country from Iraq, Syrian opposition activists and a pro-government radio station said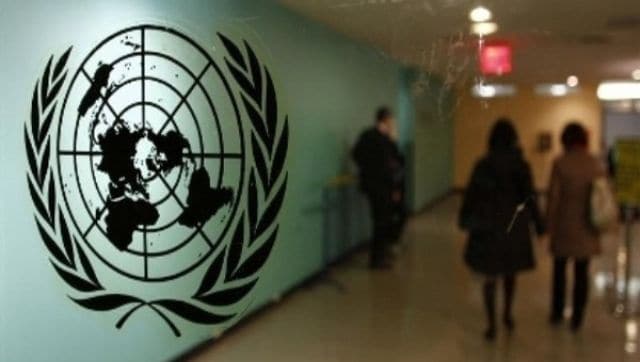 World
As entire regions of the world are at risk of becoming 'increasingly uninhabitable', millions will face a 'high risk of exploitation along migration routes, the UN report said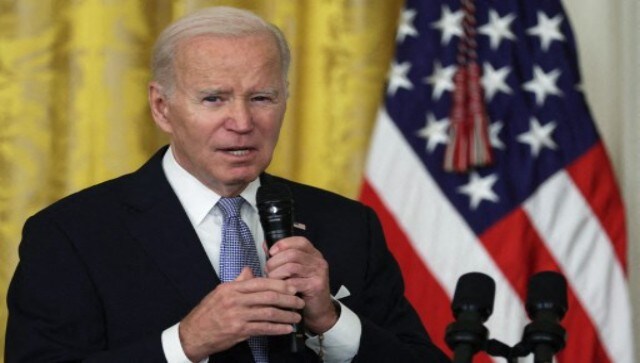 World
President Joe Biden on Monday named an envoy to press North Korea on human rights, ending a six-year gap that included the entire presidency of Donald Trump, who pursued high-profile talks with Pyongyang