The synopsis for poet, writer, activist Meena Kandasamy's latest book, When I Hit You: Or, a Portrait of the Artist As A Young Wife reads:
"When I Hit You is a dazzling and provocative novel of an abusive marriage. Seduced by politics, poetry and an enduring dream of building a better world together, the unnamed narrator falls in love with a university professor. Moving with him to a rain-washed coastal town, she swiftly learns that what for her is a bond of love is for him a contract of ownership. As he sets about reducing her to his idealised version of an obedient wife, bullying her and devouring her ambition of being a writer in the process, she attempts to push back — a resistance he resolves to break with violence and rape."
The novel has been described as "searing", and it is — deeply so, because Meena has drawn on her own experiences of a brief, tumultuous and abusive marriage to write this (fictionalised) story.
In an interview with Firstpost, Meena talks about When I Hit You, and domestic violence.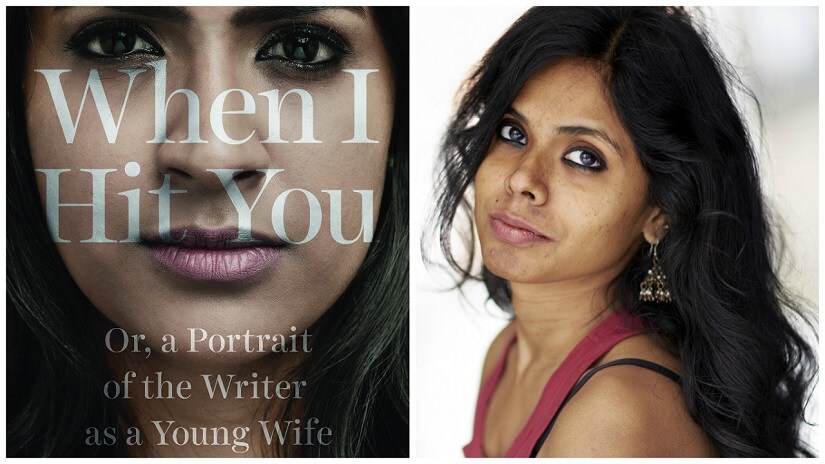 The events that you describe in When I Hit You, took place in 2011, at a time when you were working on your first novel, The Gypsy Goddess. How did these experiences affect your writing of that book?
Writing Gypsy Goddess helped in me ways I cannot enumerate. It was a book about independent India's first major caste atrocity — a massacre of 44 men, women and children. It was a book that I had started researching way back in 2008. It was a book that I had plotted and structured and chapterised in 2011, even before the time I got married. It was a book that was set in the 1960s, and required extensive attention to detail. It was a book about things that made me rage. I saw these four months of marriage as something that had got between me and my book, so I went back to it with as much as courage as I could muster. In a way, my own experience of violence appeared so miniscule to me when I looked at the scale of trauma that was inflicted on those militating Dalit villagers of Kilvenmani who were fighting against feudal oppression. It also helped me pack my troubles and put them away for the time being because such a book, where a village is the central character required impossible amounts of energy from me. I sent the first draft of it to my agent in October 2012 when I was in Hong Kong. It would be months later when I would even begin revisiting my memory to write this book.
You mention at the start, your reasons for writing this book — to, in a sense, take back the narrative from your mother's telling of it, or your father's. Have your parents read When I Hit You, and what were their thoughts?
I don't think of my parents when I write — if I did, my writing would never be what it is. Also, they are your parents at the end of the day — they are not going to be neutral or impartial, are they? They are both very hard-working people, and before they admire any of the art or craft or language play or whatever it is that I'm trying to do — they are happy that I'm putting in the effort. I think, that like all parents, they appreciate that I'm trying, I'm working hard on something.
In the narrative around domestic violence, in the discussions about it, what do you feel is missing? What are the things we aren't addressing, or saying, that should be addressed, and said?
Where do I begin? In many ways, writing a novel about this was to try to unpack the multiple sides of the problem. Some basic things need to be changed: The idea that men think that it is their eternal benevolence that they "allow" their wives to do this or that (go to work, wear lipstick, have a social media account) — without even basically understanding that she is a human being and an equal. The huge problem we have in society — where we make women bear the cross of bad marriages because when they leave it we will kill them instead with our gossip, slander and character assassination. The normalisation of physical violence. The fatalism that we attach to marriages — viewing them as irrevocable, sacred, unending. I just don't know. If you give me a hour, I can list a hundred reasons that are wrong. I just think that my points come through more powerfully in the guise of a story than if I were to answer them in bullet points.
There's a part in the book, when the narrator has gotten out of the marriage and friends express surprise that she was going through this horrific experience. That their suspicions weren't aroused because they felt she wanted to be 'off the grid'. What do you think that says about the lives we're now leading — where all traces of you can disappear off social media/communication over the phone — and it wouldn't lead to any questions?
I think social media is very, very dangerous in that sense. The danger is not only in the disappearance from social media—someone else could cut off a woman from social media and continue to access, monitor and post to their accounts—and the world will not be able to tell the difference at all. Someone else could answer your emails, post updates on your facebook page, tweet your favorite sundae pictures—and everyone else could think—"Goodness, she's leading a great life, isn't she?" and on the other end of the world wide web, you would be practically cut off. Curation, especially over social media, has become such an intrinsic part of our lives—we are constantly deciding what we share, what we don't, how we present ourselves. But, there's a point where someone else could curate us—and the world would not even know. It's happened to me, it can happen to anyone.
Did you consider another form for When I Hit You, that wasn't a first-person narrated account?
Yes, originally I was using the third-person — it made it easier to put it down into words. When I switched to the first-person, it was a big, big decision for the novel, because it suddenly became so much more intimate and real and close to the skin.
Do you find it easier to articulate the deeply personal, in verse or prose?
I don't know. English is not even my first language, so at the beginning, before a word is even made in my mind, I'm grappling with a sensation, an emotion, a feeling that I get at the gut level, but not immediately in the realm of the language that I write in. Writing is never easy for me — which is why I often think that when Hemingway said that writing was nothing more than sitting in front of a typewriter and bleeding, I get it. So, all writing, both verse or prose, are challenging negotiations, they test my perseverance, they test my exactitude with myself — but at the end, when I get something write, it pleases me.
What are you working on next? Will you take on another writing project, or is a collection of poetry in the works?
I'm a bit of a crazy person where writing is concerned — I give myself these very deserved non-writing breaks. So, after Gypsy Goddess my idea of non-writing was to travel all over — Malaysia, Indonesia, Cambodia — and then, on top of that to work in a movie. I had to become a different person, get engaged in a different milieu to be able to switch from the voice in my head. After When I Hit You, I'm once again in one of those gap moments — not jumping into writing anything, but exploring some of the upsides of domesticity and catching up on my reading big time. I keep thinking about my next work a lot too. It's something that requires considerable research (at least the way I see it now) — and is partly set here in London and in South Asia. I'm in no hurry. On the poetry front — the other day I counted, what I have is loads and loads of love poems (I've not written much else) — and I keep debating if I should let that evolve into a collection, or just keep all of that between me and Cedric [Meena's partner].
When I Hit You: Or, a Portrait of the Writer as a Young Wife by Meena Kandasamy is available in bookstores and on Juggernaut
Your guide to the latest seat tally, live updates, analysis and list of winners for Lok Sabha Elections 2019 on firstpost.com/elections. Follow us on Twitter and Instagram or like our Instagram or like our Facebook page for updates from all 542 constituencies on counting day of the general elections.
Updated Date: Jun 04, 2017 10:19:01 IST