Marwari City: Stories of Kolkata's heritage often exclude its prominent community
Stories about Kolkata 's cosmopolitan heritage rarely include the Marwaris, invoking instead its vanishing Jews and its fading Armenians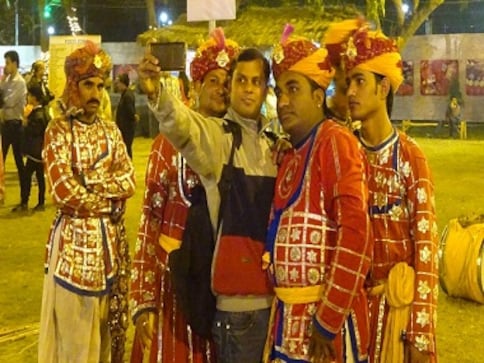 The man at the designer studio in Kolkata is impatient. He flicks at his iPhone, an open packet of paan masala in his hand.  His wife has a Coach bag. They are trying to pick out a jacket for their son who's getting married. "He's very tall, fair and handsome," the man says proudly. He'd like something in maroon velvet, perhaps with a rose pattern on it.
"Not too Indian, no zardozi," he says. "European like the rose." He shows the designer a picture on the phone.
"We can do our own. But we can't copy that," the designer says politely. "That's either Sabyasachi or Manish Malhotra."
"How do you know?" the man retorts. "It's not written anywhere."  The wife looks abashed and tries to mumble something. The man cuts her off sharply. "I know this. I am in the same line. I am a readymade garment exporter," he tells the designer.
The designer, a dyed-in- the-wool Bengali, smiles thinly. Typical Burrabazar Marwari he says later, rolling his eyes. He remembers another Marwari who told him "What? You have no sherwanis for over 1 lakh!" But weddings make up 50 percent of his bottomline and Marwaris, whether Burrabazar traders or Alipore industrialists, drive that business.
The cramped and bustling lanes of Burrabazar were once the first stop from Howrah Station for Marwaris fresh from the villages of Rajasthan. They lived here in basas with a common mess and did business sitting on a white gadda spread out on the floor while the wives and children stayed back in Rajasthan.  They traded in jute futures, dabbled in rain gambling and pioneered the cashless hundi remittances system. They were amoral about what they traded in — opium or grain or clothes from British factories during the height of the swadeshi movement. Soon firms like Tarachand Ghanashyamdas controlled Kolkata's money market.
Tarachand Ghanshyamdas does not exist anymore. But his community has spread all over the city, from the suburbs of Salt Lake to the garden mansions of Alipore. When the neighbourhood sandesh shop started selling chilli paneer, a Bengali friend shook his head in dismay and said "It's a Marwari city now. What's truly Bengali about Kolkata any more?"
When I returned to Kolkata after two decades abroad, almost all my Bengali friends were gone, to jobs in New Delhi and San Jose. It was the Marwari boys who showed up for the school reunions, still in the city, running the family business. Apart from a handful of missionary schools, practically every reputable school is now Marwari-owned. That includes South Point, once the most famous Bengali-owned English medium school, much prized by middle-class Bengalis for churning out examination-toppers by the dozen. Marwari money runs almost every hospital, and finances every other Bengali film, whether an artsy award winner or a masala romp, courtesy Shrikant Mohta's Shree Venkatesh Films. The Yauatacha dim-sum restaurant, the only Michelin-starred eatery in Kolkata, has an entire separate vegetarian menu aka the "Marwari menu". The Marwaris keep the lights on in Kolkata. Literally. The Calcutta Electric Supply Corporation is owned by Sanjeev Goenka's group.
"Just go to Calcutta High Court and look at the case list," says Ankit Kejriwal. "Almost all commercial matters are between a Marwari and the government. Or between two Marwaris."
Kejriwal's office is perched on the roof of an old building in Kolkata's fabled Dalhousie Square. The building is decrepit, its creaky lift more so. It seems not to have been serviced since the old blue-chip British companies had their headquarters here. When the British left and foreigners started pulling out of India, the Marwaris stepped in. "With capital, connections, and enterprise, the community purchased almost all of Dalhousie," says Kejrwial. Tea gardens, jute
mills, engineering firms — everything changed hands in a very short period.
The avaricious Marwari was already part of Bengali folklore by then. In 1925 the Bengali satirist Parashuram created the oily Marwari prototype — Ganderiram Bataparia who wants to sell impure ghai as opposed to pure ghee and donates lakhs to dharamsalas to make up for his chicanery. But the real rub, writes Susan Strasser in her book Commodifying Everything was "unlike the Marwari character Ganderi, however, the Bengalis are not as clever at making money."
Kolkata was once dubbed Martin Burn city. That engineering firm, run by Sir Rajen Mukherjee and then his son Sir Biren, gave Calcutta the imposing landmarks that made it Calcutta — St. Xavier's College, the Club House at Eden Gardens, the Grand Hotel Arcade. The firm still sits on 1 RN Mukherjee Road in Dalhousie but it's owned by the Fatehpurias. Bengalis once had Martin Burn, now they have heartburn.
When there was a robbery in my mother's suburban neighbourhood of Salt Lake, a Bengali resident told television cameras bitterly that such happenings were only to be expected. Too many Marwaris, or as Bengalis put it, "non-Bengalis", had moved into the neighbourhood.
The prosperity of the Marwari is inextricably tied with the imperial history of Kolkata. "We were agents of the British," says Kejriwal whose grandfather came here in 1910 and started trading in edible oils and food grains before moving onto pig iron and foundries. "Nehru said we were governmentarians. We don't care if it's the white man's government, Pandit government or Communist."
Despite her chest-thumping display of Bengali pride, Mamata Banerjee convened a special meeting of local Marwari and Gujarati businessmen to seek their support during the 2016 election. Her assembly seat has 60,000 voters from those communities and she was afraid they were slipping away. Marwaris prop up Mamata's Kolkata just as they flourished in Jyoti Basu's Kolkata. Basu died in the Marwari-owned private AMRI hospital. Those days as Marwari businessmen acquired swathes of land in Kolkata, often at favourable rates, the standing joke was the M in CPI(M) stood for Marwari.
Shishir Bajoria laughs when he hears this. "Lots of Marwaris were close to the party but not party members. Maybe that's why the M was in brackets." Sitting in his stately Alipore home overlooking his lawn, while a mali trims grass and tends to the potted chrysanthemums, Bajoria, scion of an old jute family, looks like the archetypal well-settled Marwari industrialist. There's art on the wall and a vintage car in the driveway.  His wife runs an art gallery. But unusual for a Marwari, Bajoria actually joined the CPI(M). "There was suspicion in the party because I came from the opposite camp, I came from capital." But he grew close to the redoubtable Jyoti Basu. Bajoria once headed the Rajasthan Bengali Maitri Parishad, one of 100 odd nagar samitis from Rajasthan in Kolkata. "It ended up as an outreach campaign for the CPI(M). That was a mistake," he admits.
Ironically, after all that when he finally joined the Party, he was made a member of its Rajasthan unit. Bajoria didn't even have an address there. He had to use the CPI(M) party office address. In the eyes of the Bengali babu, a Marwari, even one who loves his shukto and aloo posto, swam in Hedo's pool in the heart of North Kolkata, and has as Bengali-sounding a name as Shishir, is at some level always an outsider. Now he's joined the BJP. Typical Marwari opportunism? "Then I should have joined the Trinamool," he says with a smile that makes it clear there were offers. I notice his spectacle chain. It's the colours of the national flag.
Marwaris  were rich but often shut out of Calcutta's snobbish elite clubs or only allowed in after great scrutiny. So they created their own clubs — Hindustan Club and the Marwari Rowing Club now re-christened the Bengal Rowing Club. Black and white portraits of the old presidents line the walls — a somber who's who of hoary Marwari surnames — Birla, Goenka, Singhania. There's a Shiv mandir at the entrance of BRC. A giant Ganesh guards the door of the Hindustan Club along with their own personal paanwalla. "Our specialty is, our food has no onion or garlic," boasts club treasurer, Sudhir Satnaliwala. "But it is so delicious you will not tell the difference." The club surveyed its members about introducing onion and garlic. Sixty-seven percent refused, says club secretary Anjani Dhanuka.
Piyush Bhagat, vice president of the Bengal Rowing Club says some members wanted to introduce alcohol but the majority demurred. "We are a family club. People are comfortable sending their children here unaccompanied because there is no alcohol," he says. Bengal Rowing Club was set up by GD Birla. "He was a vegetarian and a teetotaler," says Bhagat. "He wanted a club that would welcome him. In his dhoti-kurta and chapkan coat."
There are no dhoti-kurtas and chapkans visible among the families enjoying a breakfast of kachori sabzi and jalebis on the club lawns overlooking the misty lake. But the image persists of a community that's insular, conservative and paan-chewing. Dhanuka says he once got a temporary membership at another prestigious Calcutta club but was ultimately rejected. When I ask him why, he says he'd rather not comment. Then he adds that the new and improved Hindustan Club has a swimming pool on the fourth floor. No other club in Kolkata, no matter how hallowed, can boast that.
But even the fanciest pool can't quite take away the sting of rejection. Mero and Bong might be slang for both communities but Mero is also a pejorative in a way Bong is not — shorthand for tasteless and money-grubbing. Writer Alka Saraogi, Sahitya Akademi award winning writer and a Marwari herself, perhaps had the most biting description of the stereotypical Marwari in her novel KaliKatha: Via Bypass.
BCom passed, a protruding belly, betel-nuts masala in mouth, a silver snuff-box, white T-shirt on jeans, a sandalwood-paste tika on his forehead from his daily puja, mobile phone in hands. With gems-studded rings on most of the fingers.
Bengalis, she says might have had Marwari friends but preferred not to flaunt them. However Marwaris have not spent their hard-earned money just on gem-studded rings and the big fat Marwari wedding. The footprints of the Marwaris are all over Kolkata. To name just one family, the Birlas, there are dozens of institutions bearing their name: The Birla Planetarium, the Birla Industrial and Technological Museum, the Birla Academy of Art and Culture. But no major thoroughfare honours the Birla patriarchs.
Stories about Kolkata's cosmopolitan heritage rarely include the Marwaris, invoking instead its vanishing Jews, its fading Armenians and the countless sahibs buried in Park Street cemetery, felled by gout and malaria. CK Dhanuka, an industrialist at Mamata's recent meet-and-greet even sang a Tagore song but it's as if its Marwari-ness is Kolkata's guilty secret. Or perhaps it's Bengalis who are just living in grand denial.
At a busy metro station, commuters waiting for the train glance at the television screen. Soumitra Chatterjee is selling some cement on it. Almost 60 years after Satyajit Ray launched him in Apur Sansar, Chatterjee remains the most trusted brand ambassador of the bhadralok Bengali, selling us everything from hearing aids to biscuits. He describes the cement he is endorsing as "Banglar gorbo", the pride of Bengal. The words are carefully chosen. Bengal's pride, the great actor says, not Bengali pride for he is peddling Birla Gold cement, a testimonial to Marwari enterprise in a Bengali city.
Or could it be one more sign that a city that loves to divide the world into Bengali and non-Bengali might have to start thinking of itself as Marwari and non-Marwari instead? That would make Soumitra babu a great non-Marwari success story in an increasingly Marwari city.
India
In a state, city and society that prides itself in being 'progressive' and pro-women, this bizarrely Victorian stance of one of its most coveted educational institutions is very hard to swallow
India
Alipra, a former local secretary of the CPI(M) before joining the AAP, said he had gone to the panchayat office to know the status of the two complaints that he had filed earlier regarding some local issues but he was 'beaten up… and dragged at the office without any provocation'
Politics
The CBI arrested Trinamool's Anubrata Mondal after he failed to appear for questioning twice. He is allegedly involved in a cross-border cattle smuggling scam – a nexus between politicians, BSF personnel, Customs officials, and police