Making nutrition fun for a toddler
One of the biggest challenges for a parent of a toddler is to please their little one's palate.
One of the biggest challenges for a parent of a toddler is to please their little one's palate. Toddlers can be extremely picky eaters and mealtimes can turn into nightmares for parents. So how can a parent make a toddler's meals fun and yet ensure that they're full of nutrition?
9 Months, a web series meant for parents, deals with the everyday lows and highs of parenting. This series has now made a comeback with season 3 and has more celebrity parents and experts share their experiences on myriad topics.
In a three-part episode dedicated to child nutrition, 9 Months featured nutritionists Raheela Hasan and Chitra Roshan along with Naiyya Saggi, founder and CEO of one of India's biggest parenting apps, BabyChakra, to speak on the subject.
In part 1, host Teejay Sidhu asked the ever important question, "how to get our fussy eaters to eat?" To which Raheela and Chitra replied that food needs to be made tasty and present for children as well, just like we adults like tasty food. Naiyya, on the other hand, said that this problem was more pertinent today, like back when we were kids, we never really had a choice about what to eat.
Part 2 was all about milk and handling milk allergies. Both nutritionists agreed that for the first six months of a baby's life, mother's milk is the best as it is made for a baby. After that, cow's milk can slowly be introduced into a child's diet as cow's milk is lighter as compared to full-fat milk. Naiyya mentioned that on her huge parenting platform, mums often asked how to integrate milk into their child's diet based on cultural and regional requirements.
In Part 3, the best foods for a child were discussed. Raheela pointed out the importance of including plenty of fruits and vegetables in a child's diet right from an early age. Chitra suggested tips to disguise healthy food to get the kids to eat. The trio then spoke about the importance of exercise in a child's growth.
Want to know what these experts shared exactly? Watch the episodes!
This is a partnered post.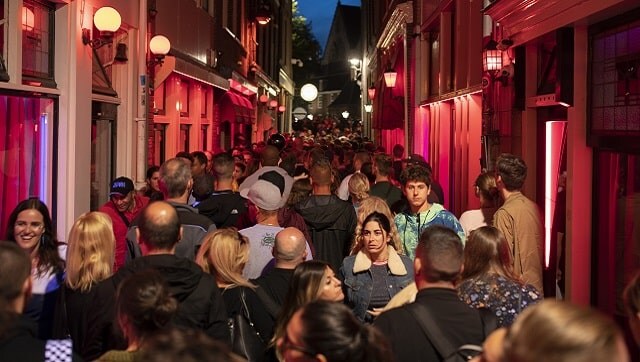 World
Amsterdam has been trying to navigate a conundrum for years: how to embrace its status as a vibrant, international hub without making the city unlivable for its residents — and without letting go of its famous, free-spirited roots.
India
The India Wide Parents Association suggested using an alternative method of assessment 'because the delay in the exam dates is affecting the students' mental health'
First Cricket News
Under the policy, women cricketers will get up to a year of paid leave and will also have the option to transfer to a non-playing role until commencement of their maternity leave leading up to the birth of their child.