Make your backseat the reason someone gets to vote - take the #RideForVote pledge and do your bit for #NonStopDemocracy!
Many aged and disabled people are willing to vote but are stuck without assistance.
Round three of the Lok Sabha election 2019 - the world's largest free election exercise is next with some of the most critical states heading into the polls. Everything is on track, and all arrangements for a free and fair round of elections are complete, but with 900 million eligible voters, the big question is how many voters will get to exercise their rights this year?
All eyes are on India, and with every Indian who doesn't vote, we give up the power to affect the quality of our lives and those of future generations. While some votes are lost because of unforeseen circumstances or migration of people, often the reason is far simpler.
Many aged and disabled people are willing to vote but are stuck without assistance. Some people live miles away from the polling stations and getting anywhere is a challenge. A lack of transportation can be among the most significant deciding factors between how many are registered and how many finally make it to cast their ballots.
As the world watches with bated breath, engine oil giant Castrol Activ decided to step up and do its part to make a positive impact! 
Building on the brand's proposition of 'Protect What You Love', their campaign wants to remind us that our fundamental right to vote is essential and we need to protect it, by making it possible for as many people to vote as possible.
To encourage and inspire India's youth, their 'Give a ride, Help cast a vote' message is set to reach the very heart our country's responsible, self-aware youth - they will define the outcome of the elections 2019! Through its campaign, Castrol reminds us not just to vote ourselves but to also offer to take along a neighbour, a friend or someone from our communities who could use a lift.
And if more riders band together - think of the difference it will make to voter turnouts across the country. Our communities are made up of friends, loved ones, neighbours, and many homeless or underprivileged people - each of us a proud Indian. Some may not know how important voting is, while others don't have the privilege. Decide to offer the back seat of your two-wheeler to anyone who might need it and do your part in leading our democratic nation forward.
With overall voter turnout already at a good start of over 65%, your community needs you more than ever. Help make every voice in your community heard by supporting the candidates, the system and doing the best you can to assist as many people to polling stations as possible.
Just click here to take the #NonStopDemocracy pledge now and be part of making India great.
This is a partnered post.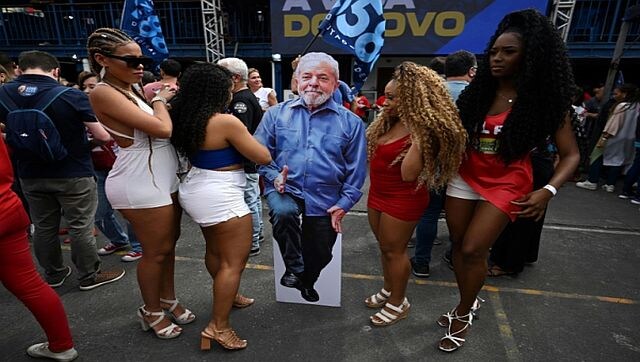 World
In a nod to the symbolism of samba's Afro-Brazilian character, Brazil's presidential candidate Luiz Inacio Lula da Silva chose the Portela samba school for one of his final rallies
World
Ukrainian governor of Zaporizhzhia, one of the regions where Moscow-installed officials organized referendums on joining Russia, said a Russian missile hit an apartment building in the city of Zaporizhzhia, killing one person and injuring seven others
Politics
He also expressed his desire for Rahul Gandhi to take up the party chief post and said his unwillingness to accept the top position was a cause of worry for everyone.