Look out Modi, Kejriwal: Mamata comes armed with 'kaalchaar'
Given that a few weeks ago, Didi announced she was sending Mithun Chakravarty to the Rajya Sabha, the Trinamool list, stuffed with 24 percent non-political celebs, sounds like a casting call for a new blockbuster soap-opera.
If Mamata Banerjee has her way, Bengal's film industry can move lock stock and barrel from the studios of Tollywood to the Lok Sabha. Trinamool's list of nominees for the Lok Sabha has roped in everyone from a reigning action hero to yesteryear stars. And a footballer for added kicks. Given that a few weeks ago, Didi announced she was sending Mithun Chakravarty to the Rajya Sabha, the Trinamool list, stuffed with 24 percent non-political celebs, sounds like a casting call for a new blockbuster soap-opera.
Here's a list of five things that Didi has proved with her razzmatazz
1.She is obsessed with what Bengalis like to call kaalchaar. Of course these days culture in Bengal, especially if it has to be translated into votes, is mostly about small-screen and big-screen. For example, we won't see very many poets on the stump other than Didi herself. But there is a theatre actor-director, Arpita Ghosh, a historian and Harvard professor (and Subhas Bose's grand-nephew) Sugata Bose and a couple of balladeers, singers Indranil Sen and Soumitra Ray. Kabir Suman, the singer and dissident Trinamool MP is gone but sitting actors Tapas Pal and Satabdi Roy have gotten the nod again. This is a "good combination" says a happy Didi.
2.Reports of Didi's fall from grace among Bengal's intelligentsia are much exaggerated. When Didi giveth Bengal's stars taketh. Not only do they take, they fall over themselves to sing paeans to Didi. "I will work as Mamata's soldier to reach out to the people," says Arpita Ghosh to The Telegraph.
"I have no words to express my gratitude to Mamata Banerjee," Moon Moon Sen, daughter of Suchitra Sen and newly-minted candidate from Bankura, tells the Ananda Bazar Patrika. "We are her loyal soldiers," singer Indranil Sen tells The Times of India. "The honesty and integrity of Mamata Banerjee helped me decide to join politics and her party," says Baichung Bhutia to The Telegraph. "She is role model for all Indian women."
3. When Didi calls only the foolish and the foolhardy ignore her in Bengal. The Left Front had set the trend of stamping artists with with-us/against-us political colours. It was clear during those days which artiste had passed the ideological litmus test by the way the Left Front government feted them or ignored them. But noone imagined that even an openly left-leaning actor like Soumitra Chatterjee would jump into the electoral fray. Mamata had wooed the culturati as a way to reassure middle and upper middle-class Bengal that she didn't head a lumpen party. But now she is using them as her cultural shock troops.
They are expected to dance to Didi's tune. Moon Moon Sen tells The Times of India she found out she was a candidate from television. "Honestly, Mamata-di never asked me to fight the polls. But I am ready for it." Unlike the other stars on the list, Dev,32 is at the height of his popularity with blockbuster hits like Paglu and Chander Pahar. But he could not turn down Didi's call to stand from Ghatal. Even his family in Keshpur village were blindsided especially since they are hardcore CPM loyalists. "This has tarnished the image of the family…I still can't believe it. It's like a bad dream," his uncle Shaktipada Adhikary, a member of the CPM zonal committee tells The Telegraph.
4. Didi is exceptionally media savvy. The CPM announced its candidates on the same day as Trinamool. Didi's starry list swept the more predictable down-to-earth Left Front list out of sight and has sucked up all the media oxygen in Kolkata. An understandably miffed Biman Bose whose list actually has 26 new candidates, including a couple in their twenties, told a press conference "We have drawn up a list of candidates from those who remain with the people through the year and those who fight for the rights of common people." While Trinamool is jazzed about its star power, unnamed leaders are nervous as well. One tells the Ananda Bazar Patrika "Even if (Moon Moon Sen) wins she will spend most of her time in Kolkata. Will we be even able to get near her with our demands and entreaties?"
5. Mamata Banerjee had made some shrewd political moves that have been lost in the starry hoopla. Putting Baichung Bhutia as the candidate for Darjeeling certainly gives the Gorkhaland Janmukti Morcha a headache. Bhutia is technically an "outsider", being from Sikkim but his appeal among young people is also undeniable.
Dinesh Trivedi, the Railway Minister she famously booted out is back in the fray. Mamata refuses to comment on his return saying it's an "internal matter" but it shows she rehabilitates when she sees fit and no door is permanently closed for her no matter what she says. Politicians who dumped other parties to join her have gotten seats. She has kept almost all her sitting MPs, even the ones she is not thrilled with, afraid other parties could poach them. Mamata's ambitious young nephew, twenty-something Abhiskek has garnered a ticket from Diamond Harbour. At a Newslaundry interaction with Madhu Trehan in Kolkata, Mamata lit into a few feudal families ruling politics as if by birthright and bemoaned the lack of youth. She didn't mention the most prominent young gun her party was putting forward was her own nephew.
Bengal's celebrity list is different from South India's obsession with stars writes the Bartaman newspaper. MGR, NTR, Jayalalitha used their star power to build up political appeal among masses and control political parties. "In Bengal celebrities are coming into the political arena holding the hand of the ruling party," writes Bartaman. This means Mamata is not just basking in their star-shine, she is using them, sometimes at their own inconvenience. The film Buno Haans, starring both Dev and Moon Moon Sen and scheduled for an April release will now need to get a new release date. The director put on a brave face and told The Telegraph "Yes, the film will get delayed, but it's for a greater cause." He probably meant serving the people of Bengal. But the "greater cause" could be in equal measure Mamata herself.
The Trinamool Lok Sabha list might be studded with stars but make no mistake, they are really shiny planets revolving around one sun – Mamata.
Find latest and upcoming tech gadgets online on Tech2 Gadgets. Get technology news, gadgets reviews & ratings. Popular gadgets including laptop, tablet and mobile specifications, features, prices, comparison.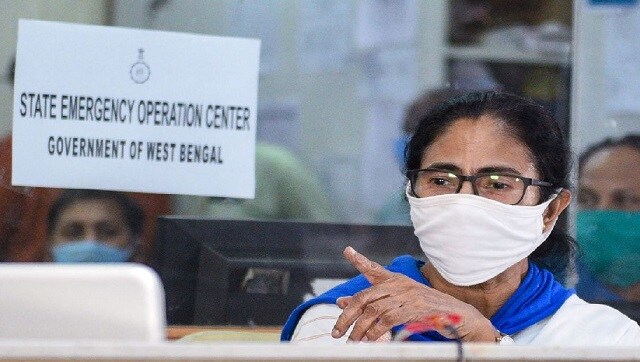 India
Banerjee had written to the Centre, saying that she was ready to implement PM-Kisan and Ayushman Bharat schemes in West Bengal if the funds are routed through the state government
India
While Bangladesh prime minister Sheikh Hasina has chased a large section of Islamists out, Mamata Banerjee's Bengal government has created a welcoming gateway for the radicals into her state.
Arts & Culture
A true disciple of legendary Rabindra Sangeet singer Suchitra Mitra, Dam regaled listeners with her rendition of songs like 'Modhur tomar sesh je na pai prohor holo sesh/Bhuban jure roilo lege anando abesh'