TM Krishna, Githa Hariharan, Hemant Divate on signing appeal urging citizens to 'vote out hate politics'
With the 2019 elections fast approaching, writers, filmmakers and artists such as Girish Karnad, TM Krishna, Urvashi Butalia, Shanta Gokhale and Anand Teltumbde among others have signed this appeal to all citizens to vote for an India that 'renews the promises made by our Constitution.'
The Indian Cultural Forumt aims to examine the threat to freedom of expression and work towards a more egalitarian society

The petition draws light on the incidences of intimidation and censorship, lynching and discrimination and fear and divide created in the society

It says, vote out the division of our people; vote out inequality; vote against violence, intimidation and censorship
Over 200 writers from across the country, including Booker Prize winner Arundhati Roy and Amitav Ghosh, have signed a petition ahead of the upcoming Lok Sabha Elections, appealing to citizens to vote against 'hate politics' and for an 'equal and diverse India.'
The Indian Cultural Forum has shared this appeal, urging people to vote out hate politics. The petition sheds light on the incidents of intimidation and censorship that writers, artists and filmmakers have gone through, the citizens who have been lynched and discriminated against on the basis of caste and religious differences, and the hate politics that has been used to create fear and divide the country.
Writers, filmmakers and artists such as Girish Karnad, Urvashi Butalia, Shanta Gokhale and Anand Teltumbde among others have signed this appeal to all citizens to vote for an India that 'renews the promises made by our Constitution.'
Read the full text of the appeal:
Let us vote against hate politics. Let us vote for an equal and diverse India.
The upcoming election finds our country at the crossroads. Our Constitution guarantees all its citizens equal rights, the freedom to eat, pray and live as they choose, freedom of expression and the right to dissent. But in the last few years, we have seen citizens being lynched or assaulted or discriminated against because of their community, caste, gender, or the region they come from. Hate politics has been used to divide the country; create fear; and exclude more and more people from living as full-fledged citizens. Writers, artists, filmmakers, musicians and other cultural practitioners have been hounded, intimidated, and censored. Anyone who questions the powers-that-be is in danger of being harassed or arrested on false and ridiculous charges.
All of us want this to change. We don't want rationalists, writers and activists to be hounded or assassinated. We want stern measures against violence in word or deed against women, dalits, adivasis and minority communities. We want resources and measures for jobs, education, research, healthcare and equal opportunities for all. Most of all, we want to safeguard our diversity and let democracy flourish.
How do we do this? How do we bring about the change we need so urgently? There are many things we need to do and can do. But there is a critical first step.
The first step, the one we can take soon, is to vote out hate politics. Vote out the division of our people; vote out inequality; vote against violence, intimidation and censorship. This is the only way we can vote for an India that renews the promises made by our Constitution. This is why we appeal to all citizens to vote for a diverse and equal India.
*
Hansda Sowendra Shekhar, author of the works such as the 2015 collection of short stories, The Adivasi Will Not Dance, said, "I read somewhere that writers and artistes are the conscience keepers of a society. Even if writers and artistes might not be able to achieve too much, they can inspire people to bring about a change."
"I too was hounded some time ago. I learnt to first, fight back, and then move on." he added while alluding to the passage in the statement that talks about hate politics, violence against minorities and assassination of writers and activists. "So I felt that this statement was important."
Even as minorities continue to be given rough deals election after election, he said, "We shouldn't lose hope, and let us make a beginning with this election."
"The point is that the appeal comes from more than 200 writers, and there are others signing still. The point is that these are writers from such a number of languages, regions, community. All of us have multiple identities as writers, yet we have all come together to make this appeal to vote out hate politics. We say this not only as writers, but as citizens," said author and editor Githa Hariharan, one of the signatories of the petition.
She questioned, "As we have said in the appeal, the 2019 elections see the country at the crossroads. Are we going to remain a country that respects the Constitution and works to fulfill the promises made there? The promise of equality for every citizen, basic freedoms for everyone? Or are we going to let India — already torn apart by lynching, discrimination against Dalits, unemployed youth, farmers committing suicide, writers, students, teachers and activists hounded — fall apart, become a country that is no longer home to most of its citizens?"
Carnatic classical vocalist TM Krishna said of the 2019 polls, "This is a crucial election for India and on the voting day we need to reaffirm our ethical soul enshrined in our constitution."
"In the past five years we have been governed by a party and a prime minister who has repeatedly allowed violence to spread wide and across the country," he added, "The BJP and various members of the Sangh Parivar have been on a rampage, carpet bombing our country with fear and hate. This is a reality and they cannot mask it with jingoism and ugly nationalism."
Krishna continued, "The cultures of this country are under threat and those in the margins extremely vulnerable. The Freedom and liberty of activists, artists, academics and the functioning of educational institutions, academics and scientific bodies has been restricted and individuals have been threatened, even arrested. If we do not speak now we may forever lose the India we have treasured, 'a socialist, secular, democratic republic'."
Marathi poet Hemant Divate, one of the artists to have signed the petition, noted, "Sant Dnyaneshwar has said, 'he vishwachi maaze ghara' (this world is my home)."
"Now I have a simple philosophy for why I live and what I do," he continued, "and that is to make the world a beautiful place. But whatever is happening today is not beautiful. Not just because we have the BJP or something, Maharashtra also has had the Shiv Sena for so many years. And it is unbearable to see all the suffering that people have undergone."
"We are all paying taxes, living together in harmony and love, helping each other out in times of need and then suddenly someone is reminded of caste, religion, language, eating habits, sleeping habits."
"However, our culture, since ancient times has been to live together. But certain people are 'sang kamya,' they want to be herded, they are the bhakts, the ones who wait to be told to do something. Others, like us writers, feel of our own accord that we should be doing something, so I decided to sign this petition."
"I agree with all the points that have been made in it; it is signed by a community of writers and authors who are all thinking about the future," he added.
With inputs from — Manik Sharma and Suryasarathi Bhattacharya
India
Previously, Amitav Ghosh has been a recipient of the Sahitya Akademi Award, and his books Sea of Poppies and River of Smoke were also shortlisted for the Man Booker Prize in the years 2008 and 2012 respectively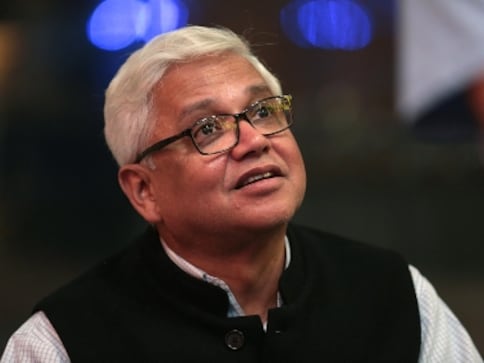 Life
Amitav Ghosh has announced three new projects — Jungle-Nama, a verse retelling of the legend of Bon-Bibi, a Sunderbans epic; a new collection of essays; and The Invisible Hand, a work of non-fiction informed by his research for the Ibis trilogy. 'If you're a city-dweller, a story like Bon-Bibi is an oddity to you. But if you're living in the Sunderbans, Bon-Bibi is your life,' he said in this interview to Firstpost
Life
The shortlist of six authors and their translators for this year's International Booker Prize has been announced by The Booker Prize Foundation.