Let Lord Ram be, building him a museum is demotion of sorts
The government has announced a state-of-the-art hi-tech Ram museum in Ayodhya. Tourism minister Mahesh Sharma sounds rather smug as he tells ET, "Tourism we can develop. We are not saying we are going to make a Ram mandir there."
If they cannot have a temple (yet), let them have a museum instead?
The government has announced a state-of-the-art hi-tech Ram museum in Ayodhya. Tourism minister Mahesh Sharma sounds rather smug as he tells ET, "Tourism we can develop. We are not saying we are going to make a Ram mandir there."
The proposed Ram museum will depict the "mahima (grandeur) of Ram and the Ramayana" and be modeled on the Akhshardham temple in Delhi with its sound and light show and boat ride and film on Swaminarayan. Cost estimates are open-ended.
Given that the newly appointed head of the Indian Council of Historical Research, Y Sudershan Rao is already famous for trying to establish the historicity of the Ramayana and Mahabharata, this Ram fervor is going to predictably lead to a new round of breast-beating about saffronization of India. This time it will be about Hindutva by package tour as opposed to Hindutva by kar sevaks. The government can, in its defence, say it's not just proposing a Ramayana circuit. It also has plans for a Muslim circuit (Nizamuddin Aulia-Ajmer Sharif-Charar-e-sharif) and a Christian circuit (St. Xavier-Vellankani-St. Thomas Church) among others. And it's not the only one. Even the Sri Lanka tourism board wants to get in on the action with its own Ramayana Trail featuring the Ravana cave, the Sita Elya temple and Wariapola used by Ravana for his Pushpakavimanam.
The government is perfectly in its right to develop sites that have resonance in our epics as world-class tourism spots. It is part of our cultural heritage and we should nurture it. The problem of course is in most places we do not have an Angkor Vat temple that we can excavate, protect and preserve. All we have are names. And now we are building a join-the-dots circuit to match the names.
For example, the Telengana government also wants its own Ramayana circuit that will include Bhadrachalam, Rekhapalli in Khammam, Jeedikal in Warangal, Jataporu in Mahbubnagar and Ramagiri Hills in Karimnagar. According to this report in the Times of AP, "The logic behind the circuit is that since Lord Rama had spent 14 years in Chitrakut in Madhya Pradesh and had met 'Guha' at a location 600 km from Adilabad, he would definitely have traversed the dense forests of Warangal and Karimnagar as some of the places are mentioned in the Ramayana." This is really about retrofitting modern India to its Ramayana past.
Even VisitBihar's own Ramayana circuit website calls its pilgrimage points part of "folklore" and "myth". There is obviously no evidence of the field in Punaura Dham which King Janak was ploughing when he discovered Sita. And Sitamarhi might have a magnificent temple now but its connection to the Ramayana according to VisitBihar is that "on way to Ayodhya after her marriage with Rama, Sita had reportedly stopped at this place."
Religious places, whatever their provenance, are really a matter of faith, rather than historical fact. Sudershan Rao himself tells ET "I might not know anything about my great great grandfather but I can't deny his existence for lack of evidence or how else would I be here? Similarly Rama's existence need not be proved by historical procedure. What benefit are you (historians) going to get if you deny the existence of Rama? Why do you want to try to prove he is not there?"
But what a museum does that a temple cannot do is project the idea that Lord Rama was indeed there. Museums tend to be about historical figures while temples are about icons of faith. We are not really looking for authoritative proof about which part of Sati fell in Kalighat and which part fell in Kamakhya in order to venerate those temples. While an Ayodhya circuit gives the faithful a package tour, a hi-tech Ram Museum helps make the historicity of Ram a given.
Rao is right in a way when he asks why his critics want to try to prove Lord Rama is not there. But the flipside to that question is why he is so adamant about proving that Lord Rama walked this earth, or crossed a river at the Ram Rekha ghat on his way to Sita's swayamvar or that Giddheshwar was the place where Jatayu battled Ravana.
Unlike an Arjuna or a Yudhishtira from the Mahabharata, Rama is revered across India as god already. To be hellbent on making him a flesh-and-blood historical figure is really a demotion of sorts. While the Catholic Church is trying to beatify Mother Teresa and make her a saint, projects like the Ram Museum and the likes of Rao are inadvertently taking a god and making him a man.
In a way this shows that we distrust the power of imagination. It is wonderful to think that our ancients dreamed of chariots that flew, of gods who replaced the heads of men with the heads of elephants, and changed gender at will without seeing in them foolproof evidence of a lost golden age of airplanes, plastic surgery and sexual reassignment surgery. The anxiety to anchor our epics in fact shows that we too want to use the principles of the Age of Reason and the scientific thought that is its cornerstone, to validate our own cultural heritage. As mythologist Devdutt Pattanaik says "We have to decide whether we want Ram in the past or Ram as sanatan or timeless not bound by history or geography."
Lord Rama, whether he was a historical figure or not, is very secure in the hearts and minds and prayers of millions of Indians. In that sense he is very much alive today unlike the dead kings whose legacy is typically stored in museums. How odd that in the name of devotion, Rama's modern bhakts want to bestow upon him a museum when centuries of devotees have already honoured him with the greatest gift of all – immortality.
Sports
Yesterday was the 20th anniversary of Ashe's death, a life cut short by the AIDS virus he contracted through a blood transfusion while in hospital for heart surgery.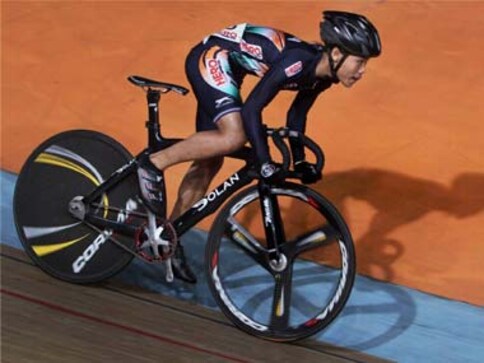 Sports
The campers were asked to participate in rope climbing activity to test their strength. While even the men cyclists managed to achieve the target just once, Deborah repeated the feat thrice and the coaching staff was convinced that she was the special one.
Business
The jury is out on the business impact of this change and whether it will significantly improve Pepsi's fortunes.