Girls don't play soccer? La Martiniere kicks up a storm by giving just boys school leave
All was good till news came in that La Martiniere for Girls (LMG), their sister concern, didn't get a leave on Monday. And why? According to The Telegraph, it is because the school decided to play by the good old gender rule-book and give the boys a day off on the assumption that they will be watching football. The girls on other hand, were not given a leave, again on the assumption that they might not be watching the game and hence there's no reason why they shouldn't attend school next day.
As the rest of Kolkata, still smarting from Brazil's loss, was preparing to cheer for Argentina, La Martiniere for Boys (LMB) wanted to make sure that there were no groggy and disappointed students in class on Monday. So the premier boys school in Kolkata declared Monday a holiday, assuming that its students would have stayed up late to watch the match.
All was good till news came in that La Martiniere for Girls (LMG), their sister concern, would not be getting a similar holiday. And why? According to The Telegraph, it is because the school decided to play by the good old gender rule-book, which is to say that girls would not be watching the largest sporting event on earth, because well they're girls - and girls don't 'do' football.
Ironically, this comes on the back of a report that pointed out that the percentage of women watching football in West Bengal is way above even the world average.
A Business Standard report, says: "The share of women in the total number of people watching football matches in this edition of the tournament is 45 per cent in West Bengal - much higher than the global average of 40 per cent and all-India average (CS4+) of 33 per cent. In Bengal, the Sony Aath viewership had an almost equal split between male and female viewers - 55 per cent and 45 per cent, respectively."
Evidently, the school authorities had not read this report. Or if they had, they didn't believe it.
The Telegraph, visibly shocked by the incident, has called the move a 'sexist self-goal', hinting that the incident might cost the school a fair bit of its reputation as a educational institution.
The report further went on imply that there was already simmering tension between the two schools over alleged 'gender stereotyping'. The report quotes a member of the girls' football team in LMG asking why only the boys deserve a holiday. Whereas a boy from LMB is quoted as tellingly saying, 'They may have got a holiday if they could tell an offside from a same-side."
While it is unfair to expect that high school boys and girls will always uniformly reject gender and societal conditioning, it is the school authorities' move that is clearly wrong here. The school administration should take active measures to stop gender discord, instead of serving to perpetuate gender stereotypes,
The Telegraph quotes the respective principals of the schools on the issue. While the LMB principal says that there's no point in coming to school bleary-eyed, the girls' school principal swatted away gender stereotyping complaint saying the girls needed to rehearse for an upcoming  cultural event. The Telegraph reports:
"I don't see either the students or the teachers coming fresh to school," said Sunirmal Chakravarthi, principal of La Martiniere for Boys. "The World Cup comes once in four years and the students should be allowed to enjoy it." The official explanation from the girls' school has the potential to invite more indignation. "We have a dress rehearsal (for a cultural programme) scheduled on Monday and preparation for a week full of programmes. So we could not declare a holiday on Monday," said Lorraine Mirza, principal of La Martiniere for Girls.
The administration's move, assuming it has been based on broad gender generalisations, is dangerous for two reasons. One, it endorses gender stereotypes where as, being a premier educational institution, it should have negated them. Especially when, they otherwise seem to be the right track by constituting a football team, besides other sport teams, for the girls school. Setting up a football team and then making a move which can be read as blatant discrimination, can only work to demoralise girl students who have a keen interest in sports. Also, it makes a laudable move - that of encouraging girls to indulge in sports - seem cosmetic.
On the other hand, it stereotypes on the boys too. While indulging in sports and appreciating them is usually considered a personal choice, the school's move to give the whole school a holiday screams 'boys have to watch football'. Had the girls school also been given a holiday, the schools could have avoided associating vacuous stereotypes to their students, by which boys necessarily have to enjoy football and girls must not.
This website points out how gender stereotyping in schools can leave long-lasting effects, "Young children receive many powerful messages about gender roles and gender identity. These gender roles pressure students to conform to behaviors that may limit their full developmental potential. Children who do not adopt traditional gender roles are often targeted for harassment and bullying. Gender based name-calling is among most common in elementary school."
A study, undertaken to examine the understanding of gender stereotypes among adolescents in India points out that the self-appropriation of young students in respect to each other stands the risk to be being deeply flawed when influenced by popular conceptions about gender roles. It also has long-term effects, the study points out, "Beliefs about gender inequality can be detrimental for a developing nation such as India. The persistence  of gender stereotypes can divide the labor force into gendered categories, which may affect educational trajectories and hiring practices. As a result, associations between a particular gender and a profession may become more prevalent. One point of intervention to combat such disparities is the school setting."
Like this Huffington Post article notes, racism, sexism and all sorts of discrimination are aspects of human behaviour that children are primarily introduced to in schools. Given that there is no parental guidance during school interactions, the responsibility lies with the school to negate such behaviour and it's unfortunately a problem that most schools, across the world, suffer from. It's probably high time gender sensitivity starts figuring in a school's agenda.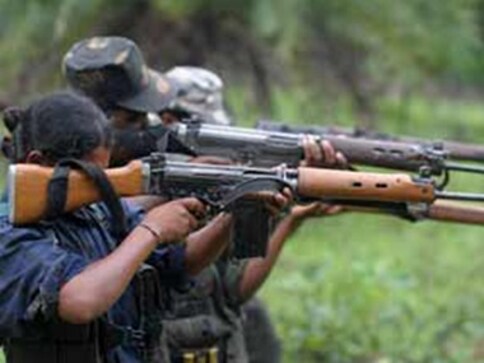 India
A re-visit of the ambush and its aftermath on Monday indicates a strong possibility that the Maoists are strengthening their armed cadre and transforming themselves into an army.
India
Ahead of assembly polls, the BJP-led Haryana government on Monday announced Rs 4,750-crore interest and penalty waiver on crop loans taken from cooperative banks.
India
Soon, you can buy high-end prohibited weapons as souvenirs, but only after they are converted into drill practice, making the firearms non-functional.