Kolkata Literary Festival 2019: Ramachandra Guha, Rajmohan Gandhi discuss the Mahatma on Day 3
The last day of the 2019 edition of the Apeejay Kolkata Literary Festival featured discussions on food and Gandhi's brand of secularism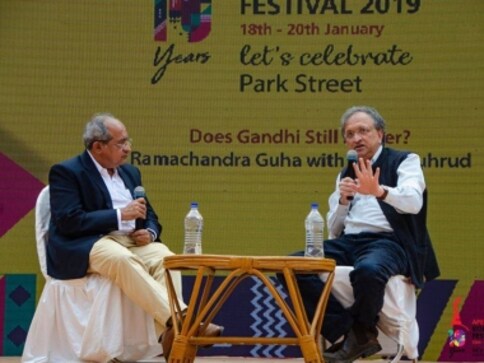 On Day 3 of the Kolkata Literary Festival, Ramachandra Guha said that Gandhi stands as a cautionary voice at a time when violence is being glorified.

Rajmohan Gandhi explained that to Gandhi, secularism and equal rights for all were extremely essential.

There was a session on current global food fads and trends, with a focus on India, featuring Chef Shaun Kenworthy.
"Forget the differences between Savarkar, Subhas Chandra Bose and Bhagat Singh. What was common was they all wanted to blow the hell out of the opponent. They glorified blood and violence, and Gandhi did the reverse. In the eyes of young men, that makes him a weak-kneed, feminine man. 'You have to be macho to get the British out.' Gandhi's moral reasons for non-violence are well known, but there was a political side to it as well. If we had blown the hell out of the British then as soon as we got our independence, we would have turned on each other. Non-violence was vital to create a culture of debate and dialogue, and if it's feminine, all the better for it! Toxic masculinity and the glorification of violence among young Indian men today takes on different forms and they could become Naxalites, jihadis or join the Bajrang Dal. It's very terrifying and I think that's where Gandhi stands as a cautionary voice," said an impassioned Ramachandra Guha to Tridib Suhrud in the opening session of the final day of the Apeejay Kolkata Literary Festival 2019. The session was titled 'Does Gandhi Still Matter'.
I went straight from that to 'Ishwar Allah Tero Naam: Gandhi's Secularism', which had Tridib Suhrud again along with Rajmohan Gandhi and Sugata Bose. This session was moderated by Kavita Panjabi. In commemoration of 150 years of Gandhi, there were a couple of sessions dedicated to remembering the legacy of the Mahatma while also taking stock of where we stand today. They discussed how Gandhi's secularism was born not out of being agnostic but rather from a deep faith, and having respect for other religions; and how when he broke his major fast, there were prayers recited from almost all major world religions.
Rajmohan Gandhi pointed out that 'Ishwar Allah Tero Naam' was more than just a sentimental thought. "He said it so that Hindus and Muslims understood that they had the same right to their beliefs, but also the same rights in the country. One must not forget Gandhi's role in making sure that the Indian political class was committed to equal rights for all. Had he not reiterated that the Congress be committed to secularism, it would not be part of the Constitution." Kavita talked about the "unique ethical fibre to Indian nationalism". Concluding the session Rajmohan Gandhi contemplated what the atmosphere in the country would have been like, had leaders like Nehru and Gandhi been alive today. "Would they have allowed this hatred and intolerance to continue unchecked?" he asked the audience. "If there is one latent reason for the unchecked advance of bigotry today, it is the silence of the most important and influential persons in India. In light of that, the ball is really in our court. Every father, mother, neighbour, teacher, every citizen has to assume the mantle of leadership."
Next up was 'Mirch Masala: Indian Flavours and the World'. Mallika Basu, Julia Roberts and Manjri Agarwal discussed current global food fads and trends with Chef Shaun Kenworthy, with an eye on Indian cuisine. After the large format outdoor sessions I had attended in the morning, the cosy and informal atmosphere of Sienna Cafe's new collaborative space on Park Street was a pleasant change in pace. The intimacy of the atmosphere really lent itself to the chatty talk-show vibe of the session. The discussion was lively and spirited, with Sean talking about how the British are obsessed with Indian food. "I grew up in a small town and there were three Indian restaurants. Going out for drinks and a good curry is practically a tradition," he said. "Curry is not Indian food!" Mallika contradicted him emphatically, "I am always trying to make this distinction." They all talked about the importance of home cooking and using locally sourced and seasonal ingredients, as well as a return to simpler, more wholesome cooking. Sean talked about how what he called "bastardised Punjabi food" was historically only ever available internationally, but how that is now changing.
Another notable event of the day was the announcement of the first Prabha Khaitan Woman's Voice Award that went to poet Ranjani Murali.
The closing session of the Apeejay Kolkata Literary Festival was held on the lawns of The Tollygunge Club, and there was not a seat empty. It was titled 'Eyes Wide Shut: The Neta in Post Truth India', and had Rajmohan Gandhi in conversation with Salil Tripathi. They spoke about the various rumours that are doing the rounds, including one about how India had actually wanted Sardar Patel as the first prime minister, but Gandhi engineered it so that Nehru was appointed, and that is the reason for the current strife in the country. Rajmohan Gandhi addressed all these rumours, sharing insights and anecdotes from that time. "Gandhi's feeling was shared by a vast majority of India at the time. If you go back to the newspapers or weeklies or magazines of that time you will find not a single voice of unhappiness or protest." The festival ended on a sombre note, though not one entirely devoid of hope.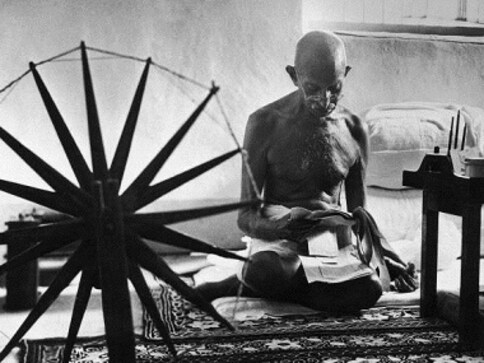 Politics
2 October 2016 will mark Mahatma Gandhi's 147th birth anniversary. Writer Ramachandra Guha discusses the controversies that have now cropped up around the Father of the Nation.
Life
The Apeejay Kolkata Literary Festival had something for everyone, from discussions on cinema, the environment and even Lucknowi cuisine | #FirstCulture
Life
ICHR chief Y Sudershan Rao wants to accurately date the sacred texts. The Marxist historians debate this hindutva version of history. In the middle of this debate, social sciences tend to be the biggest loser.