Kolkata Literary Festival 2019: A session with Ravish Kumar, panel on modern dating spark discussions on Day 2
The second day at the Kolkata Literary Festival featured conversations about the MeToo movement and magic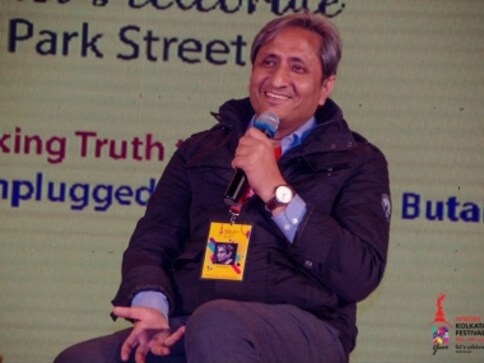 On Day 2 of the Kolkata Literary Festival, Durjoy Datta, Ravinder Singh and Sudeep Nagarkar discussed romance in the time of dating apps.

There was a panel on #MeToo and the change it has caused in men's behaviour, featuring Anuja Chauhan, Shobhaa De, Shutapa Paul, among others.

At the end of the day, Ravish Kumar addressed the audience in conversation with Urvashi Butalia, where he revealed a softer side of his personality.
"Which of them is Durjoy Datta?" I overheard a lady ask her neighbour as we waited for the first session of the day to begin. Her incredulous young neighbour let out an audible gasp. "I've never read any of his books," the lady explained apologetically. At this, the girl in the row ahead who had thus far been engaged in taking the perfect selfie, turned around and gave her a withering glare. Appropriately chastised, the lady shrank back in her seat and didn't emit another sound for the rest of the session. I was at 'Love in a Time of Tinder: Romance writing today', which had Durjoy Datta, Ravinder Singh and Sudeep Nagarkar in conversation with Penguin editor Milee Ashwarya. The lawn was crowded. The millennials were out in full force to support the flag-bearers of modern romance, phones in hand, ready to document every second of the fun.
They talked about how love has evolved in the digital age. "We were dating in the dark. People say 'oh you're on Tinder, you're taking so many chances!' but that's not true. We were taking huge chances. We met hardly three or four people in our lives and we were choosing one out of them, but when you're on Tinder or any other app, you are choosing from hundreds of people, so you are able to make more informed decisions. I wish there was Tinder when I was growing up," said Durjoy Datta. The others were also of the opinion that digital romance was mostly positive, although Ravinder Singh pointed out the tendency to be easily distracted by the array of options. "Getting into a relationship is easy but sustaining it is hard," he said.
The next session I attended was 'Crossing the line: perspectives on the 'Me Too' Crisis'. It packed a punch with Anuja Chauhan, Shobhaa De, Shutapa Paul, Jayant Kripalani and Ruchir Joshi delivering hard truths to moderator Kavita Panjabi. "Everything is changing," said Anuja, "A new rule book is being written where girls have agency and it's very exciting." Ruchir added, "For me it's exciting but challenging because one grew up in a very repressed society. Sexism was ingrained in us. We talked about women in terms of 'Did you score?' so there is a lot of unlearning and rethinking." Jayant agreed with him about how this movement has made him reassess and change his behaviour. "I used to look at a woman's cleavage when I spoke to her, and now I look into her eyes." Shobha called out people for saying they don't know why more men don't speak out in support of the movement. "Men will stick by other men," she said, referring to 'the old boys club', and Shutapa talked about the positive effect the movement had on women, "We saw a sisterhood emerge. It gave us a lot of courage."
The panel that followed was a complete change in tempo. It was 'Whodini: Tricksters and Magic Makers' and had John Zubryzck and Jonathan Gil Harris in conversation with Jayant Kripalani. The session was full of quirkiness and laughs, beginning with Jayant introducing them as "John, Jayant, Jonathan" to the tune of "Amaar, Akbar, Anthony" followed closely by a live magic act. It wasn't all fun and games, however. There was a lot of food for thought, especially when Jonathan launched into a rousing rendition of 'Mitwa' in perfect Hindi. He was describing how it was during a screening of Lagaan in Delhi that he fell in love with India. "The experience transformed me. I realised the film is not only what's projected but the entire atmosphere. The audience was throwing coins and cheering, and the film mirrored the audience. I looked around me and I saw Punjabi speakers, English speakers, Hindi speakers watching enthralled, as a team of Hindus, Muslims and Sikhs were all being coached by a woman on screen. It spoke of a pluralism that to me represents the true magic of the country."
The closing session of the day was 'Speaking Truth to Power', where Ravish Kumar was in conversation with Urvashi Butalia. Ravish was in full form, beginning his session with a quip about the current political climate that had a crowded Allen Park roar with thundering applause. Comparing the darkness of the audience to the floodlit stage, he said, "Bilkul jo hamare desh ki halat hai, janata andhere mein baithi hai aur roshni sirf manch par hai." He went on to have a full and frank chat with Urvashi about his journey so far. It was Ravish as I haven't seen him before. I am familiar with the brave, undaunted and unafraid-to-tell-it-like-it-is Ravish. However, this discussion revealed a softer side of him. I glimpsed a young man nostalgic for the language of his youth, wandering through the bylanes of a bustling new city, keeping an ear out for people speaking his mother tongue, and learnt a little about what made that wistful youngster the man I admire today.
Like yesterday, there were many interesting sessions that had me wishing I could be in three venues at once. Looking forward to what the final day has in store.
Life
Entitlement itself has become an aspiration for ever growing numbers, the ultimate gated complex we want to live in. It is the Number 1 reason one wants to get filthy rich (or even middle class) in rising India.
India
Tehelka Editor Tarun Tejpal on Friday faced possible arrest after Goa Police booked him for rape following an allegation by a journalist colleague that he sexually assaulted her during an event a fortnight ago.
Arts & Culture
The festival will run from 19 February to 28 February, and be streamed online.