Khajuraho Dance Festival 2018: Sonal Mansingh's troupe, Radha and Raja Reddy to perform
Lovers of Indian classical dance will be treated to a feast of Bharatanatyam, Kathak and Odissi recitals at the Khajuraho Dance Festival this year | #FirstCulture
Although it was primarily meant to showcase the classical dance forms of India, the Khajuraho Dance Festival has grown into an event that offers a complete experience of Indian heritage and its rich arts and culture. In its 44th chapter, the week-long festival (Feb 20-26) will serve as a platform where eminent gurus as well as young emerging artists will perform different genres of classical dances. The visual appeal of these centuries-old dance traditions, performed in the backdrop of the well-sculpted Chitragupta temple built by the rulers of the Chandela dynasty between 950 and 1050 AD, make this festival irresistible. An exhibition of visual arts, crafts and cinema, as well as talks by art critics, make it a festival that offers more than dance recitals.
The festival will open on the evening of Tuesday, 20 February, with three established dance forms— Kathak, Kuchipudi and Bharatanatyam— weaving together the traditions of the north and south. Arushi Nishank (Dehradun) will perform Kathak, Raja and Radha Reddy and troupe will perform Kuchipudi (New Delhi) and Luxmi Vishwanathan (Chennai) will present a Bharatanatyam recital on the first day.
Day two will see the performance of a classical Manipuri dance by Mumbai's Darshana Jhaveri, along with Kathak by Teehai and Guru Jitendra Maharaja, both of whom hail from New Delhi. The evening will include with Bharatanatyam dances by Chennai-based Padmini Durairajan, Maya Shyam Sundar and group.
On 22 February, Mohini Moghe's troupe from Jabalpur and the Ninnad group from Patna will showcase Kathak, while G Kalewani Rajmohan from New Delhi will perform a recital in Bharatanatyam.
Bharatanatyam and Kathak will remain the flavour of the day even on 23 February. The former will be presented by Bengaluru's Anuradha Vikrant and New Delhi's Kallangan, while the latter will be showcased by Mumbai's Akhilesh Chaturvedi and Shayoni Chavda and her group, who are from Kolkata.
On 24 February, there will be an Odissi recital by Kadambari Shivaya from Mumbai, who will be the major attraction, along with Kathak recitals by Richa Jain and Ayushi Dixit. Veena Vijay Murti and her group will present a Kuchipudi recital in the evening.
On Sunday, Palak Tiwari will present a Kathak performance, and Sneha Chakradhar will showcase her skills in Bharatanatyam. Vijay Sharma and his group from Bhopal and Kavita Thakur and her group will also be performing Kathak.
On the last day, the major attraction will be 'Sankalp Se Siddhi' a presentation by veteran dancer Sonal Mansingh's troupe, followed by Kathak recitals by Ujjain-based Khushboo Panchal and Maryada Nigam from New Delhi, as well as an Odissi recital by Kavita Mohanty's group Nratyabhinaya.
For the Art Mart, curator Anil Gaikwad informs that art works from 12 countries were received. Of these, about 550 paintings and 40 sculptures are going to be showcased, which represent the art from 16 states of India. The experts who will be delivering talks on art include Jitendra Hazarika, Sunil Kothari, Mahindra Damble, Him Chatterjee, Sumant Singh, Geeta Chandran, Ashok Chakradhar, among others. For the craft section titled 'Hunar', 50 stalls will showcase handicrafts from different states of India.
Those keen on watching films based on Indian art and artists, which are usually not available for viewing, can attend screenings of 19 renowned films through the week, from 4 to 6 pm. Inner Eye - Binod Bihari Mukherjee, Saman - Muslim Mystic Music of India, Girija Devi, Mohiniattam - Through the Ages, The Mask of God, Pundit Bhimsen Joshi are some of the films which are part of the lineup. Films such as Dhrupad in the times of Liberalisation and Kuchipudi Village of Dance offer in-depth information on the artists and their art.
The Khajuraho Dance Festival is organised by the Department of Culture, Government of Madhya Pradesh, through Ustad Alauddin Khan Sangeet Avam Kala Academy, Madhya Pradesh Sanskriti Parishad. Entry is free of cost.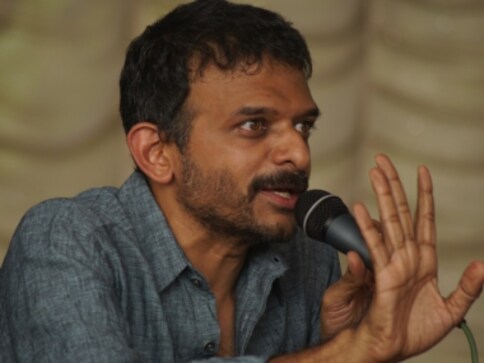 India
At the heart of both art and activism is the idea of vulnerability — of surrendering oneself and being fearless, said TM Krishna at Tata Literature Live!
Entertainment
The sudden introduction of classical dance in a film acts as a placeholder for several values held by the girl on screen, which the film cannot delve into deeply. It transforms into a proxy for everything the word 'sanskaari' can convey.
Life
Odissi is a young dance form, though it has assimilated and is born of ancient temple dance traditions, music, poetry, and devotion to Jagannatha. At a recent performance of Odissi on High, an all-male ensemble achieved striking masculine vigour with quintessential movements – movements that only easily lend themselves to execution with feminine grace.