Khadar ki Ladkiyan: Girls from rap video on everyday struggles, dreams for bringing about social change
'More power to you sister' say the girls featured in this video as they enunciate the relocation of the residents of Khadar, and stand in solidarity for every woman who lives suppressed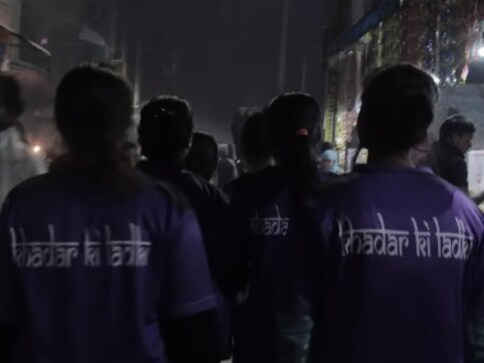 Few girls of the Madanpur Khadar JJ Colony in Delhi, have taken to rap to create the music video Khadar ki Ladkiyan

The video talks about the need for social change, not only in the colony but also in the city of Delhi

The slum resettlement colony, in close proximity to the Haryana border was created in 2004
'Hum Khadar ki ladkiyan, suno humari baat. Hum Khadar ki ladkiyan sheher mein rahe din raat, hum Khadar ki ladkiyan, suno humari baat.'
The consortium of artists — rappers, b-boys and graffiti artists, among others — in the hip-hop arena that came to the forefront of popular culture rose largely from those underground movements that produced music from deep within the abyss of social and political suppression.
Hip-hop today has spread its wings across music industries through the world, having evolved as a major source of expression in the deprived areas of many major cities where young girls and boys have taken to music to express their anger, joys and despair. From within the darkest slums of Mumbai have emerged rappers like Divine and Naezy whose stories have inspired works even in the mainstream narrative of Hindi cinema.
A few young girls, residents of the Madanpur Khadar JJ Colony in Delhi, in a similar fashion have taken to rap — in an initiative managed by an Arts and Humanities Research Council (AHRC) funded project titled Gendering the Smart City, led by King's College London, with Safetipin and the non-governmental organisation Jagori — to create Khadar ki Ladkiyan, a music video that talks about a simple struggle: travelling to the city and coming back home, unscathed.
The slum resettlement colony, in close proximity to the Haryana border, was created in 2004 when slum dwellers from across the capital city were evicted and relocated to urban peripheries.
'More power to you sister' say the girls featured in this video as they enunciate the forced eviction of the residents from the Delhi slums to the Khadar resettlement area, and stand in solidarity for every woman who lives suppressed, in near perpetual fear of sexual harassment and gender violence across the country.
Speaking to Firstpost, four girls of the Madanpur Khadar JJ colony featured in Khadar ki Ladkiyan talk about their experience of making the video, their dreams for bringing about social change:
Meera
The experience of shooting the video was very nice, Meera says, even though at the outset she hesitated to shoot in her community, amidst all the people who recognised her. Despite her initial fears, once the shooting began, she said 'we all enjoyed fully' because the idea was to spread an important message and doing so through the song was perhaps the best way to achieve that, "because today people listen more to songs like these and like them too."
It was our aim to take this idea to all those listeners, she adds, and through YouTube and social media we can reach a lot of people.
In our area, [Khadar] people pay more attention to what others are doing than to themselves, she says, and while the place is good on the surface, deep within, people's mentality continues to remain backward. Women have to bear the brunt and face a multitude of issues she elaborates, and while many of them work in various households, men are often found playing tash (cards) in the park, gambling or drinking and subjecting women and children to violence.
It is perhaps the everyday struggles that provoke girls struggling to survive trauma to aspire to break free and reach for a higher goal.
One of my dreams, Meera says, was to have my name in the paper which has now been fulfilled through this video. She adds, "It is also my desire to work towards bringing about a change in mindset and for that, I am pursuing a bachelor's in social work along with working with several NGOs."
Ritu
For Ritu, the launch of music video and of #AanaJaana, an exhibition on display through the month of January 2019 at the Mandi House Metro Station that represents different perspectives of the city as seen by young women who are residents of the resettlement colonies, urban villages and border towns, is a happy occasion. She says, "I feel like I have accomplished something I never thought would be possible."
Ritu also suggests that this video marks a step out of suppression for every girl, including her who is never allowed to cross the threshold of her home, who is subject to the same oppressive set of rules.
"When the video was being shot, I felt as though we were talking about those things that we are normally not able to with other people."
Before shooting the video, Ritu says that all the girls sang the song in their own distinct style and then brought the whole thing together.
Currently pursuing her Masters in Hindi, this resident of Khadar also says that the society we live in is such that discrimination and taunting women who are going out to actually do something good is quite normal. "It came as a complete surprise to my parents too but they were happy when they saw the video," she said. Undoubtedly they had a lot of questions: how, what, when, where did we manage to produce this work.
Pooja
The video opens with the lines, Hum Khadar ki ladkiyan, suno humari baat. Hum Khadar ki ladkiyan sheher mein rahe din raat, hum Khadar ki ladkiyan, suno humari baat. It emphasises on the need to hear the voice of women, to stop the harassment and abuse that they face regularly and also show the determination of the women of Khadar, prepared to take on the world.
Even as the girls work and train in various fields, working on the music video was a test of confidence. We had some trouble shooting it in the beginning, Pooja says, being in front of the camera and speaking proved to be a challenge.
However, after it was up online, the entire family was happy to know that such a video had been made, she said, to give a message to those girls who cannot voice their rights. Pooja listens to rap music often, Guru Randhawa is one of her favourites.
Jagriti
"When I told my father that I was on YouTube, he was very happy but he also asked why I had to show my face," Jagriti says, "So I said to him that it's not as if we are doing something wrong." If we are not seen, she continued, the viewer will not know who sang this, who made it happen.
We live in an area where there is continuous shortage of water, overflowing canals and not enough cleanliness. Sometimes even sitting in the parks becomes a problem for the ladies, all of us are scared whenever a girl ventures out even for a short time, and women in the block simply cannot go out at night. "We live in constant fear, keep thinking, 'what if something happens to her,'" she says.
So my father, she adds, asked me to keep doing such work after watching the video and spread ideas that would bring about social change. Jagriti aspires to become a teacher, to have every girl be free, and live 'openly, in her own style.'
India
The pollution level in Delhi entered the 'severe' category after 4 November, when the AQI was 447. An AQI between 201 and 300 is considered 'poor', 301 and 400 'very poor', and 401 and 500 'severe'
India
A case under sections 279 (rash driving or riding on a public way) and 304A (causing death by negligence) of the Indian Penal Code was registered and the offending vehicle has been seized, police said
India
Meanwhile, after getting the information about this, Ashish's family rushed to the hospital where he narrated the sequence of events to his parents, allege family members