Kashmirnama book review: Karan Anshuman's espionage thriller, set in troubled Valley, is engaging — but not exceptional
While Karan Anshuman does a fairly decent job of keeping the pace brisk and the chapters aptly short in Kashmirnama, he compromises on the visual detailing in the process | #FirstCulture
Karan Anshuman's last notable work was Amazon Prime Video India's first original Inside Edge. It was a gripping, saucy affair with only the antagonist, played by Vivek Oberoi, sticking out as the weakest link. Anshuman attributed every possible villain cliche to Oberoi's character right in the first episode, which made him across as a caricature.
In Anshuman's first book Kashmirnama, however, the evil is not easy to spot. With the perennially complex and sensitive issue of Kashmir as the focal point, Anshuman's story attempts to identify the root cause of the decades-long tension in the area.
It is a fictionalised account set in the contemporary world. Anshuman takes creative liberties by playing around with historical facts and making the readers envision a hypothetical scenario that could have changed the way Kashmir is perceived today. He employs a historical lens and blurs it with an alternate narrative, so that those squinting through it are left to rely on part-reality and part-imagination.
The blame game that dominates Kashmir politics today is the underlying current of Anshuman's narrative, and the heart of the story is an espionage thriller. National Security Guard (NSG) Squad Commander Vikram Rathore is assigned a covert mission to Pakistan. On the other hand, a local Kashmiri goatherd Javid Razzaq is willing to go to any lengths to save his little son Khurram from the excesses of the Indian Army.
These two narratives run parallel to each other, which makes it tough for discerning readers to put a finger on the writer's political orientation. He steers clear of any skewing and gives equal space to both the tracks. Though Vikram's track is marginally more prominent in terms of length and volume, Javid's narrative is adorned with a sincerity that does not seem manufactured.
In arguably the most memorable chapter of the book, Javid and Vikram share a ride to Uri where India and Pakistan are about to sign a peace treaty. If there was any one-line-brief of this book to the publisher, it would have been this. To make matters more interesting, Vikram and Javid's arrivals at Uri holds immense significance. While one could end in catastrophe, the other can alter history as we know it.
To divulge any more plot or character details would amount to stripping the book of the suspense that Anshuman builds block by block with the help of a measured pace, cliffhangers at the end of every chapter and norm-bending evolution of character graphs.
There are a number of other characters too, including journalist Aditi Shenoy, Indian defence minister Ajinkya Ranade and Vikram's pregnant wife Bani Rathore. All of them have well-etched characters with aspirations and vulnerabilities.
In fact, popular historical characters like Jawaharlal Nehru, Lord Mountbatten and Mohammad Ali Jinnah also appear fleetingly in the prologue and epilogue. Anshuman recreates the Nehru-Jinnah-Mountbatten talks with what seems like infallible accuracy, though it is largely a fictionalised dialogue. Having said that, do expect subtle references to the Nehru-Mountbatten 'friendship', Nehru's bittersweet love for Kashmir, his authoritative conquering streak and the fear of carrying the burden of an independent India.
With the involvement of history textbook stalwarts, the Indian Army, Defence Minister, an India-Pakistan treaty and a Barkha Dutt-esque journalist thrown into the mix, it is not a stretch to say that the stakes are high. But with Javid's grassroots-level perspective, Anshuman also makes a little space for feelings most fundamental to humans — fear, hope and dejection.
While Anshuman does a fairly decent job of keeping the pace brisk and the chapters aptly short, evoking a sense of urgency, he compromises on the visual detailing in the process. Given that the story is set in Kashmir, Anshuman invests negligibly in painting a picture of the breathtaking Valley and only focuses on the task at hand — getting to the bottom of all that is transpiring. In fact, he pays little heed to detailing in general. It might be because he feels more at home while writing screenplays, which does require a descriptive graphic narrative on paper, but not when you choose to figure out the cinematography while on the go.
Though Anshuman puts together an interesting alternate narrative with the aid of a fairly engaging spy story, his book cannot be called 'unputdownable'. While traversing through the Kashmir-like tricky terrains of his book, you may not realise when your piping hot kahwa turns cold. But it will be rather convenient to put that book down, at the end of every second chapter, to reheat your kahwa. Kahwa, because you will need another sensory organ to bring you close to Kashmir, as Anshuman's book doesn't quite transport you there.
World
The World Economic Outlook (WEO), which was released by the IMF earlier this week, has said that the growth of the global economy is projected to decline from an estimated 3.4% in 2022 to 2.9% this year. It has then been predicted to improve to 3.1% in 2024
World
The move came days after the Pakistan Telecom Authority degraded Wikipedia services for 48 hours, threatening to block it if the content deemed 'blasphemous' was not deleted.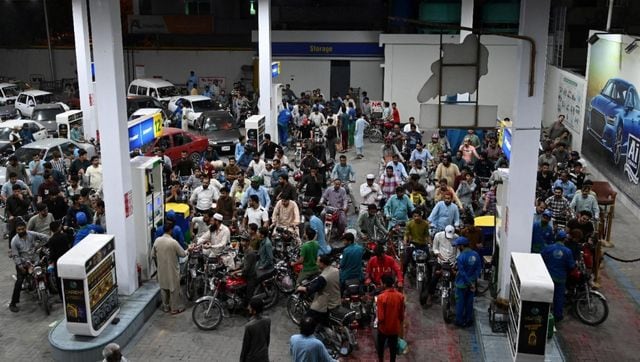 World
IMF team would be in Islamabad from 31 January to 9 February to hold talks with the officials over the implementation of its conditions attached with the assistance package