Justin Trudeau's heartfelt apology to LGBTQ2 community is laudable, but it's not enough
While Canada PM Justin Trudeau's formal apology to the LGBTQ2 community was a commendable effort, it is nowhere near enough in this ongoing and potentially never-ending struggle for equality.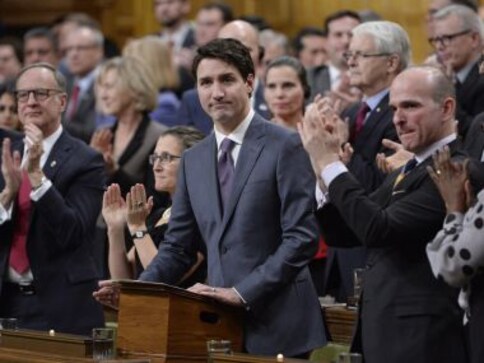 Last night history was created when Justin Trudeau read out an apology to LGBTQ2 Canadians for their oppression for years. As a queer person, I should confess that despite having nothing to do with Canada per se, my heart swelled with joy as I watched and listened to not just the words of Prime Minister Justin Trudeau, but also the response in unison by the entire parliament. There was nothing to "imply" or "understand", there was no room for excavation of the true meaning of the words - there was no ambiguity in the apology and we were spared from expending our grey cells to draw inferences from the words that were uttered by the most adorable Prime Minister in the world. In fact, I would go the extent of calling him the World's Prime Minister.
In his long speech, Trudeau ensured that he covered every aspect of discrimination that LGBTIQ2 citizens of Canada have faced over the years. He mentioned the LGBT purge several times in his speech. The state sponsored homophobia and transphobia that focussed on systemically oppressing LGBTQ2 Canadians and propagated the thought that heterosexuality is the only 'normal'. Fighting for justice is in Trudeau's genes. In 1967, Pierre Trudeau, Justin's father, had introduced the Criminal Law Amendment Act that decriminalised homosexual activity between adults in private. He famously said "what's done in private between adults doesn't concern the Criminal Code". It was officially decriminalised in 1969. When Justin Trudeau became the first prime minister to attend an LGBTIQ2 pride parade, he rightfully said "it is sort of frustrating that this has to be a big thing. This shouldn't be a big thing, that the prime minister is walking the pride parade. And from now on, it won't."
More recently, his family started the tradition of joining the pride parade. Sophie and Justin walked the pride parade with their three children, one still in the pram, thus making a statement against forces that divide and discriminate — with a simple walk at the parade that celebrates diversity in gender identity, gender expression and sexual orientation.
All of this proved that he was not just speaking off the cuff but had invested his time and expended his emotional energy in understanding the queer community. His voice choked many times as there were moments when his eyes welled up but he made no attempt to hide his tears. In a world which burdens the male to be unemotional, he not only stood up for LGBTIQ2 people but also made a statement with not just words but with expressions – that it was okay to be emotional – that boys do cry. Big boys too! In a world where people shy away from walking pride parades because of the fear of assumption that they could be gay, Trudeau walked the talk with no fear of propaganda against him.
This was not the first one though, in May 2016, Daniel Andrews, the present Premier (like chief minister of an Indian State) of Victoria in the Australian Parliament issued a heartfelt and unconditional apology to gay men for the atrocities over the years.
What is now needed is a systemic approach to end the violence on LGBTQ2 people in Canada and worldwide. Nothing will seem enough when the prejudice raises its hood over and over again. When pervasive and invasive intolerence and bigotry shall invade the world, it's magnetic power will engulf the whole universe. While I offer unconditional praise to Trudeau for the raise in global humanitarian values – I also understand that there is a danger. The danger of hero worshiping a nation and the assumption that they could do no wrong. We should remember that there is still a lot to do and there will always be a lot to do, especially within the LGBTQ2 spectrum itself. In my view, there is a lot that needs to be done for the upliftment of transgender people and to rid the society of the prejudice against bisexual people specifically. There is still a long way to go in standing up for people who are sometimes double or triple stigmatised. Imagine being "black", "transgender", "economically challenged", "indigenous" and "a woman" in Canada! The struggles are far from over. The deep ingrained misogyny will take time to change. There will be mistakes that will be made. There will be more apologies that will need to be rendered. But what's good is that with this apology, Trudeau has proven that Canada has its heart in the right place.
This fight though, is an ongoing one. We cannot rest after apologies. Equality for minority is a never-ending struggle. But yes, on an affirmative note, we can take a leaf from this apology. A maple leaf.
World
Greeting Trudeau at Parliament Hill in Ottawa before addressing Canadian lawmakers, Biden told his counterpart 'we're lucky, we have Canada at our north and despite occasional disagreements there is no fundamental difference in the democratic values we share'
World
The revised Safe Third Country Agreement (STCA) will be discussed on Friday at an official face-to-face between US President Joe Biden and Canadian Prime Minister Justin Trudeau in Ottawa, with the announcement likely afterward
World
A sharp increase in asylum seekers entering Canada through unofficial crossings has increased pressure on Prime Minister Justin Trudeau to negotiate an agreement with US President Joe Biden to close off the entire land border to most asylum seekers