It's funny how the solutions to some of the most mystifying and pressing problems in life can come from the most unlikely of sources and often turn out to be as simple as fixing a quick drink.
Take these for example:
How to quit drinking?
How to quit drinking but still get drunk?
How to get drunk and not spend money on alcohol?
How to get drunk at the office, home or while travelling without anyone noticing?
How to get drunk and work towards being healthy in life at literally the exact same instance?
The answer to all these and more came on Tuesday from the one man , who is hell-bent on banning, you guessed it, the alcohol.
Bihar CM Nitish Kumar had this to say about alcohol:
Such big positive change has come in, why ruin it for a peg or two? Turn off the lights & drink juice, you will feel its the same: Bihar CM

— ANI (@ANI_news) September 13, 2016
We found Nitish Kumar's claims very intriguing, to say the least. And the FP Special Forces team decided to do what it does best: investigate.
One of our members consumed different kinds of fruit juice in the dark and observed its effect.
Apple juice
We were very excited to see if apple juice in the dark would have the same effect as alcohol in the dark. A member of our team was given a glass of apple juice. After drinking a glass of apple juice in the dark, the member was told to answer the question 'Are you drunk?' on paper by checking either the 'Yes' or 'No' option.
After drinking three full glasses of the apple juice, the member still marked the option 'No'. The apple juice, in fact, started having other effects on him. For example, he got so bored that at one point we saw him drawing apples on paper. Boredom is hardly a byproduct of drunkenness. If anything, things only begin to get more interesting.
After a point, this participant got so bored that he tried to get away from this experiment by marking option 'Yes'. However, he was unaware that the question 'Are you drunk?' was actually a trick question and what was required for him to qualify as a drunk was to tick outside the checking boxes. Something like this: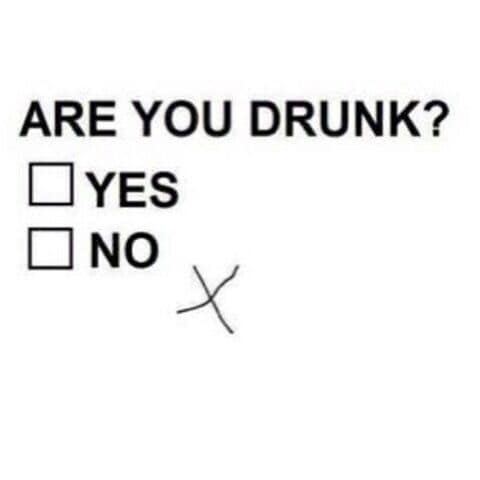 Orange juice
Maybe what Nitish Kumar meant was that we need to drink mocktails in dark to feel drunk. Maybe he meant that the ingredient in the drink Screwdriver (orange juice and vodka) which actually gets you high is the orange juice.
So we made our participant have orange juice. Surprisingly, the member did not know what orange juice tasted like because he had never had orange juice without mixing vodka in it. But no amount of plain orange juice had the same effect on the participant which a Screwdriver had.
Stale pineapple juice
Perhaps the Bihar chief minister meant that you need to let the fruit 'ferment' for sometime and transform itself into this this "juice" which can actually knock you out.
As unwilling as the participant was, we were committed to getting to the bottom of the logic behind Nitish Kumar's statement. So the participant drank a substantial quantity of stale pineapple juice. We're sure of three things now:
1. The stale pineapple juice did not get the participant drunk.
2. The participant will probably never have pineapple juice again in his life.
3. The participant hates us now.
Mixed fruit juice
We finally thought about whether Nitish Kumar meant that a single fruit juice was too weak to have any effect. Maybe the effect of alcohol was like Captain Planet which would only emerge after all the fruits had their 'powers combined'.
So the participant finally drank mixed fruit juice (mango, apple, orange and pomegranate). But Captain Alcohol did not emerge.
Conclusion
The participant thinks incredibly low of us now that we even took the chief minister's statement seriously. Before leaving, the participant had a hearty laugh and made us pay for the many, many drinks he ordered to get over the nightmare that we put him through and at the end of all this, we can surely tell you, Nitish Kumar, that no amount of fruit juice is as potent as a glass of the real deal. And also, fruit juices are more expensive than alcohol.
Updated Date: Sep 14, 2016 17:17 PM