Jamini Roy: Google doodle pays tribute to master artist on his 130th birth anniversary
A Google doodle commemorated the 130th birth anniversary of the master artist Jamini Roy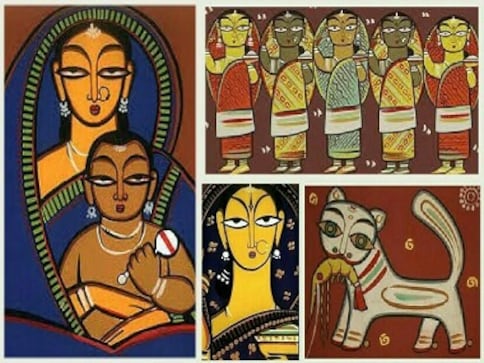 Fluid brush strokes that were an exercise in poetry, colours that were an expression of earthiness and vibrancy, images that were rooted in the folk art forms — such are the hallmarks of a Jamini Roy painting.
11 April 2017 marks the 130th birthday of the master, and a Google Doodle commemorated the occasion with a sketch that pays homage to Roy's signature aesthetic.
Roy was born in 1887 in then-undivided Bengal, into a family of middle-class landowners. He was sent, at the age of 16, to study at the Government School of Art in Kolkata.
His initial forays in art — in the 1920s — were not memorable, some critics note. But all the while, Roy was working on developing his own voice as an artist.
He found it in the folk art forms of Bengal. In a profile titled 'Jamini Roy: The Versatile, Experimental Artist', Alok Deshwal writes of these early attempts:
"He would paint a little and then something... made him obliterate what he had painted earlier. This went on for a good few days till he suddenly expressed (the) radically different visual ideas germinating in his mind. For the next few years, he did a suite of paintings featuring Santhal women... These paintings were stepping stones to even more dramatic changes in his visual language."
Roy drew inspiration especially from Kalighat pats (the style of painting that developed around the Kalighat temple area in the 19th century), and his paintings depicted ordinary figures from day-to-day/rural life, scenes from the epics and representations of animals.
He didn't just turn to his roots for artistic interpretation — even the materials he used represented a return to basics.
"[Roy] restricted his palette to seven colours: Indian red, yellow ochre, cadmium green, vermillion, grey, blue and white. These were mostly earthy or mineral colours," notes the artist's page on the National Gallery of Modern Art website.
Instead of canvas, he used indigenous materials like cloth, wood, and mats coated with lime.
All of this led to him being counted among the greatest contemporary masters, and invited comparisons with Henri Matisse.
What the acclaim meant to Roy is difficult to say — he was concerned mainly with his art, and spurned recognition. Indranil Banerjie notes in a piece written in 1987 for the India Today magazine that Roy was a prolific artist — he painted over 20,000 works of art in his lifetime; during his prime, he averaged about 10 canvasses a day, and rarely sold any of his paintings for a price higher than Rs 350. He would even buy back works from those he felt wouldn't take care of the art the way it was meant to be.
Roy was awarded the Padma Bhushan in 1955, and Indira Gandhi (among the admirers of his work, as was Mahatma Gandhi) declared him a national artist.
Roy passed away in 1972, leaving many of his paintings unsigned. His signature over the world of art, however remains indelible.
View a virtual gallery of Roy's works here.
India
The ED unearthed many disproportionate assets of Partha Chatterjee since his arrest, of which were three flats in West Bengal's Diamond City
Politics
In an 18-hour raid at the house of Arpita Mukherjee, the aide of Bengal minister Partha Chatterjee, the ED seized Rs 29 crore and five kg of gold. So far, Rs 50 crore has been found from Mukherjee's flats, along with 20 mobile phones and heaps of foreign currency