JaipurPhoto 2018: Terje Abusdal chronicles Forest Finns, mysterious Norwegian farmers associated with magic
Terje Abusdal's 'Slash & Burn', which was on display at JaipurPhoto this year, presented a view of the Forest Finns, their slash-and-burn farming technique, and their world of rituals and magic spells | #FirstCulture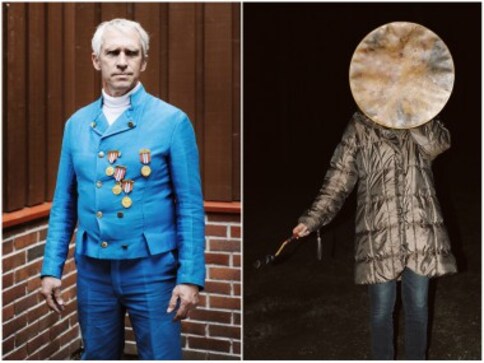 In the early 1600s, farming families from Finland settled in a contiguous forest belt along the Norwegian-Swedish border. Over the decades, these immigrant slash-and-burn farmers — the Forest Finns — spread across Scandinavia.
Today, the Forest Finns are one of the national minorities in Norway, and their culture of four centuries ago no longer exists. However, it was their past understanding of nature, rooted deeply in a shamanistic tradition, and their association with magic and mystery, that intrigued the Oslo-based artist, Terje Abusdal, who, about four years ago, set out to investigate what it meant to be, and to feel like a Forest Finn in today's world.
"I think the spiritual aspect attracted me the most, this shamanistic understanding of nature that the Forest Finns brought with them when they migrated. Their use of the magic, the rituals and the spells in everyday life — this world which doesn't exist today, of course. But this world that they had with them when they arrived, I find it very fascinating. I tried to choose an aesthetic that would portray this world. In a way, to try and create a magical world, a magical land," said Abusdal, while talking about his project Slash & Burn, which was exhibited at an 18th-century royal palace, the Hawa Mahal, as part of the 2018 edition of the JaipurPhoto festival in India.
Abusdal describes how the project initially started off as a straightforward documentary project, with landscapes, portraits and interiors photography. But as he learnt more about his subjects and their culture, it evolved, quite organically, into how it looks today — a surreal blend of facts and fiction.
"It evolved during this project, because, how was I going to tell the story of something that really doesn't exist anymore? And that's when I had to get creative with my methods and also in constructing this magical world. In trying to make the magical world, I had to add fiction." The "methods" Abusdal is referring to here are the use of fire and smoke bombs in his photography, burning (and subsequently scanning) his photographs to get desired effects, among other things.
"The Forest Finns were identified by their farming techniques — slash and burn. So I used fire and smoke as recurring elements. And the burning of the images is to sort of put the Forest Finns physically into the image," he adds. Abusdal also believes that as long as he is honest with his methods and his storytelling, and doesn't present his work as pure facts, he can do this without a problem.
Speaking about his time working on the project, Abusdal mentions how open and welcoming the community was towards him and his work. "Actually, out of all the people I photographed or ask to be photographed, only one person said no. It's a very little-known part of Norwegian history, and it's something that's connected today with pride. So people are more than willing to share and talk about it. And I think they liked that someone else took interest in their cultural heritage."
Having worked on the project for this long, he now feels quite responsible towards the community or how they are represented through his work. "Yes, definitely [feel responsible]. Because for a lot of people, their meetings with the Forest Finns will be through my pictures," he says.
But he is confident about how his final project portrays the community. "I've shown it to quite a lot [of people] in the 'Forest of the Finns', and they all responded really well to it. And I'm working with a historian so that the facts that I present, the texts, are very accurate. So I think as long as I'm true to the history, then I can take liberties visually, in the storytelling. Because if I were to stay true to journalistic dogmas, it would have been a very boring project, I think. Nobody would want to see it."
What Abusdal does seem a little concerned about is the potential loss of the Forest Finn culture in the future. "I think what will make the culture disappear is not so much the government policy of the 1800s and the 1900s, but the centralisation, the fact that everybody moves from the countryside into cities. Little by little it is [the area] being depopulated. But this is how the world is. I mean, this is all over the world basically," he says.
Recently, Slash & Burn won the 2017 Leica Oskar Barnack Award, the Nordic Dummy Award, and has been received well across Europe, where it has been mostly been showcased. So what is it about the work that draws such a response from people? According to Abusdal, although people "make their own stories about the images" and might feel connected to the work for different reasons, he does believe that the photographs have a certain element of mystery to them, and that this mystery is perhaps something that intrigues them.
Also, in an ideal world, Abusdal says he would "like people to stop and think about how we are more related as humans then what all of us would like to believe".
Meanwhile, as he puts some finishing touches to the project, the artist is also working on several other projects. One is in the north of Norway, in a region which was devastated during the World War II, forcing people to leave. "Three years ago, 5,000 refugees came on bikes across the border from Russia into Norway into this very region. So, from being a place that you fled from, it has become a place that you flee to. I'm trying to connect the story of these modern migrants to the war history of World War II, as a reminder of how things change," he says, describing the project.
The Slash & Burn book, published by Kehrer Verlag, is set to release in July 2018.
The third edition of JaipurPhoto was held across six venues — Hawa Mahal, Former Police Headquarters, City Palace, The Albert Hall Museum, Jantar Mantar and Jawahar Kala Kendra — in the city of Jaipur.
News & Analysis
India is one of the top 10 markets for SIGMA, the world's largest camera lens maker globally and growing 'dramatically,' said Kazuto Yamaki, CEO of SIGMA.
World
Earlier this month, Polish soldiers began laying coils of razor wire on the border with Kaliningrad, a Russian exclave wedged between Poland and Lithuania. Cameras and an electronic monitoring system also will be installed in the area that once was guarded only by occasional patrols of border guards
India
EU member Hungary is in talks with Brussels to unlock billions of euros in EU funding currently held over corruption concerns. Opposition parties have accused Orban of blackmailing the EU by putting the approval on hold