JaipurPhoto 2018: Christophe Prebois on discovering the inventive work of Ram Chand, a '60s photographer
This edition of JaipurPhoto featured a series of unusual photographs taken by an Ajmer-based photographer in the 60s, discovered by Christophe Prebois | #FirstCulture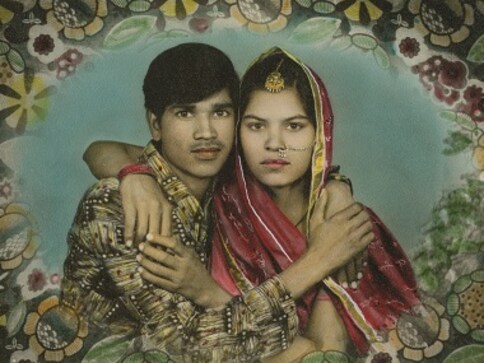 In the late 1990s, Christophe Prebois, a French artist, connoisseur and dealer of Indian vernacular photography, was travelling in India looking for photographs when he stumbled upon the studio of Ram Chand in Ajmer, Rajasthan. The then fully operational studio was located on the main road near the town's railway station, and in the windows were photographs that caught Prebois' attention and fancy. Thus began a long journey that lasted for about 20 years and now manifests itself in The Artist and the Photographer, a photography project and Mr Chand, Photographer, a short documentary film on the life and works of the Indian photographer.
Recently, a small selection of Chand's studio portraits was on display at the Hawa Mahal as part of the 2018 edition of the JaipurPhoto festival in India, curated by Aaron Schuman. The photographs showcase Chand's, as Lola MacDougall, the artistic director for JaipurPhoto, explains, "inventiveness in expressing his fantasies, which are apparent in his backgrounds (and often employ multiple negatives or painted backdrops)... The clients appear to be fully aware of the photographic moment being recorded. The sitters place a disarming amount of trust in the camera, and allow themselves to perform gestures of fondness that would have been unthinkable outside the protective walls of the studio."
Recalling his initial impression of Chand's work, Prebois talks about how the images were modified with hand painted colours, and had accessories added to them. "The first images that I saw were some portraits of men holding guns [the guns were not real, but hand painted]. So when I watched them closely, it was kind of weird. You had this man and those guns and there was a dog. They were going on a hunt, you know. It was quite funny and I had never seen that imagery in India," he says.
During his career, Chand worked with different painters, but there was one with whom he did his best work — Rajender Singh. Out of the trove of photographs spanning decades (dating back to as early as the 1960s), Prebois selected the ones done during this period, when Chand and Singh were together.
View a slideshow of photos from Christophe Prebois' The Artist and the Photographer
Reflecting on his role in the project, Prebois describes how he arrived at the title, 'The Artist and the Photographer'. "In many studios in India, the words 'photographer and artist' were written. It meant that there was a guy who's clicking the portraits and there was another one who was painting, hand colouring [the black and white photographs] and so on. So at the first show I did in Bombay, it was called, 'The Photographer and The Artist'. Then Lola proposed to invert the terms and call the show, 'The Artist and The Photographer', meaning that I was the artist, that my vision of Mr Chand's work was an artistic vision."
Realising that vision was anything but easy; it was a process that stretched across two decades, often complicated by a language barrier. "It took lots of time to gain his [Chand's] confidence... He was not really interested in answering questions, and I couldn't speak Hindi and he couldn't speak English. It was really complicated. And then I met Sneha Trivedi (who would later work as a translator and help with the making of the film) in 2015 in Bombay during a photo festival. Mr Chand retired, and then everything became much easier," Prebois recalls.
After having worked for so long on the project, Prebois has developed a sense of responsibility towards not only Chand's work, but also similar Indian studios. "I knew that in India these studios don't care so much about their work. For them, it doesn't have any artistic value. I mean, for those people it was just 'work' and a way of making money. So when they retire or when they would stop, very few of them would keep an archive or trace of what they had done," he explains. One of the things he wishes of his Indian audience is that they be more interested in the recent art history or just the vernacular history of the country.
And although Prebois says that he is still working and trying to find other studios with an interesting body of work, he does admit that things are a bit different for him now. "It took so long with Mr Chand. It took maybe 20 years before I was able to do anything, before he was confident enough to sell me his archive. I don't want to do it a second time, you know," he says with a laugh.
The third edition of JaipurPhoto was held across six venues — Hawa Mahal, Former Police Headquarters, City Palace, The Albert Hall Museum, Jantar Mantar and Jawahar Kala Kendra — in the city of Jaipur.
Arts & Culture
A new initiative called Indian Museums Against Climate Change (IMACC), is spearheading this movement in our country. Launched by Bengaluru-based non-profit organisation ReReeti, it brings together eight museums around the country to work for this common cause.
News & Analysis
Chinese smartphone manufacturers like OnePlus & Xiaomi are partnering up with legacy camera makers like Hasselblad and Leica. Are these partnerships strategic marketing plays, or is there more to it?