'Islam grants women rights that are then taken away by patriarchy'
Author and curator Samina Ali's most recent project is the International Museum of Women's Muslima: Muslim Women's Art and Voices, an online exhibition about Muslim women that she has curated.
Author and curator Samina Ali has written a novel, founded a feminist organization, been an ambassador, and the one strand running through all her work is her determination to create a greater awareness about Islam. "There's nothing in the faith itself that diminishes women – it's power, politics, and sometimes a purposeful misapplication of Islamic law," said Ali. Ali's most recent project is the International Museum of Women's Muslima: Muslim Women's Art and Voices, an online exhibition about Muslim women that she has curated.
How did the idea of Muslima come about?
This exhibition was inspired by the deeply entrenched fears and misunderstandings people have about Muslims generally, and women specifically. All too often, Muslim women are seen as weak, powerless, subjugated. And there are many misinterpretations about the veil and what it means to individual Muslim women to wear, or not wear, the veil.
We wanted to help reverse those stereotypes and the best way to do that seemed to be to present Muslim women speaking to the complex realities of their own lives-through interviews and art. In the process, they would help dispel stereotypes, curb Islamophobia and build understanding.
I think anyone who doesn't realize that a Muslim women is a modern woman needs to visit the exhibition and read the interviews I've conducted with leading women reformers from around the world. These women will challenge any last remaining ideas that anyone continues to believe: the constant media distortion that Muslim women are backward. Getting rid of these negative beliefs is the first step toward real understanding.
The beauty of a virtual exhibition means that anyone anywhere in the world has access, no matter language, location, culture, or economics. Someone in Mumbai can visit the online exhibition and become involved in the global dialogue as easily as someone sitting here in San Francisco where the museum is located.
What did you look for in the works that you selected? 
The Muslim community is diverse. To eliminate that diversity does them a great disservice. The reason the exhibition is called Muslima is because it's open to everyone and that's extremely important to me. I want to be as inclusive as possible in order to show the great diversity of Muslim women; their thoughts, attitudes, expressions, values and realities.
In the exhibition, we have voices from women who are deeply religious and those who are no longer practicing, women who cover and women who are comfortable in bikinis. We are even open to including voices from women who are not Muslim, like Helen Zughaib who speaks as a Christian about our commonalities. She's a "muslima". I'd love to include more like her.
I've had a truly extraordinary experience bringing together leading women artists and reformers from around the world – from the first Muslim women to win to Nobel Peace Prize to the first American woman to translate the Qur'an into English.
The exhibition will remain live until the end of December 2013. During this time, each day we will add new material to the exhibition. What you see today will be added to tomorrow, and so forth. Over the next few months, the exhibition will continue to grow wider, richer, deeper, and more complex. It's exciting to have so many different voices, so many leading women on one platform.
What was the brief that you set for yourself as a curator?
I have been working on Muslim women's issues for over a decade. My influence can be most clearly seen in the many interviews I've done for the exhibition with leading reformers from around the world: Dr Shirin Ebadi, the first Muslim woman to win a Nobel peace prize; Fahima Hashim, a leading women's rights advocate in Sudan; Maria Bashir, the first female prosecutor general in Afghanistan; and I've just finished an interview with Fawzia Koofi, who will be running for president of Afghanistan in 2014.
All of these women are leading the movement toward justice, equality and women's rights in their communities, systematically fighting the legal and political structures to promote lasting change. And all of them believe that this change should come about from within the Islamic framework, because Islam grants women rights that are then taken from them by politics, or power, or patriarchy, or tradition.
Why did you feel there was the need for such an exhibition?
In post 9/11 society, Islamophobia remains one of the few acceptable prejudices. All to often, media, leaders, and communities project an image of Muslim women that is far from the truth. It's a one-dimentional image that shows Muslim women as being weak, subjugated victims. That distorted, limiting image of Muslim women began soon after 9/11 and seems to have become cemented in people's minds over the past decade.
This exhibition is not only timely, it's necessary to help reverse those stereotypes and create dialogue between different communities and peoples. At the same time, the exhibition doesn't shy away from confronting the ways in which some Muslim-majority countries have implemented laws that directly limit women's contributions. So the exhibition is speak to both communities.
Do you think Islamophobia is a global phenomenon? How different do you find the attitudes towards Muslims in South Asia and North America? 
I was born in Hyderabad, India, and I was half raised there. The tension between Hindus and Muslims is an unfortunate reality of India, with its communal riots. However, that tension has roots in India's more recent history (since independence) and in India's political environment that stirs up those religious tensions. Culturally, Muslims and Hindus are basically the same – we have the same 5-day long wedding, speak the same language, watch the same Bollywood movies. What's happening in the US, where Muslims are immigrants to the country and where not much is known about Muslims and Islam, is very different.
Find latest and upcoming tech gadgets online on Tech2 Gadgets. Get technology news, gadgets reviews & ratings. Popular gadgets including laptop, tablet and mobile specifications, features, prices, comparison.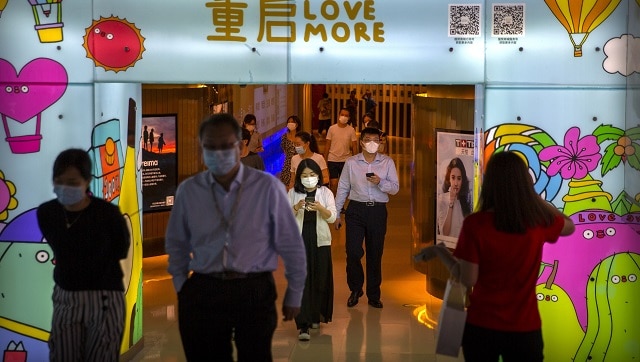 World
Chinese exporters have benefited from the economy's relatively early reopening and global demand for medical supplies, according to a National Bureau of Statistics report
Sports
The bullet-riddled 20,000-seater stadium, home to Mosul Sports Cub, was not spared, caught up in the deadly battles for control.